Play Movie
Listen
to Katherine Kennard
reading this story
Endearing items inspired by nature
Yusuke Tazawa
Yusuke Tazawa is walking through the forest. Following a winding path that straddles a small stream, he occasionally pauses to take in his surroundings, observing the subtleties of late spring. The Yokohama-based woodworker, now in his early fifties, has grown familiar with this lush corner of Seya ward, having relocated his workshop to the area last year. When seeking a break from his work, he'll occasionally take a stroll through the forest, reconnecting with the trees and flora that inform his work. Moving along the path, he points out various plants, noting their individual characteristics and seasonal shifts, along with sources of inspiration for another one of his creative pursuits, the nageire (literally, "thrown in") style of ikebana flower arrangement. It's here, within these natural surroundings, that his passion for nature rises to the fore.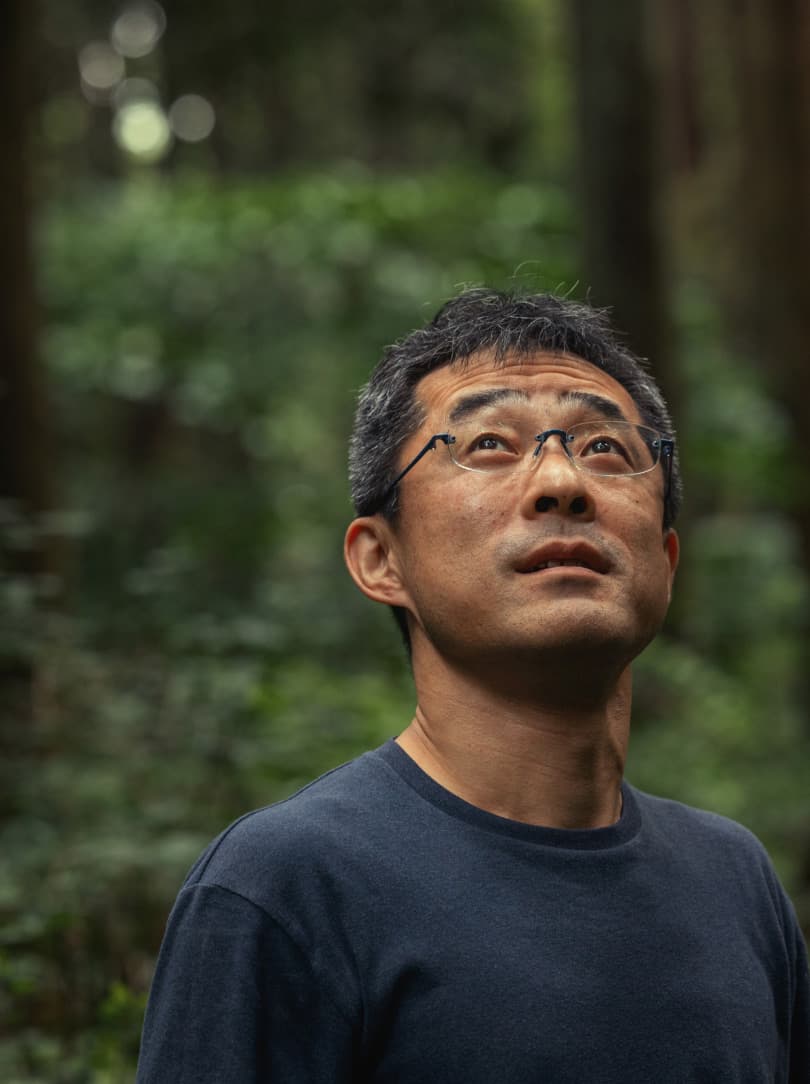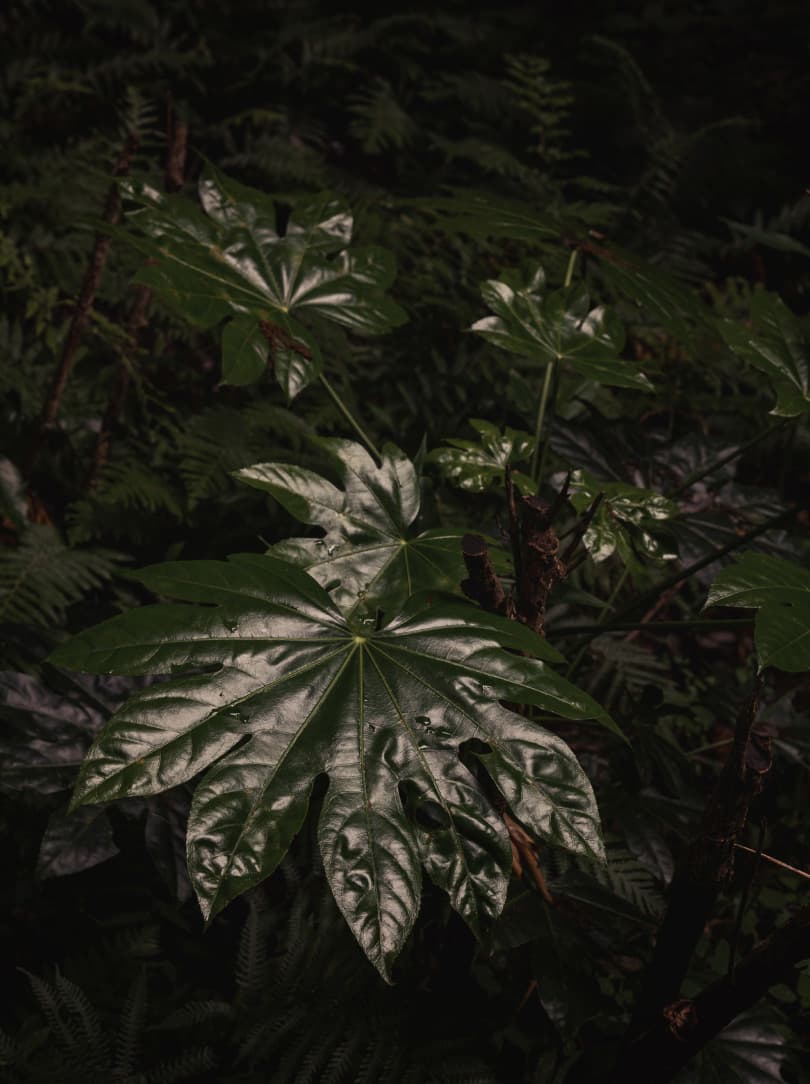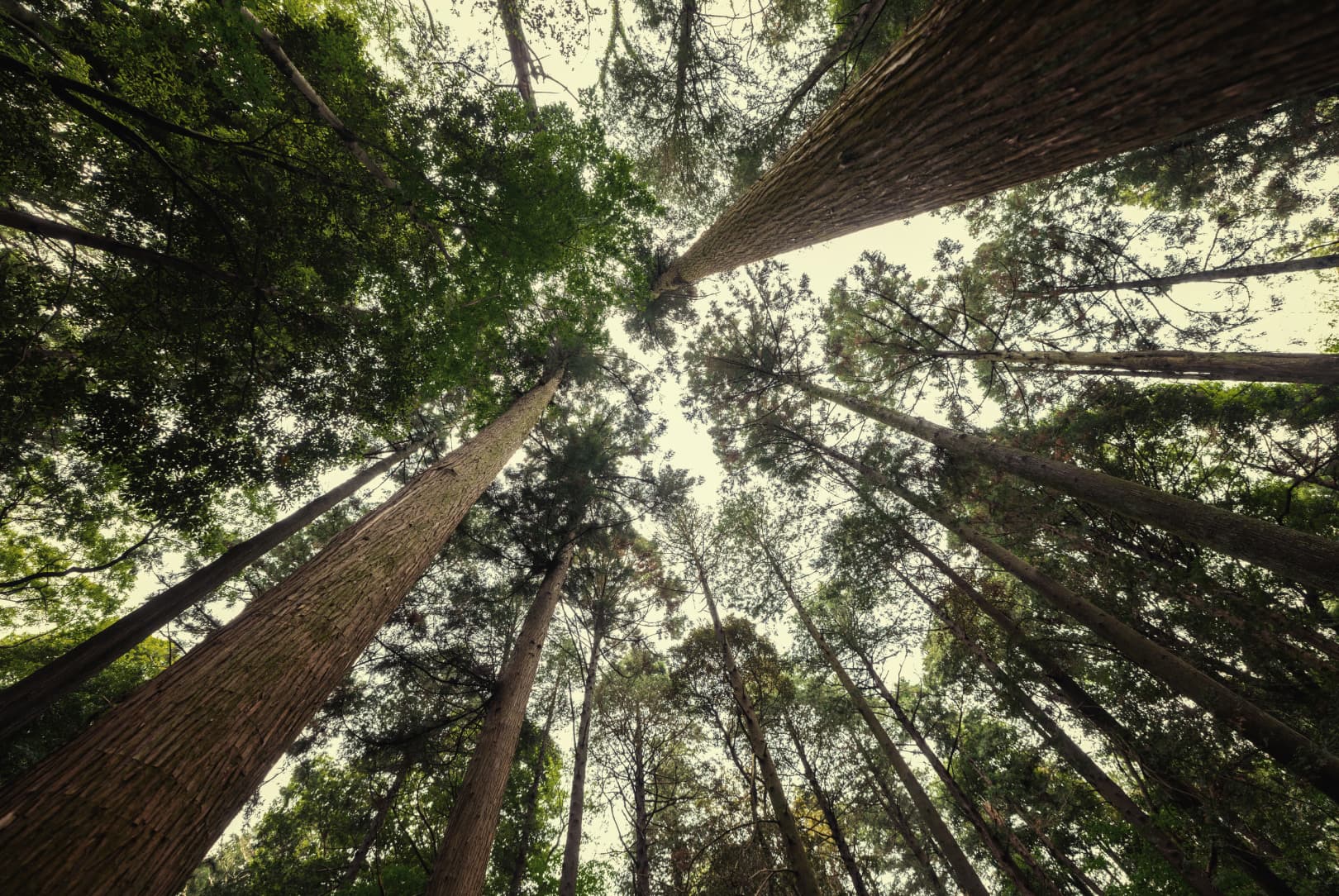 Returning to the Think Forest workshop, Tazawa inspects some slabs of 'yamazakura' (Japanese mountain cherry) that he will soon transform into AGOBAY serving trays and other items. Running one hand along the coarse bark lines, he recalls his early love for nature. "My parents are from Niigata prefecture and as a child, whenever we visited there for the holidays, I'd never want to go home. I have a great appreciation for places like Niigata, Nagano and Gunma, so when it comes to craft, rather than Yokohama, I draw inspiration from my love of the mountains and countryside."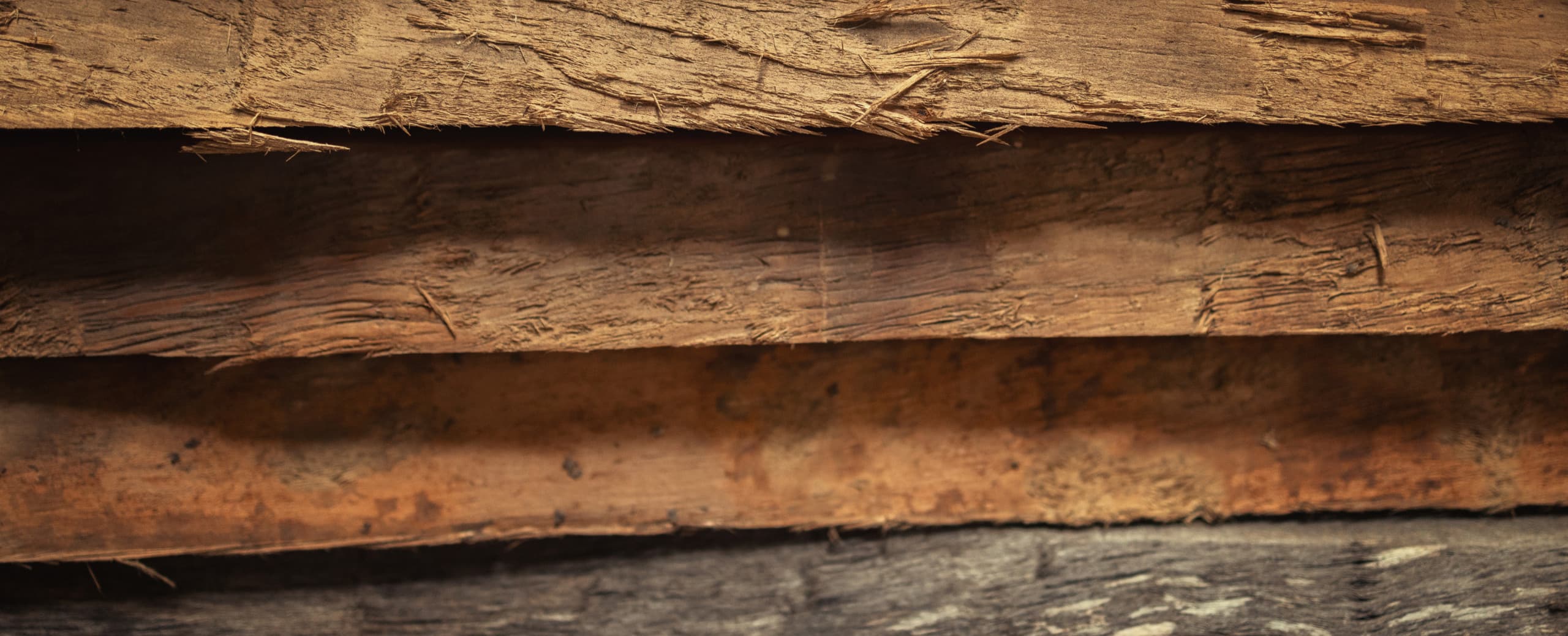 After graduating from university in Niigata, Tazawa worked as an environmental consultant, conducting surveys of flora and fauna throughout the country. However, after seven years in the industry, the physical demands of field work took their toll, which ultimately led him to reconsider his career path. Looking back on the shift from consulting to craft, the Yokohama native returns to his formative years. "Ever since I was a child, I've really enjoyed making things with my hands. As a university student I studied forestry, so when it came to thinking about my next move, I figured that rather than something different, I'd take a fresh approach to combining my interest in forests, nature and craft. I decided to give woodworking a try."
Tazawa's new pursuit led him to Hida Takayama in the mountains of Gifu prefecture. The area is renowned for woodworking and is also home to Shinrin-Takumi Juku, which runs a two-year programme for aspiring craftspeople. Operated by Oak Village, a local woodwork company, the programme focuses on practical, hands-on learning in a real production environment. For Tazawa, the challenges of learning in this setting had a positive influence, shaping his woodworking skills.
Working alongside other students and professionals, he also came to realise the value of his past experiences. One such moment came about when identifying different pieces of timber. "At first, some woods look so similar that you basically can't tell the difference. However, I'd seen the trees they came from, so I was able to connect the material in front of me to memories of the tree's bark, leaves and even the smell of its fruit," says Tazawa. "As a craftsperson, when you have an understanding of trees and the state of nature, you view timber differently — as a material that's come from a living tree. It can be quite hard for people to imagine where wood actually comes from, but I aim to communicate these origins through well-made products with the hope of encouraging people to place more value on forests and nature." These insights would later form the backbone of his woodworking practice.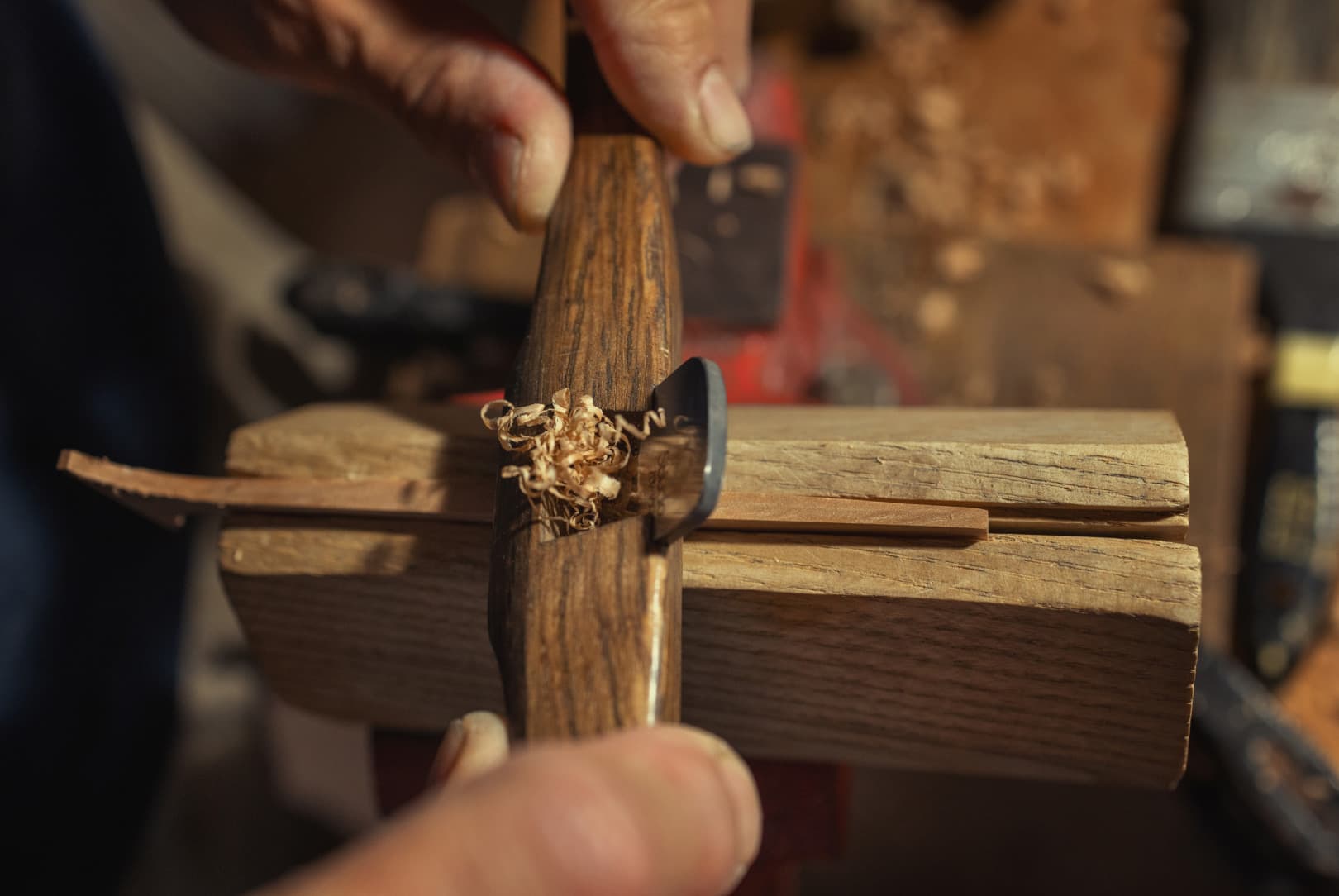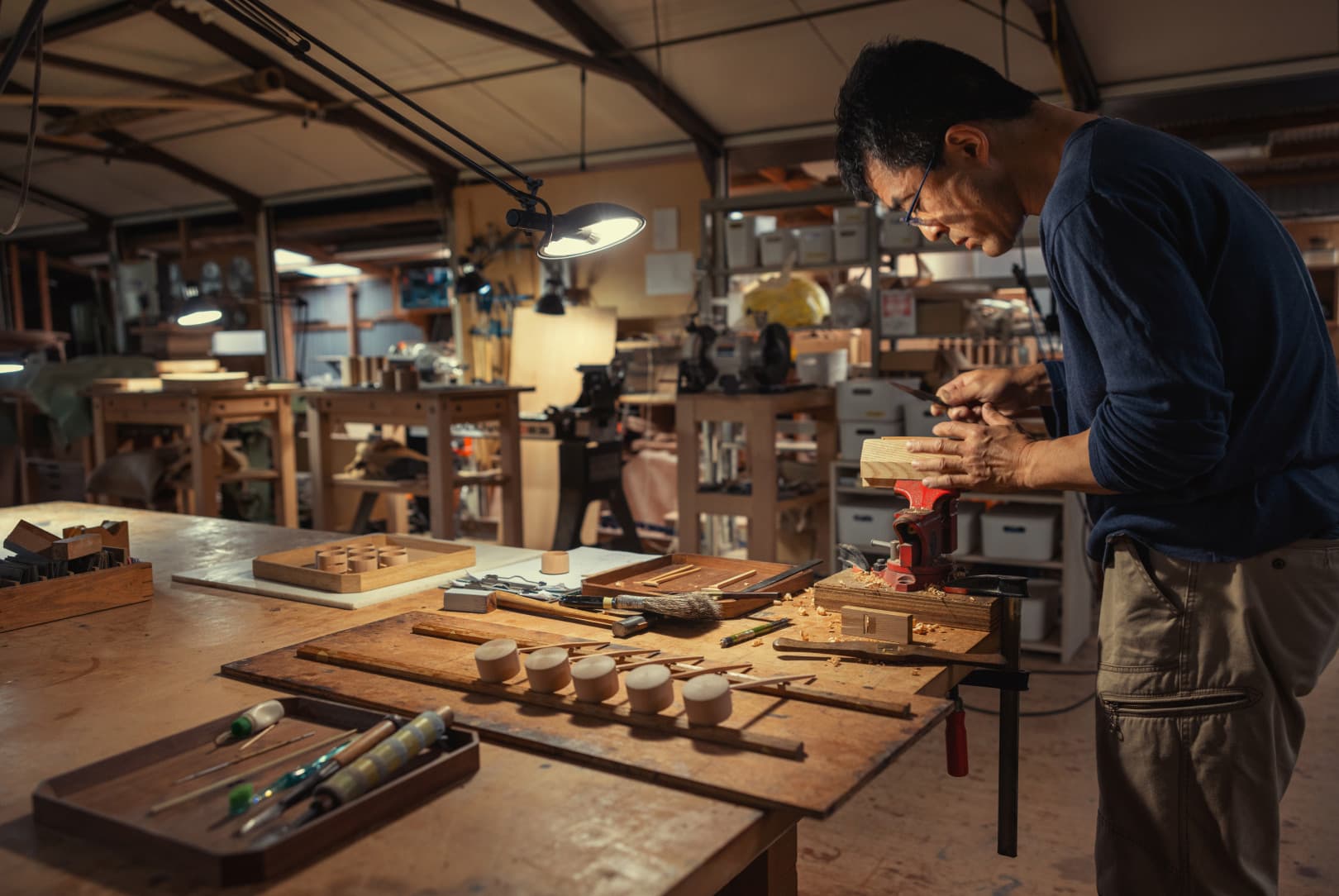 Building on what he had learnt in Hida Takayama, Tazawa went on to establish the Think Forest workshop in 2006. Almost two decades later, he produces a range of original creations: plates, vessels and other tableware items are joined by trays, utensils, teaware and occasionally furniture. Based on the idea of "simple design, quiet form", he works with 'yamazakura', walnut and various other woods, drawing on his expertise in the fields of woodworking and forestry.
"As a woodworker, I want to place value on my materials and create what I consider to be the most beautiful forms possible. Whenever I make something, I want it to complement the space, rather than make a big statement," explains Tazawa. From this intent through to the means of production, there is something fundamentally human in scale about his approach to craftsmanship.
"Wood comes from something that was once alive, so in terms of speed and care, working by hand is the best approach."
Yusuke Tazawa
"Wood is not an industrial product, so there are times when you have to treat every single piece differently. Working by hand provides the ideal speed for such processing." While machinery and automation have their advantages in terms of speed and repeatability, Tazawa can't help but feel there's something unnatural about such processes. "Trees grow over a period of decades or more, so when wood is processed in the space of minutes or hours, even if the results appear good, I think there's always something that will eventually go awry over time, causing it to become no longer useable," he says. "When it comes to making good products with a long lifespan, it's important to find the right speed."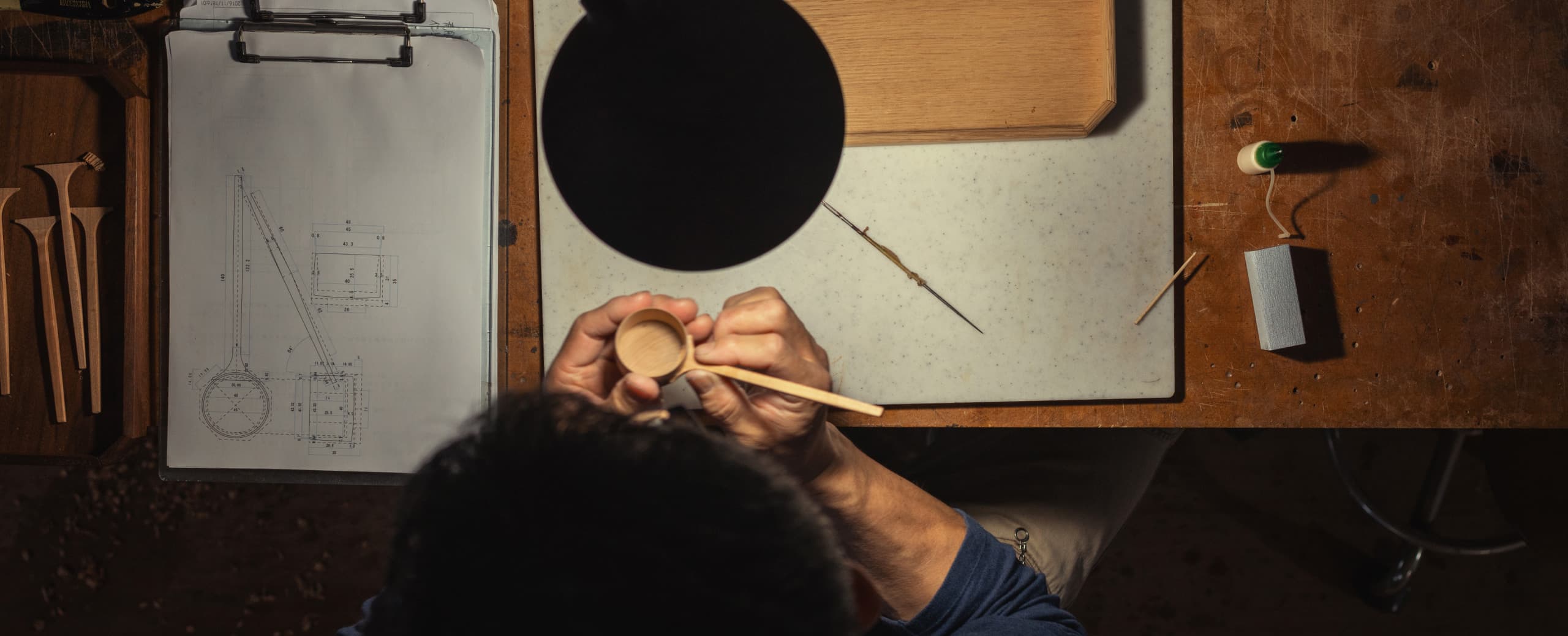 Watching Tazawa at work, the value of completing tasks by hand becomes clear. For example, the handles for his signature coffee scoops are shaped using a series of miniature hand planes and knives. As time passes, the shape changes by the smallest of increments and a slender form gradually emerges.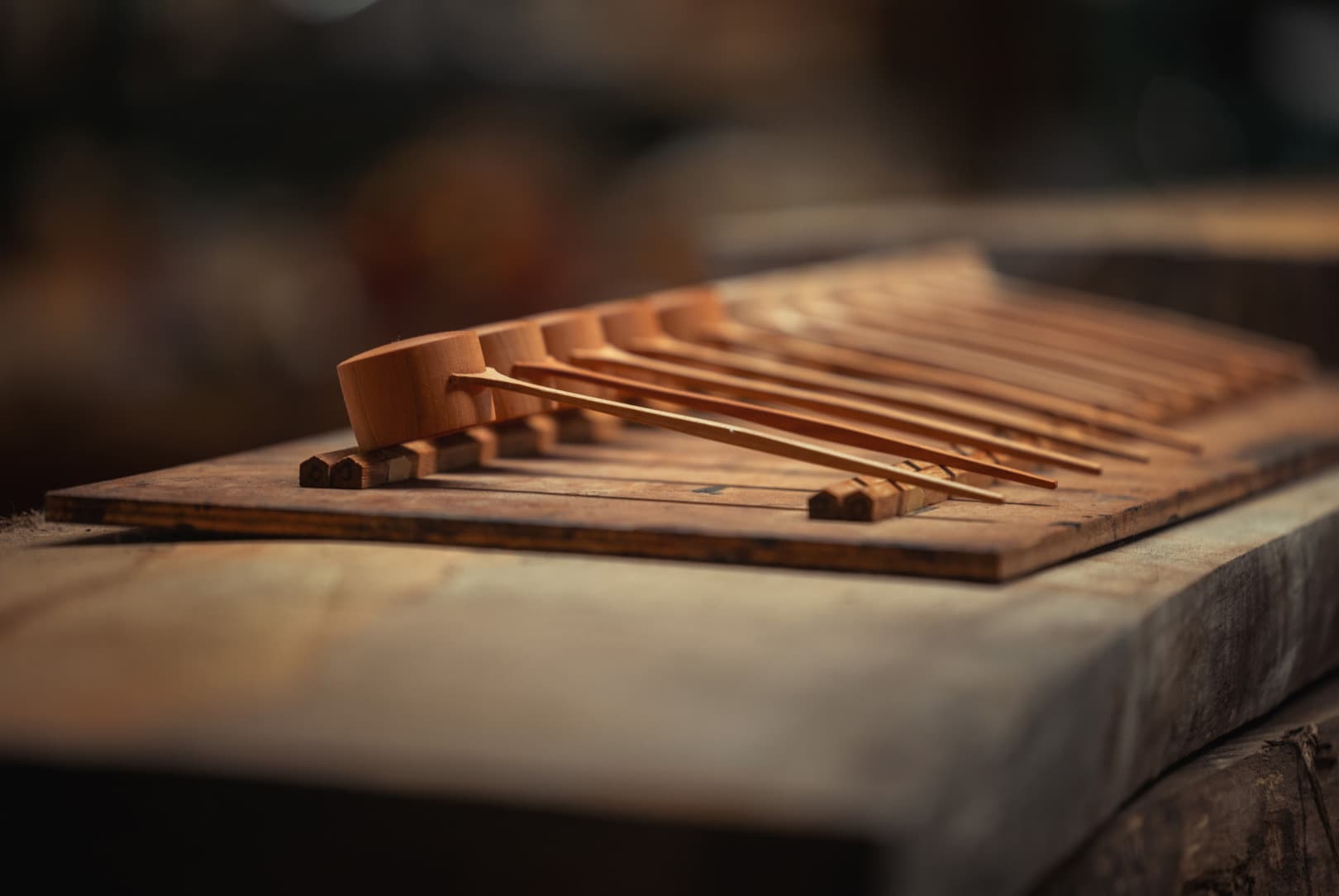 Fixing the handle to the scoop is an equally important process, as the joint is carefully constructed and refined to maintain the overall aesthetic. When the completed scoop is finally in hand, the handle nestles gently against the skin.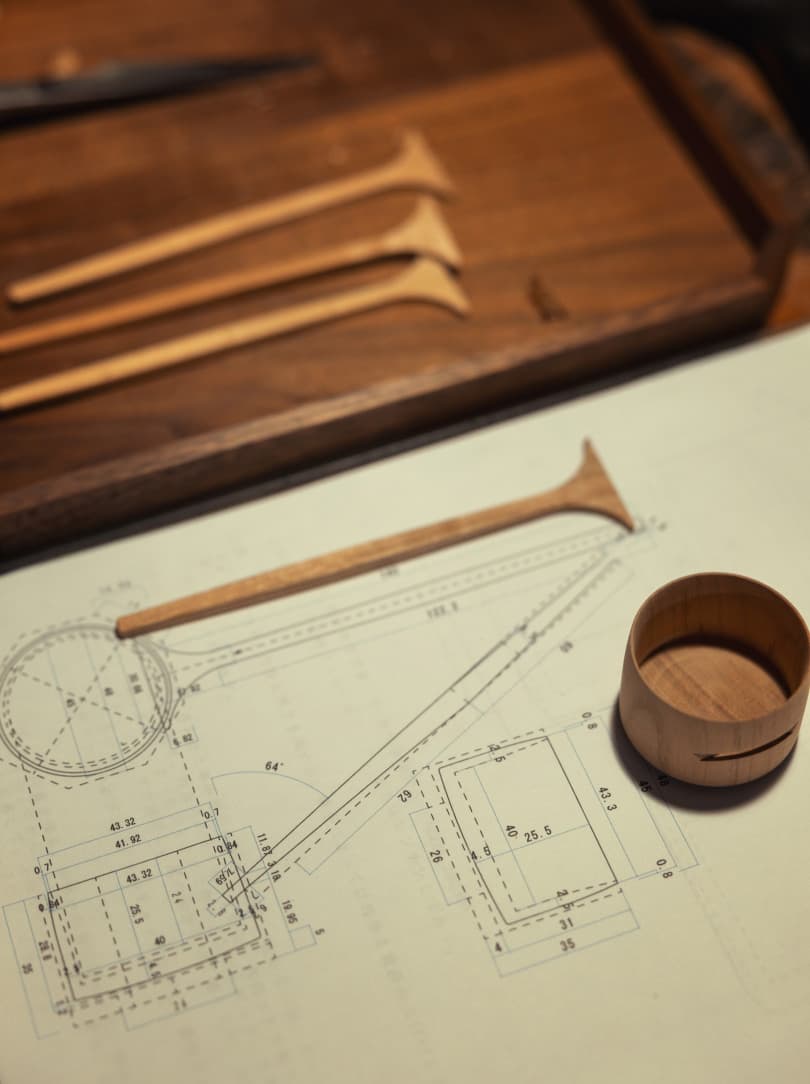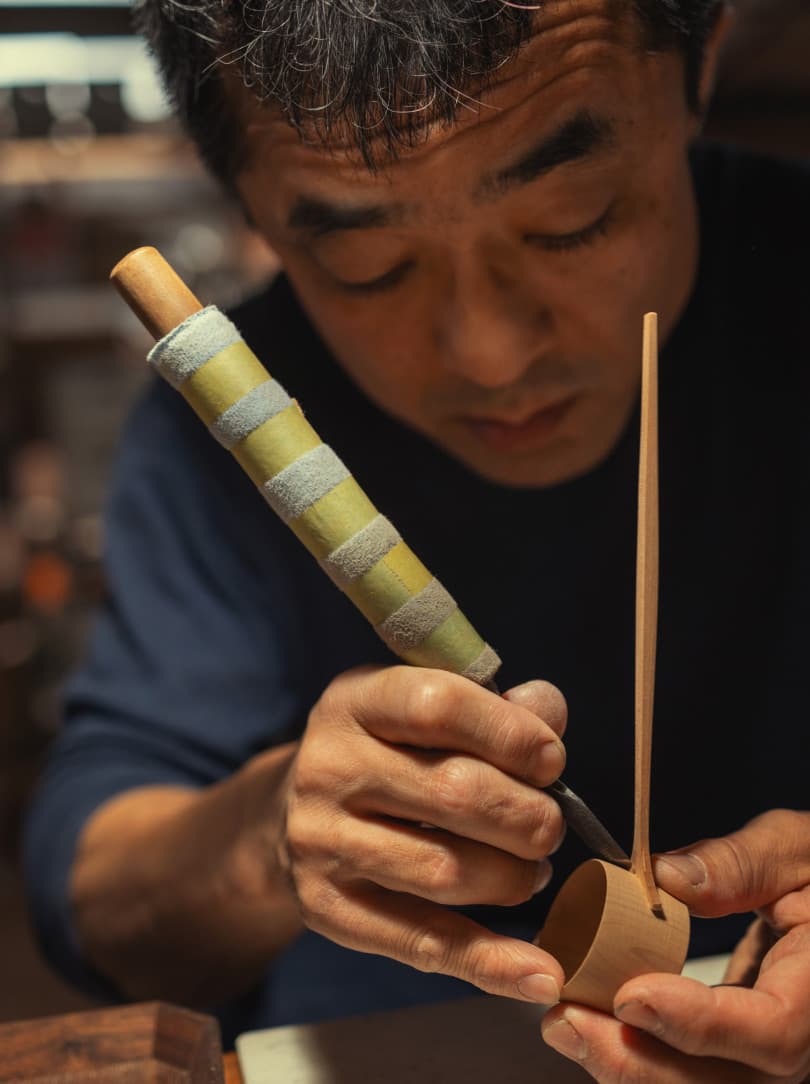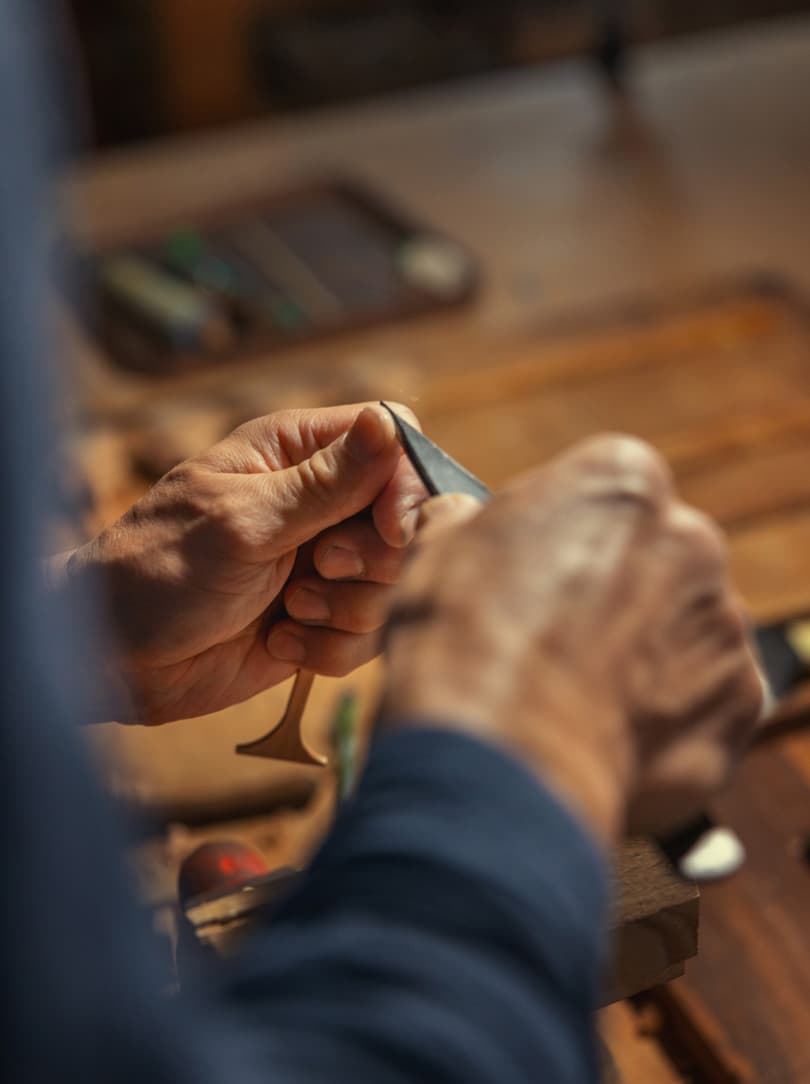 The coffee scoop, inspired by the bamboo tool used for the tea ceremony, is not the only product to have links to Japanese tea culture. Tazawa's original tea caddy was designed especially for 'nodate', or preparing tea outside. Possessing a simple, rounded form and an internal lid designed with travel in mind, it sits ever so comfortably in the palm of one's hand.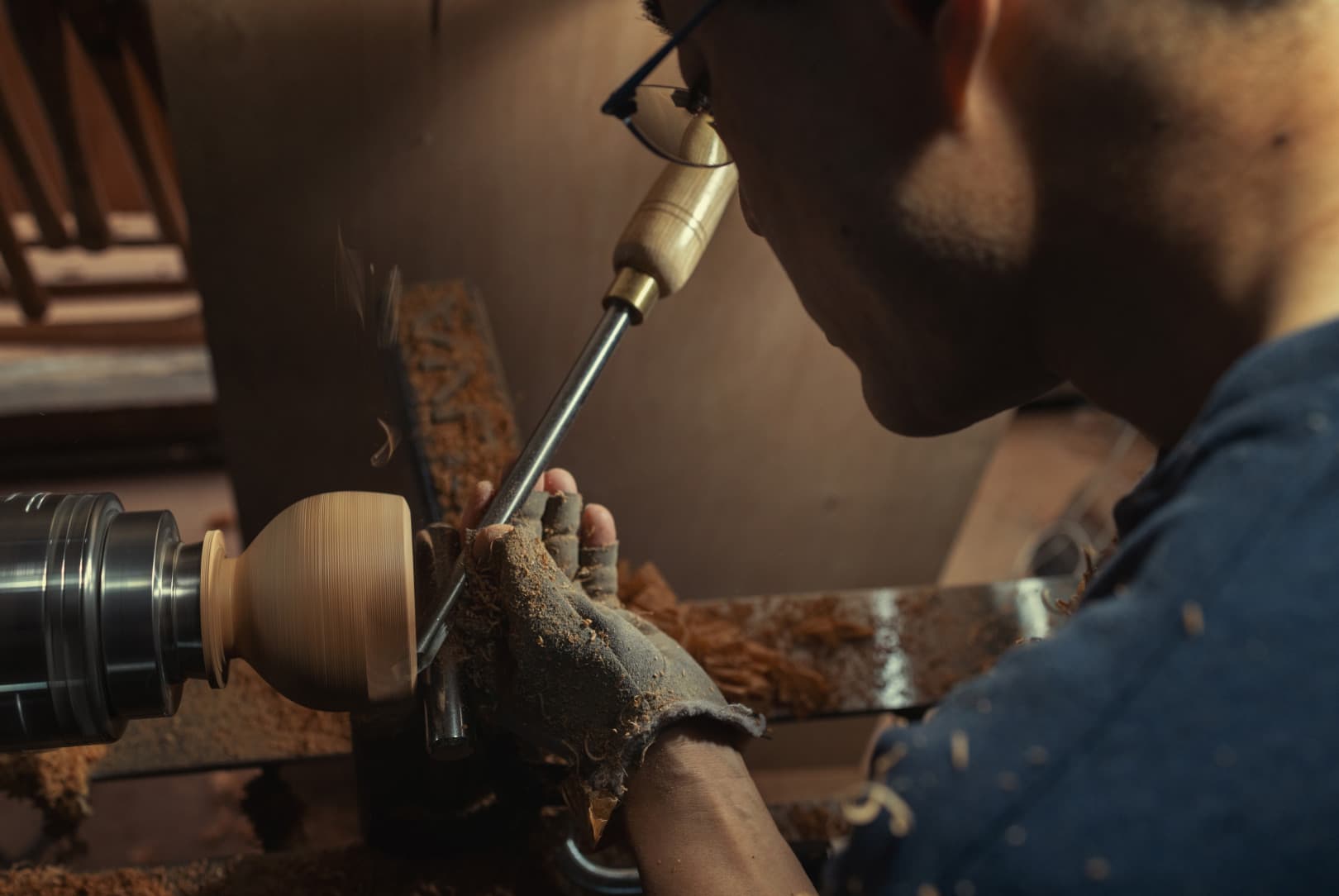 The idea of 'simple design, quiet form' can also be felt in Tazawa's katakuchi vessels, which are finished with an eye for texture and tactility. Shaped on a lathe, the rounded form retains marks left by the cutting tool, resulting in ever-so-subtle ripples extending across the surface. Some vessels are coated with dark urushi lacquer, while others are finished with a mixture of urushi and tin powder. The brushed, metallic sheen creates an illusion of sorts, making the katakuchi appear to be a heavy, cast-metal vessel.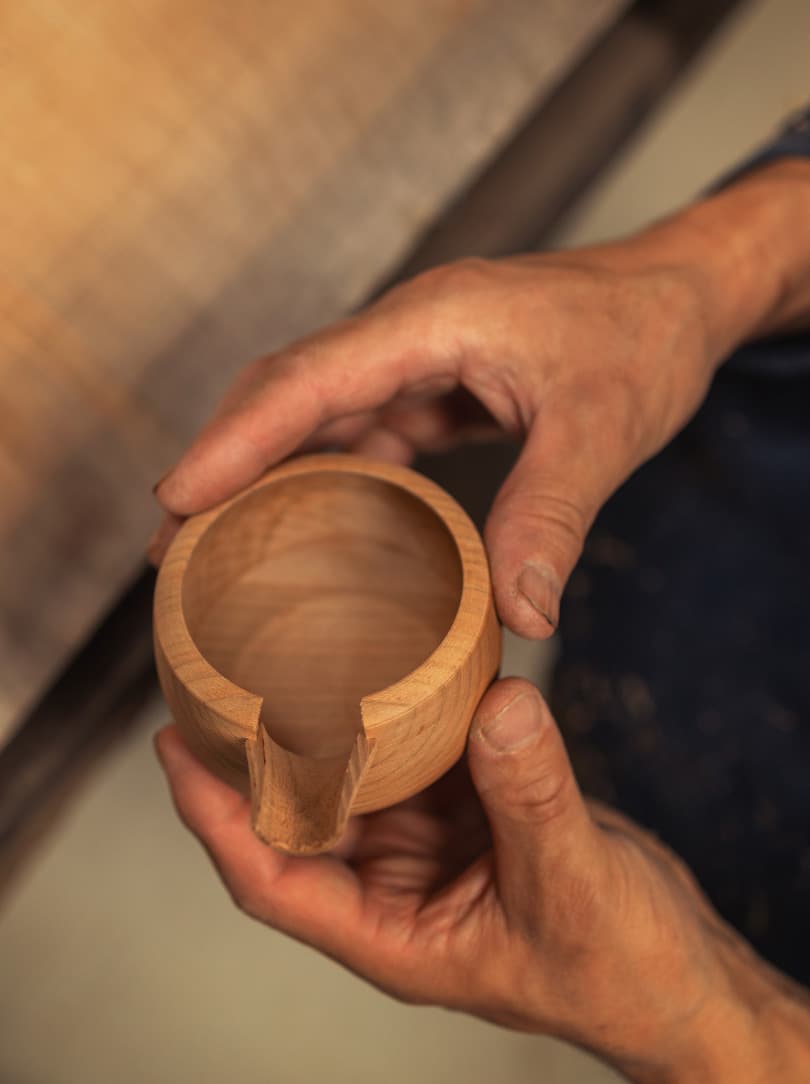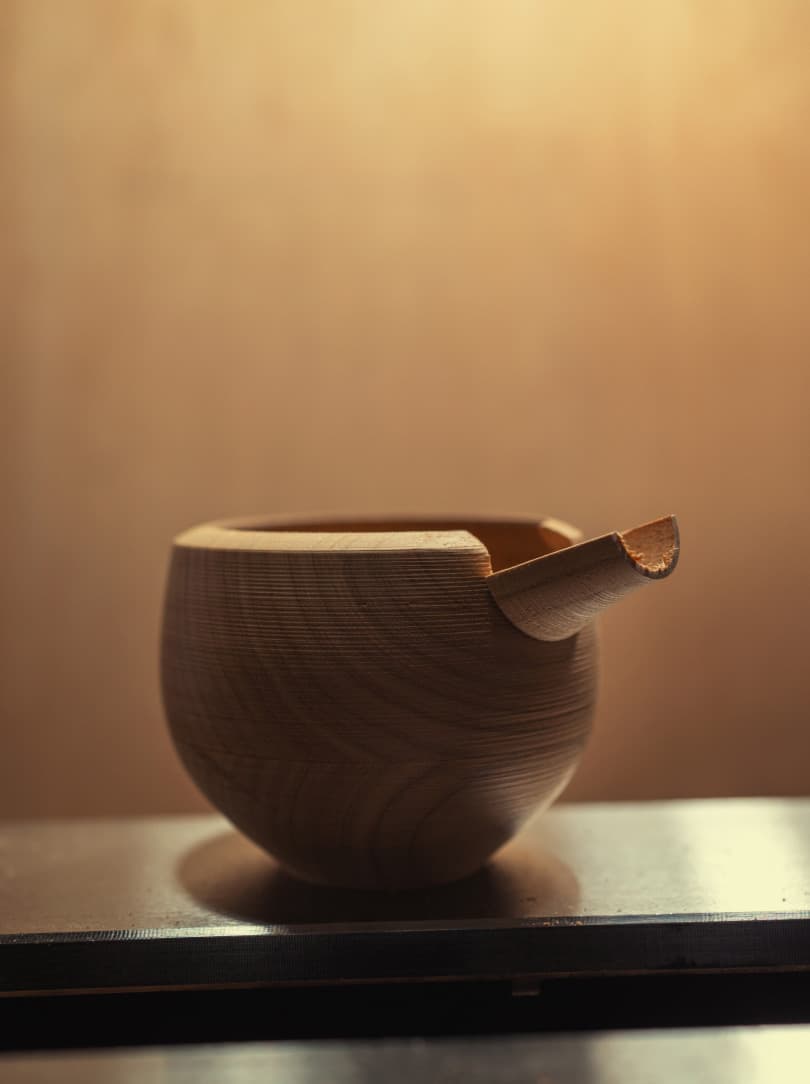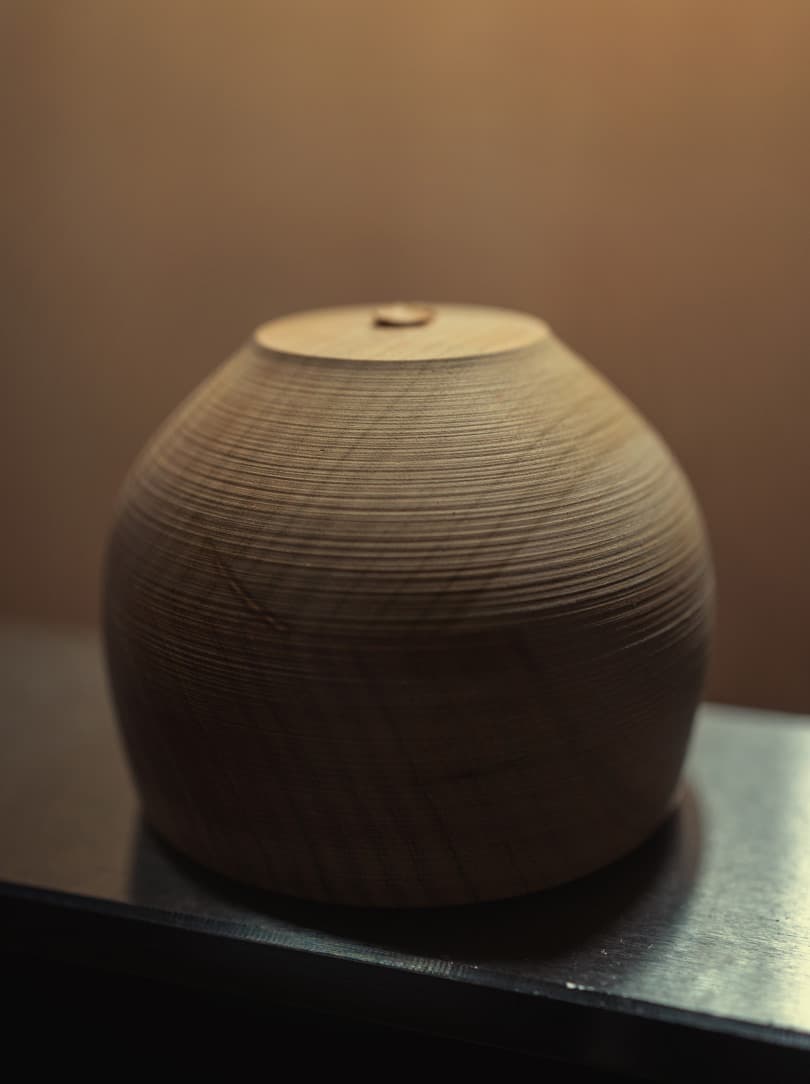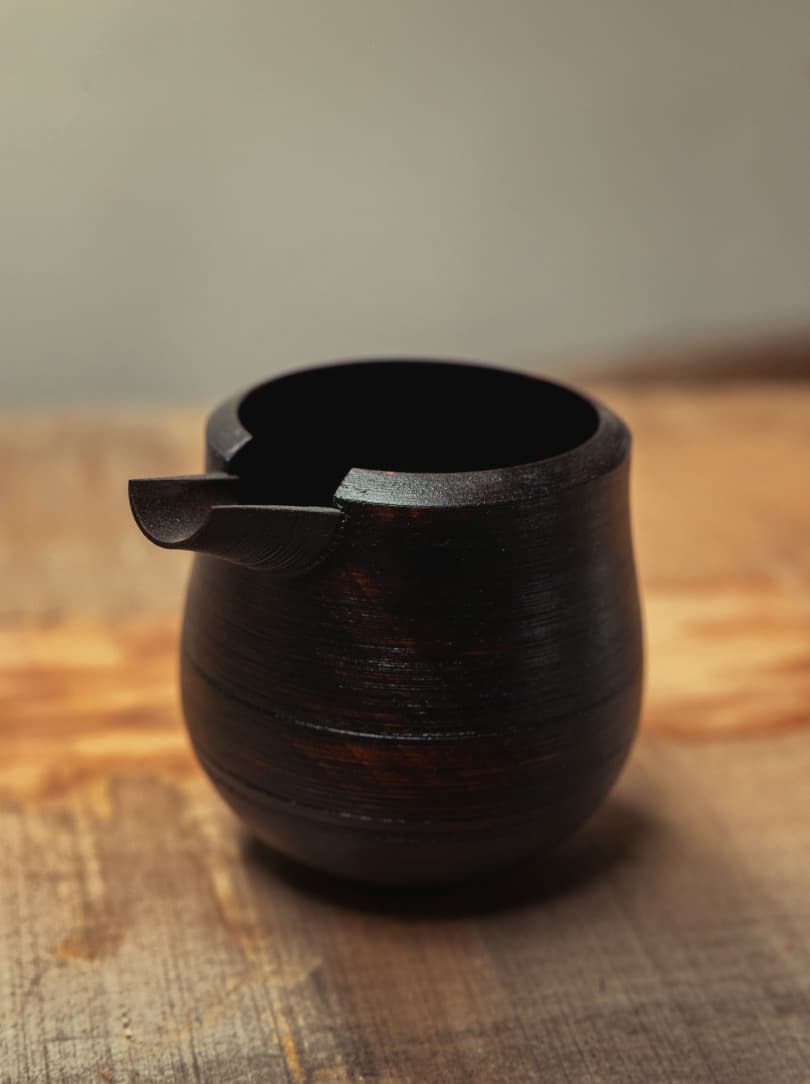 While aesthetic simplicity is one of the cornerstones of Tazawa's approach, he is always conscious of finding the right balance in his designs. "In the end, I make things that meant to be practical, so I am always thinking about exactly how much beauty is required," he says.
Earlier in the day, Tazawa had singled out the tiniest of white flowers among a sea of foliage. That speck of colour was like a window, bringing back memories of an expansive mid-spring bloom. In their own way, Tazawa's creations are designed to play a similar role. "I'd like the things I make to become part of someone's lifestyle or way of life. When held in one's hands and used for a long time, I hope they'll provide the feeling of the forest and nature."
WRITTEN BY BEN DAVIS
PHOTOGRAPHS BY NICO SCHAERER