Play Movie
Listen
to Katherine Kennard
reading this story
Sustainably farmed in Indonesia
East Java & Co
While most countries have a distinctive cuisine, they are not always the subject of local pride and warm invitation for visitors to taste the traditional dishes. Indonesia does and its food exudes joy: it skilfully fuses flavours to create an explosion of mouth-watering sensations. Indonesians take pleasure and pride in seeing you enjoy it. In its essence, this is what East Java & Co is all about: the purest flavours for good, honest food that brings joy, and even more so when shared.
Growing up in Java, Yasmin Sandytia, the co-founder and talented creative behind the East Java & Co brand, learnt to love good food early on. Preparing delicious, richly flavoured yet simple dishes has become one of her true passions, which, in time, gained influences from other cuisines from all over the world. Her passion was embraced wholeheartedly by her husband, Leo Schwarz, co-founder and strategic and managerial head of the company. We too relished Yasmin's culinary aptitude and it is a genuine pleasure we keep looking forward to. Watching her use the East Java & Co savours and spices, tasting her dishes and sipping the brand's organic Oolong tea, we learnt what the right ingredients mean to the founding couple and why starting East Java & Co was a natural step towards the conscious life they aim to live, and which has taken them from London to Bali. What started from their home kitchen in 2016 as a small venture turned into an Indonesian brand for food lovers that beautifully encapsulates the soul of this enchanting and diverse country, while nurturing it in return.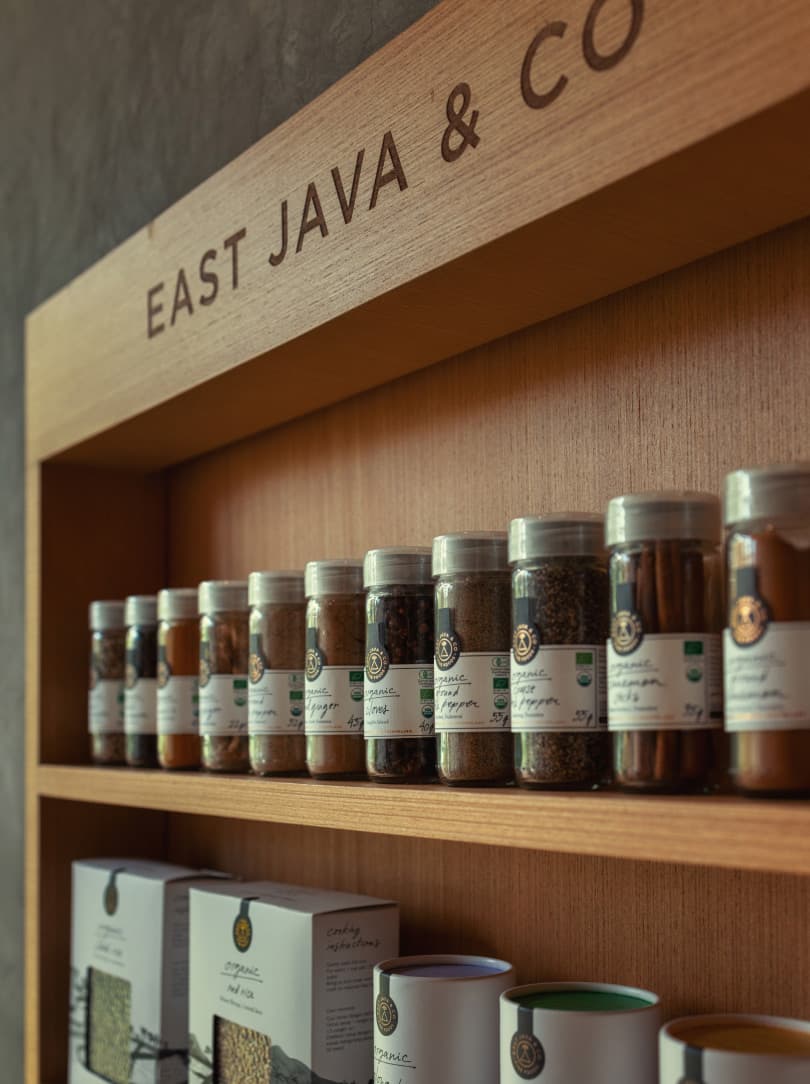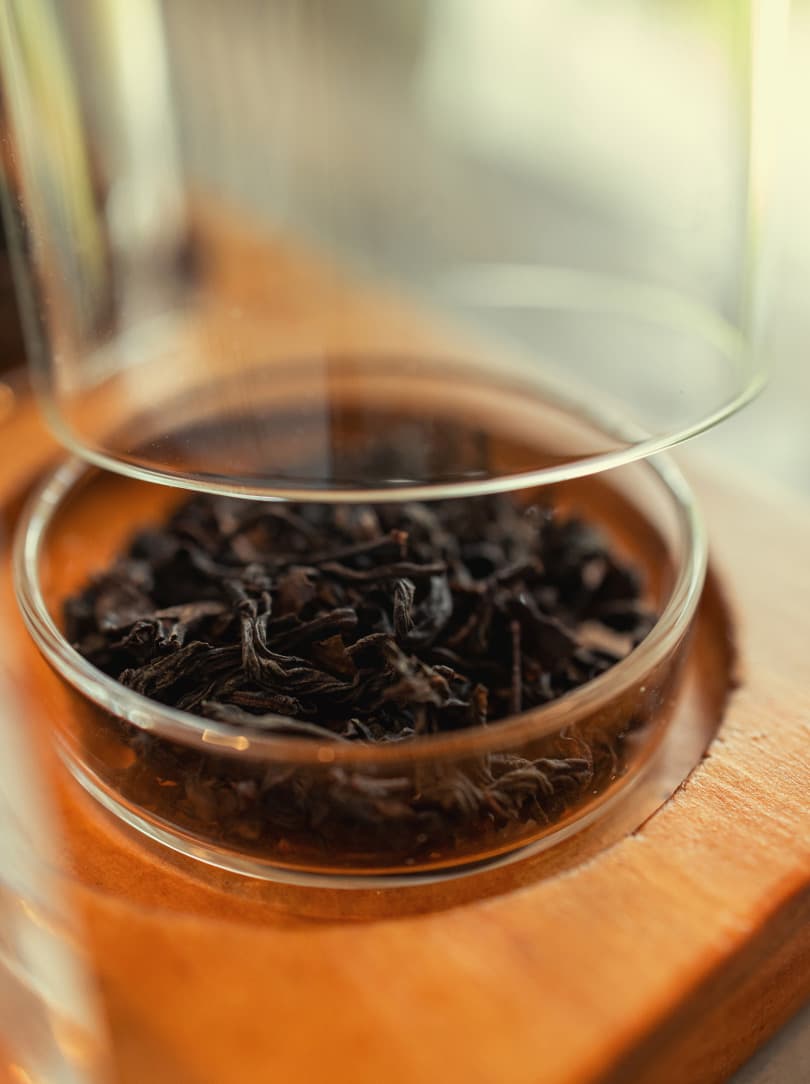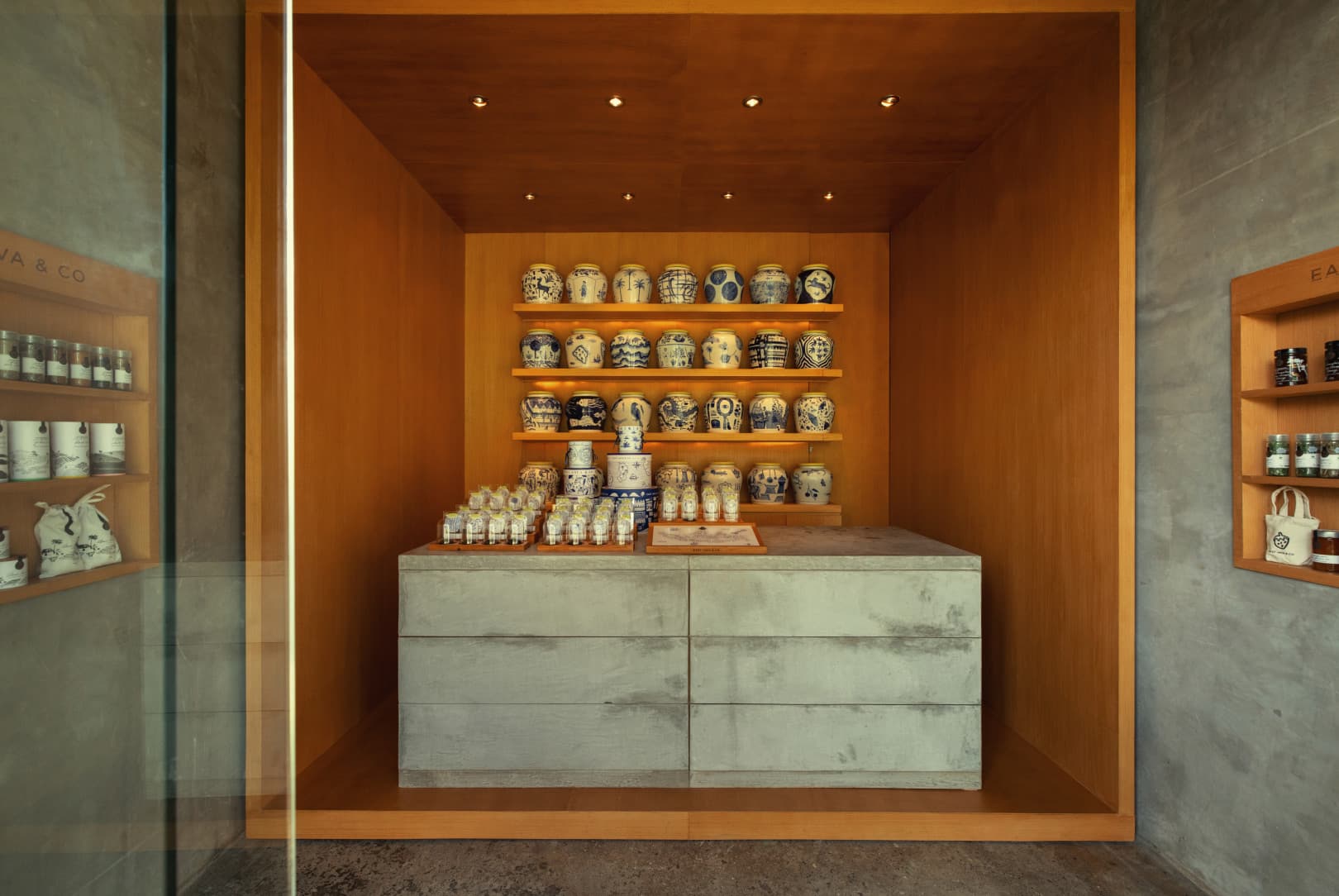 SAVOURING THE ESSENCE OF QUALITY
It wasn't by chance that they began experimenting in their own kitchen. Driven by a quest for superior tastes and well aware of Indonesia's rich history of flavours and spices, they knew the country must have more to offer. Initially, they were uncertain of what they sought, but that soon changed. Their respectful yet unapologetic way of being becomes clear when they speak about quality as the thing that matters most in their products. Almost everyone speaks about quality, but what that actually means often differs wildly. Leo and Yasmin are not bothered by that, as if it does not affect them. They know what they want and mean by quality, and that is what they infuse in East Java & Co. For them, quality signifies the essence of pure flavour. Something they came to realise can only be achieved by preserving the produce in its most authentic form.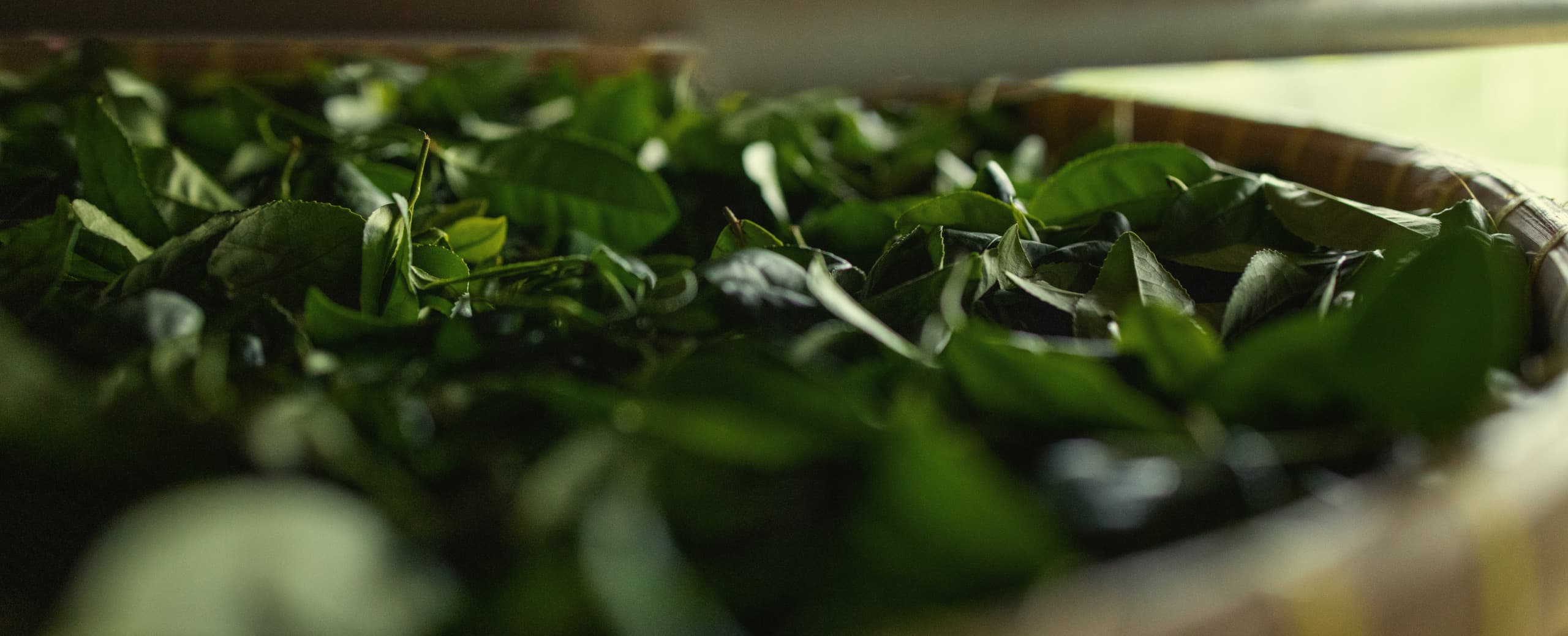 Since quality does not simply happen by itself, the founders put a lot in place to foster it and ensure it remains consistent over time. Beyond the careful selection of the producers, all products are natural if not organically certified, so they are free from the chemicals and additives used in large-scale food production. This matters to Yasmin and Leo because it ensures better taste profiles and because natural or organic farming favours smaller producers who cannot afford the machines required for faster, higher-yield mass production. It is a more sustainable production method and contributes to the biodiversity of Indonesia. Leo is not keen on labels or the unsustainable buzzwords of the industry he works in. East Java & Co was not founded to be the most sustainable green company nor to be primarily a social enterprise: at its essence lies the idea of high-quality ingredients made in Indonesia. No more, no less. In this same spirit, every product stems from a single origin, which provides multifaceted benefits: since a product is sourced exclusively from one farm, it fully reflects the unique characteristics of its 'terroir' and will be purer and more consistent in both flavour and appearance. Leo is quick to add that "a blended product might be just what someone is looking for, and there's nothing wrong with that". 'Blended' simply does not tick their boxes. The simplicity and purity of their products is reflected in their philosophy and is in itself a reflection of who they are and how they act.
Asked if the driving force behind their company is their own quest for high-quality ingredients, they will tell you openly that there is truth in that. "We noticed that when the quality is right for us, it reflects the desires of others who seek better products", says Leo. Hence, the founders' resolute pursuit of quality in their own life and for their own benefit serves as a testament to the nature of all East Java & Co products. A powerful story that remained untold over the years: Yasmin and Leo will not stop telling you that what matters most is the products – implying that it is not them. So, they prefer to let them speak for themselves: "once you try them, you are hooked", Yasmin laughs. But that is not the only reason. Leo and Yamin are both reserved, in their own way. This is, in fact, the very first story published about them since East Java & Co's foundation. Not for lack of requests, but rather because the product is the product and they are not it. Even though their lives and the genesis of their products are so closely entwined.
Built from the earliest days of Singapore's founding under Sir Stamford Raffles's vision to create a regular and uniform townscape, the shophouse has combined living with business. It takes the contemporaneous idea of work-life integration to another level and fits Yasmin and Leo's philosophy of life: just like their cuisine, it fuses different flavours for an overall richer life taste. The simplicity of their storefront in Bali is paired with the layered complexity of the house that embraces it and the individuals who live in it. The tall door with its long, thin-cut wood sticks is part of the store façade, perfectly masking the home entrance. It is followed by a long, narrow corridor, where you will find a motorbike and two blue surfboards hanging on the left-hand wall. These things are commonplace in a Balinese home, but here they tell a particular story. It is Leo who surfs, sometimes. Still him who rides this motorbike, rarely if at all – it is a collector's piece from 1976. This is the first but not the last bit of history you will encounter. The couple's shophouse is filled with pieces that tell the story of who they are – the story of a shared love of life and work, which blend into one. But many objects also speak of Indonesian history, the history of their brand, the history of a bygone past that shapes our present. Like the slippers and shoes, old and new, that create a comfortable chaos at the end of the corridor.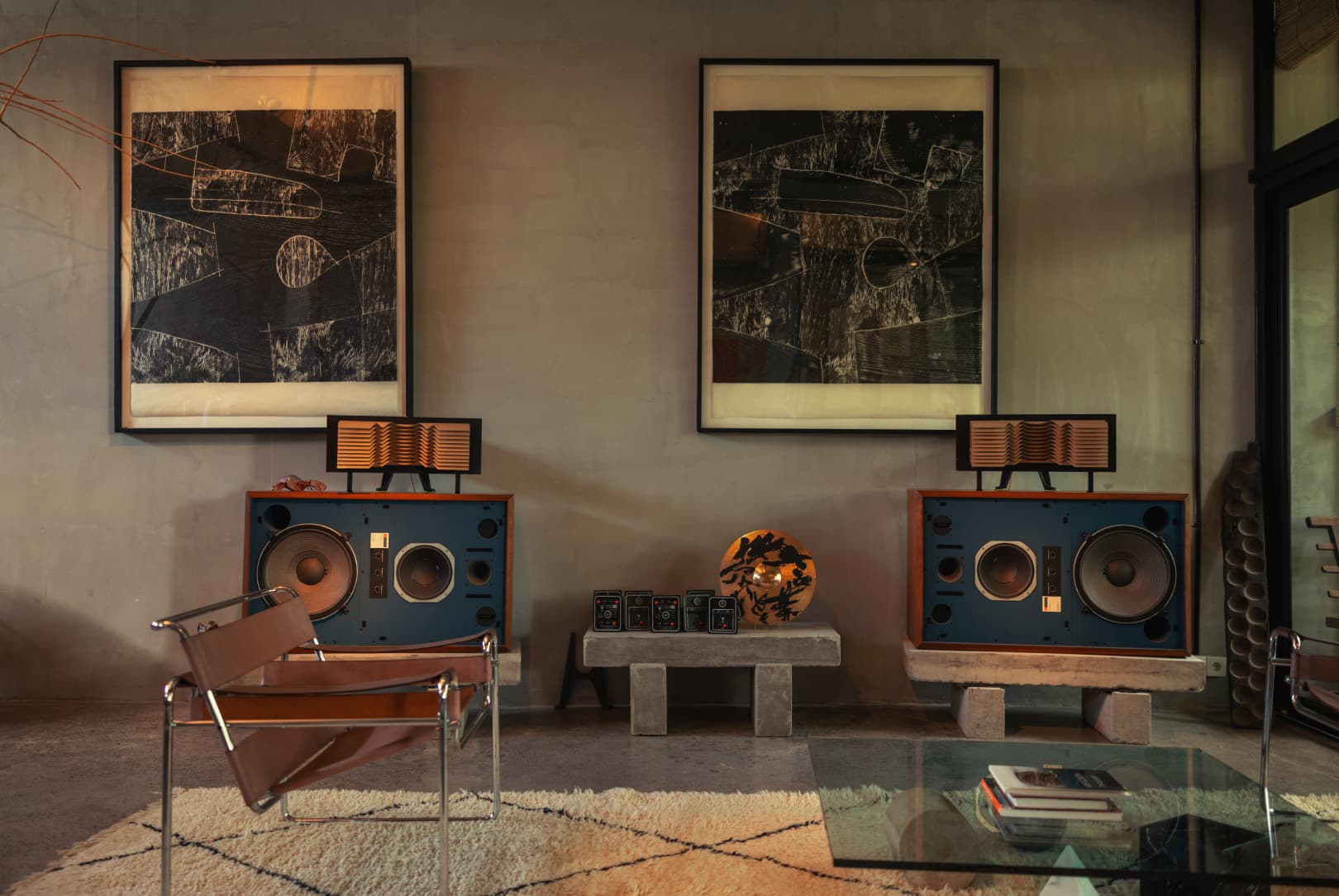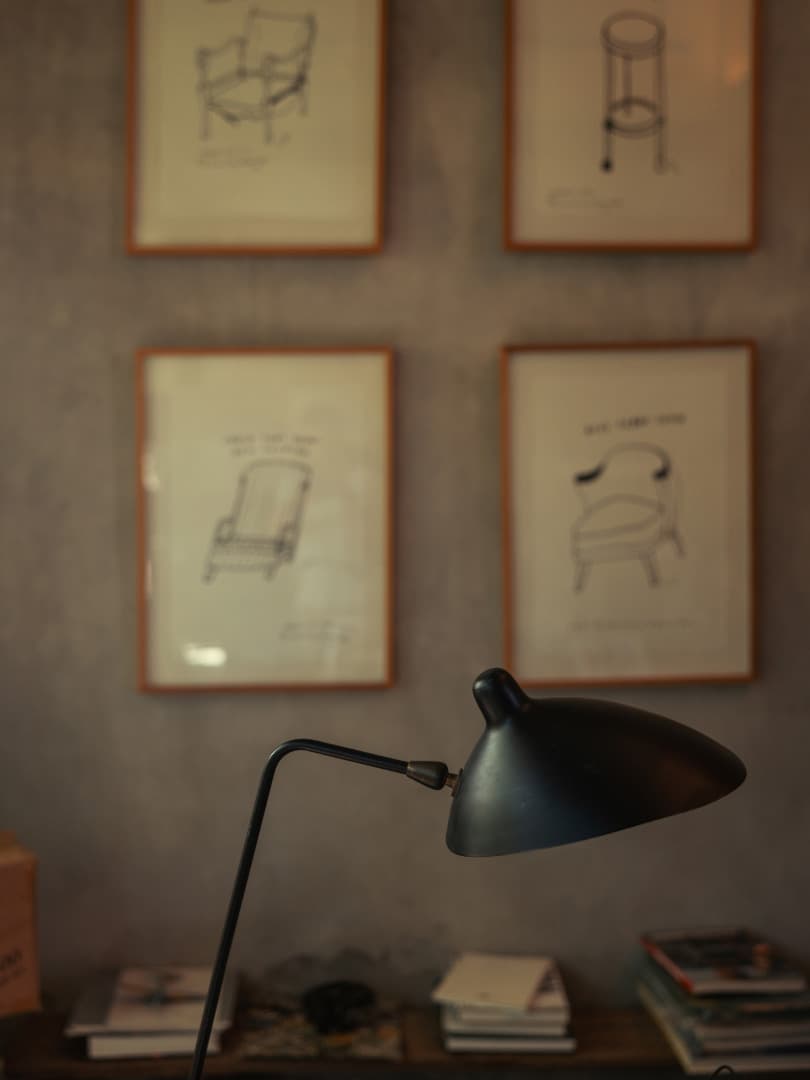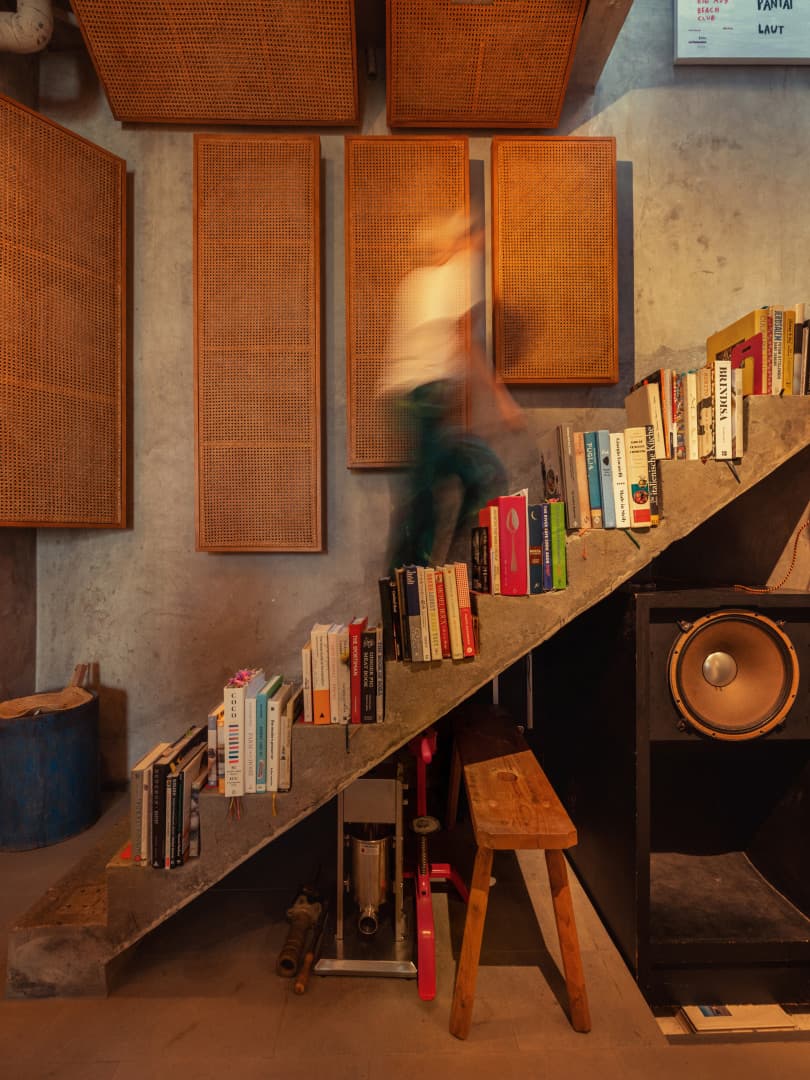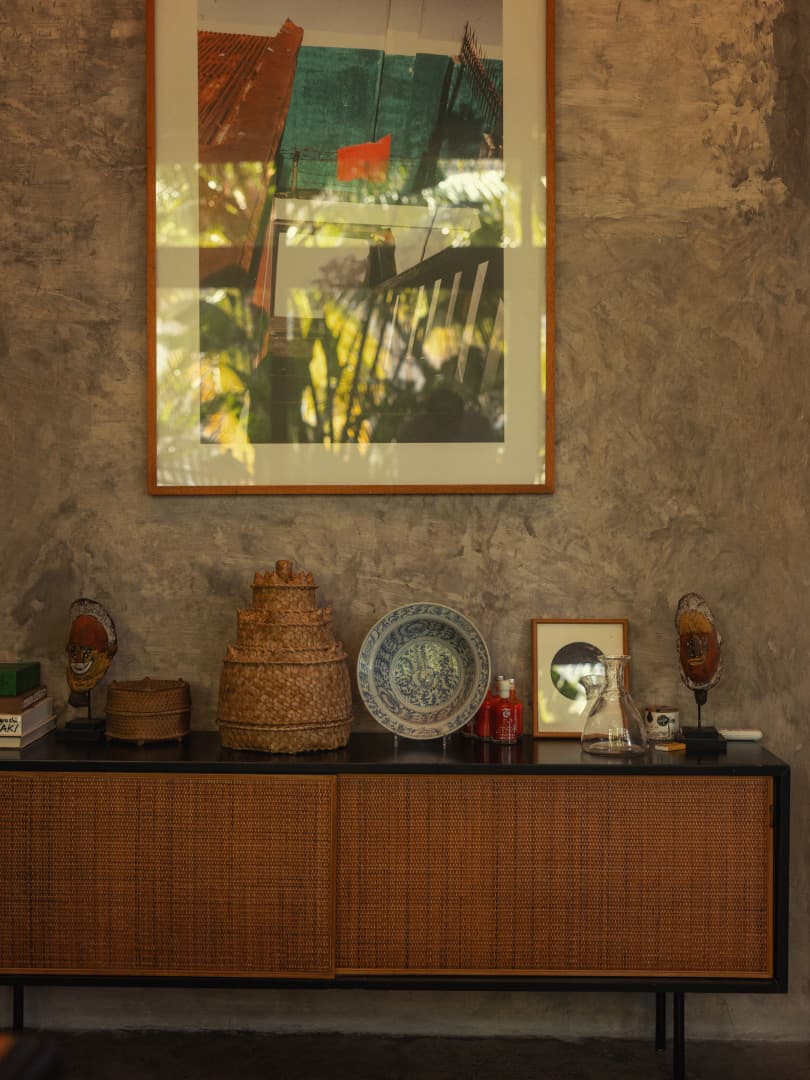 Opening the next glass door takes you into the heart of the apartment and Yasmin and Leo's life really: the kitchen. Evenings are Yasmin's favourite time of day, because of the cooking and enjoying dinner together. They bought the imposingly long red oven and cooking stove from a shop in Singapore and Yasmin designed the kitchen herself. "The kitchen was all mine", she says, "then Leo took over, sort of". He too poured his passion into this space, and it shows: the once-exposed concrete walls are now covered with perfectly aligned rattan rectangles and squares that absorb the sound. While rattan reminds you of where you are, everything else has a rather cosmopolitan flair, even though some pieces actually stem from here. In the same way, the paintings that hang opposite the kitchen are not immediately discernible as Indonesian in origin. Right below them are two benches. Simple, straightforward, they do the job. Leo usually sits there while Yasmin is cooking dinner. He doesn't sit just anywhere, but precisely in one spot next to a load-bearing column. He sits there because it is the point where the sound from two large studio speakers from the seventies converge: Leo's passion is music. Not random music to fill the background, but carefully handpicked songs with depth. Throughout their evenings you will see his head looking down at his cell phone often as he picks just the right song for that exact moment. And if you are sitting in his spot, you will feel the sound reverberate in every cell of your body – with the left loudspeaker in your left ear, and the right in your right. It feels and literally is mind-blowing. Not only because of the vibrations and the sound, which are simply majestic, but also because of Leo's spur-of-the-moment playlist that continues to evolve as the evening does.
"Great music starts with an emotion. Whether who listens feels that one or a different one remains secondary. What matters is that it stirs emotions."
Leo Schwarz, Co-Founder East Java & Co
While we deep dive into Leo's music and enjoy Yasmin's worldly dishes that keep coming, we reflect together on the simplicity and purity of the ingredients that make a great meal, a great song, and ultimately a great life. What remains unspoken are the emotions that live within us, waiting to surface. We do not talk about them, but we feel, hear and see them. In Yasmin's charming, laughing interventions as she cooks one dish after another, and in the complicit way she looks at Leo when her mind goes to a place she is not sure she wants to share yet. A rare unspoilt and pure joy transpires in Leo's eyes as he speaks of what matters to him most, it looks as if more of life is poured into his otherwise quiet eyes, which mostly focus on carefully observing what happens around him. There is a sort of settled quietness about the couple, a sense that they are comfortable with who they are and won't put on a show for you or anyone else. In different ways, they fit the classic mould of passionate entrepreneurs, but what they are truly passionate about is a good life. One that is lived consciously, one that is focused, one in which they take the time to do and be, without wasting a single minute on the mundane or the unnecessary.
Asked how she is, Yasmin answers that she is exhausted and excited at once. She goes on to talk about what fills her days: "Work, work, work." There is an unexpected light-heartedness in the way she utters this otherwise loaded word. Not because work, and plenty of it, is not hard. But because it is does not weigh down on her. Quite the opposite. Her work gives her joy and she knows that "We're doing it for us," as she puts it. So she goes that extra mile.
The more you listen to Yasmin and Leo's story and watch them interacting with one another, the more you realise that there is much they have in common.
A tall Swiss man with a character that reminds you of the reverent silence and depth of the solid rocky mountains in Engadin, where he grew up. And an Indonesian woman with a natural warmth and way of being that is as joyful as it is disarming. She grew up in East Java and says that she is and feels Indonesian. Now she has come back home. There is not much she misses of her life as an illustrator for the fashion industry in London, she says. Perhaps the dressing up. Just sometimes. Life in Bali is focused on their work, with little occasion for fancy outings. Despite this being her first answer, her eyes lighten up when the talk turns to food, ingredients or recipes. Simple things that make the difference between a random and a memorable dish. Olive oil, cheese, French or Italian butter, mortadella. Her love for food is rivalled only by the pure joy she finds in her work. Opening the first shop in Bali gave her the opportunity to design and paint many new jars and this, she says, "this is a joy". Her heart is in it. She designs everything from start to finish. It is no longer a matter of illustrating a temporary collection, as she used to, but rather products that have become daily kitchen essentials. And more besides: her illustrations adorn exclusive dinnerware sets at 5* hotels around the world. This was a line of work that she started long before returning to Indonesia and still pursues wholeheartedly. Although she takes the time to do things the right way, she seems to find the time to do it all.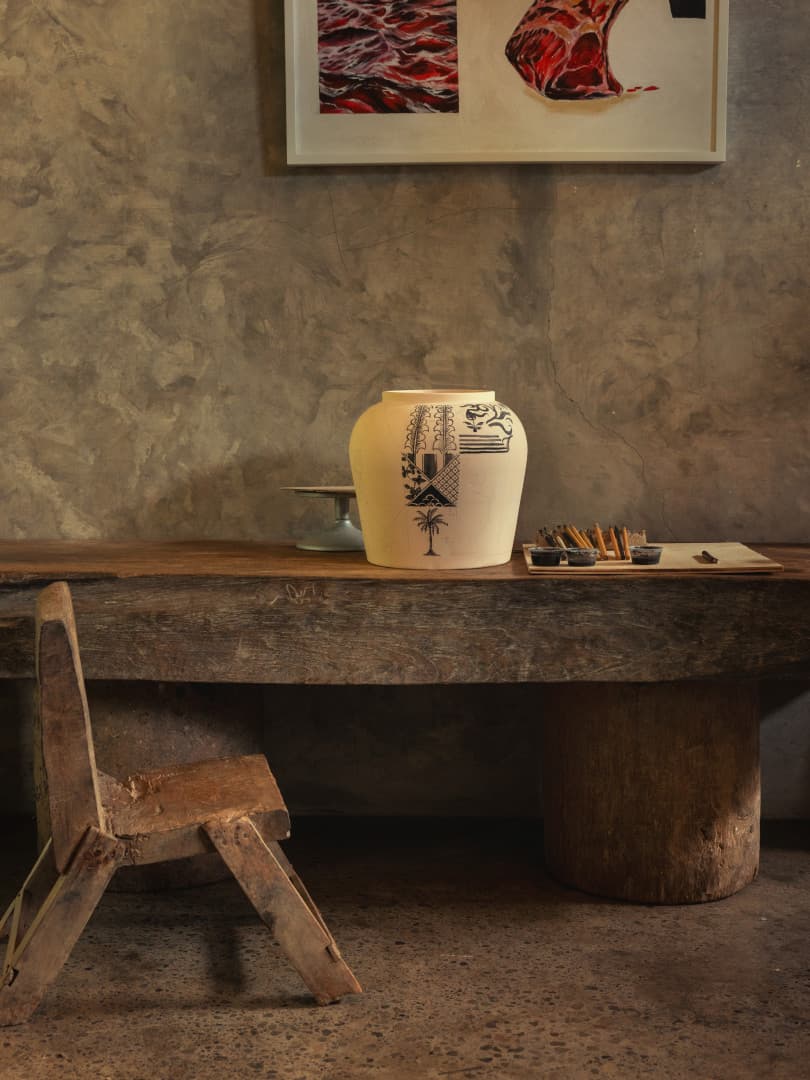 Leaving London was a profoundly conscious choice, too. It was not a spur of a moment thing, nor was it dictated by dissatisfaction with the couple's life there. It was simply the right time for a change. And Leo believes that once you are given an opportunity to change something in your life, you should grasp it. Any opportunity that comes your way will only be there for an instant. It won't come back, or at least not in the exact same way, he believes. Nor will you be the same person if it does come back. So they took it. The opportunity for Yasmin to go back home. And for Leo to live in a country he has known, visited and revisited for over 15 years. The careless allure that exudes from the way he picked every object in their home and placed them here or there, but also that of his own dressing style, might induce you to think that things happen casually. If you take a moment to look more closely you will see that barely anything is left to chance and much, if not all, is intentional. This might be a genuine character trait or a learnt one, perhaps a legacy of his past life in the London banking industry. Regardless, it feels authentic. There is a sense of the here and now in every encounter with Yasmin and Leo – as well as in their passions.
As Leo and Yasmin live in the moment rather than in the past, they don't bother too much about the whys, whats and hows. They're in Indonesia now. And they've built a food brand with more than 50 products out of nothing. They do what they're good at and can add value to. And they outsource the rest: doing it all wouldn't be the best use of their time. They prefer to focus on what matters most to them: creating new products – sourcing the right ingredient and living with it until it feels right, designing its packaging and telling its story. All of their packaging tells an entire story – either about the origin of a product or about long-lost memories in Indonesian history. The illustrations are captivating to the eye, yet deeply entrenched in the struggles of a past shaped by traders and explorers who were drawn to the valuable spices of this region, such as nutmeg, clove, cinnamon and black pepper. The proud heritage of the renowned 'Spice Islands' lives on in East Java & Co, a true ambassador of Indonesia's finest flavours – whether enjoyed across the country, found in selected stores in Singapore, Switzerland, or featured in their organic teas at AGOBAY.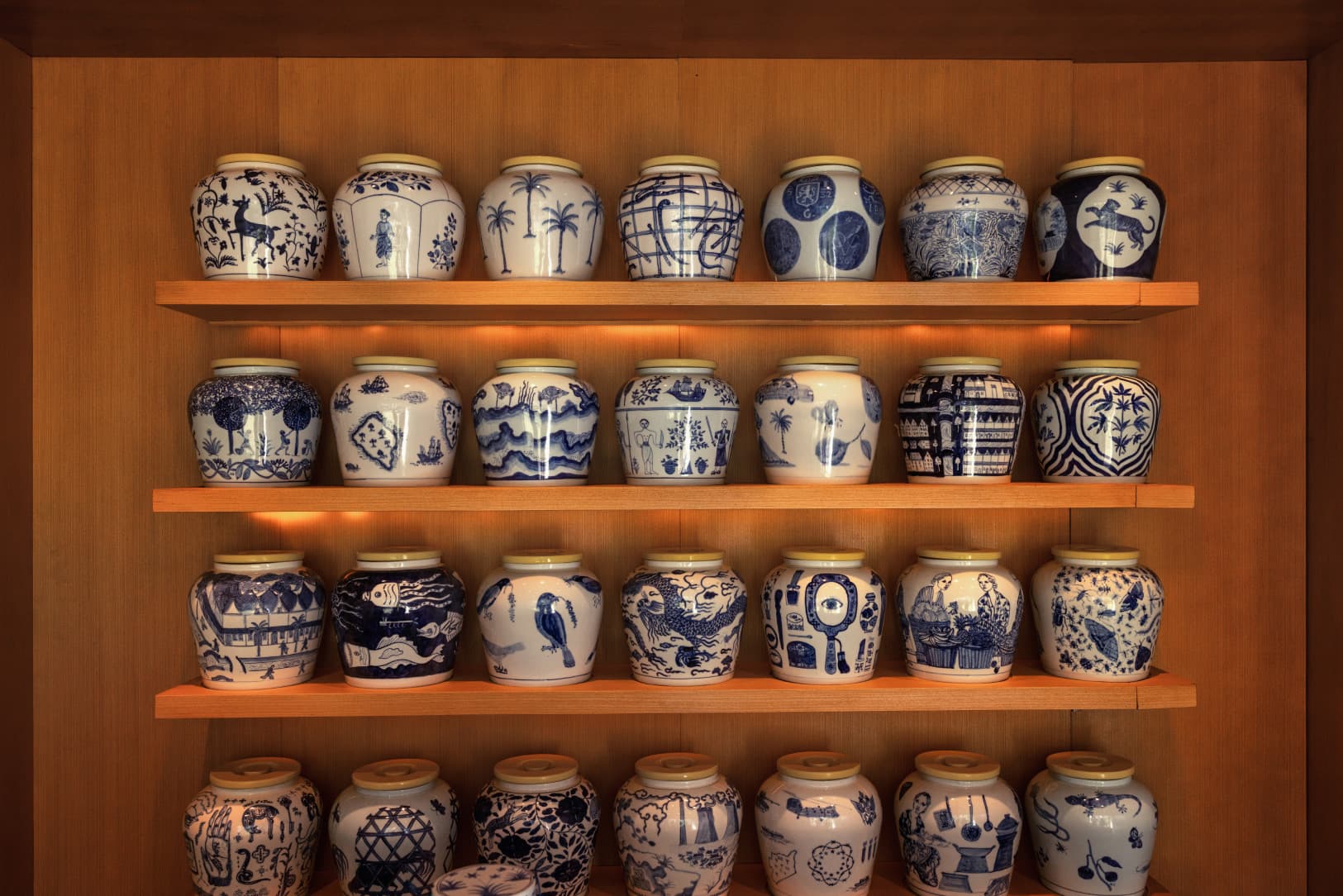 Just as diverse as the country they live in, Leo and Yasmin are unexpected in many ways. As individuals and together. They are both their own person, passionate with a fervour you rarely encounter and utterly focused on what really matters. When she cooks or illustrates, Yasmin is fully immersed in her world. She is in her zone and nothing can shake her. When the right piece of music creates a wave in his body or when he talks about a new product in creation, Leo is fully present. At other times, he might quietly leave the room to focus on what's on his mind – or perhaps to give it a rest.
"Leo is very smart. I trust him fully and without him I would never have started East Java & Co."
Yasmin Sandytia, Co-Founder, East Java & Co
Yasmin is deeply aware of all that Leo does. What he considers. What he has learnt. How he has made so much possible in so little time. Though they share the same values and principles, they are fundamentally different in terms of skillset – which is not only practical but also a source of respect and admiration. Beyond that, Leo finds inspiration in their collective ability to push forward when one is ready to throw in the towel. This has happened several times. Their venture has never been without its challenges. There are times when one or the other of them does not find it within themselves to keep going – perhaps when creating a product, organising a launch or the whole thing. Whenever that happens, the other fully taps into his or her reserves of energy and gets them both back on track. This is not to say that they push ahead with launching a product no matter what; rather, they have held off on launches because their standards of quality have not yet been met. Taking on a new product is a whole process for them: they live with it for few months, they use it, they think about the design, they refine it. Only when they're ready do they launch it. "Financially it doesn't make sense," says Leo. But this is the only way it makes sense to them.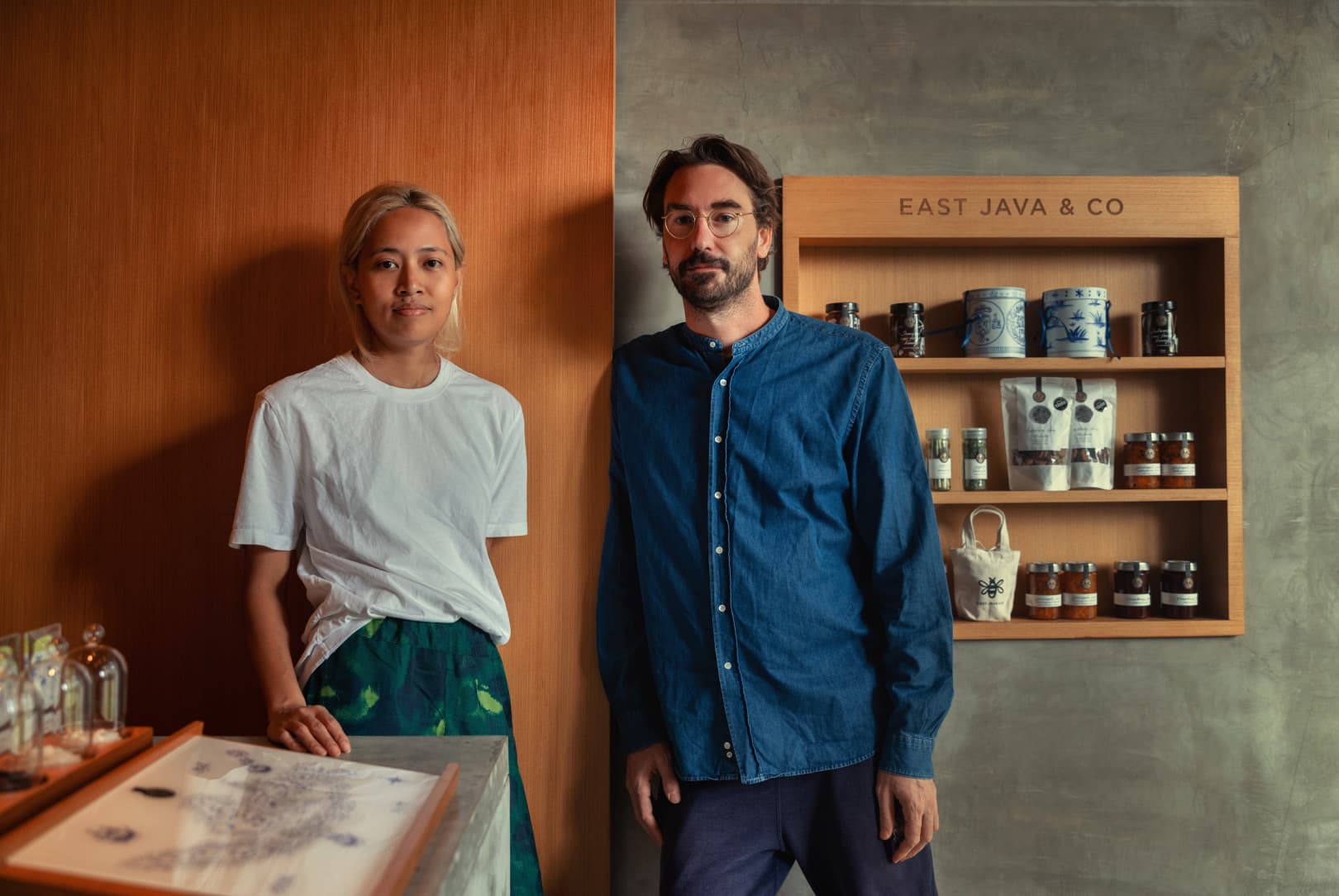 This is a unique moment in the history of East Java & Co, one they do not fully realise is about to happen. They had been envisioning a flagship store since quite some time. Leo designed it and when you see it, you might recognise some of his personality in the clean-cut look with a somewhat warm feel. Its rather minimalist front provides the ideal display for four rows of large jars, hand-painted by Yasmin and containing all of their treasured products. The illustrations in cobalt on the white glazed ceramic and the yellow cap create a striking impression. It draws visitors inside, where they discover the diversity and subtleties of Indonesia's flavours and scents. This country of more than 18,000 islands brings together different climates, soils, cultures and religions, which shape the character of the spices and foods it offers in turn. As testament to the unique way in which they have embraced Indonesia and all it means to them, Leo and Yasmin planned a Balinese store opening celebration that would include a blessing of the premises. This tradition is practised all over Indonesia, according to different rituals and rules.
This is a treasured moment for Yasmin and Leo – one to embrace and celebrate. A moment aside their daily rituals, which are more rooted in worldly habits. Of the many rituals the founding couple share, the one that really brings them together at different times of the day is enjoying one of their four signature organic teas from West Java – White, Green, Oolong and Black. They prefer to drink them as cold infusions. This is a mindful way of enjoying tea, and one that honours taking the time. Instead of boiling the water and pouring a cup of tea, they steep the loose-leaf tea in cold water for at least 12 hours. This gentle preparation method prevents any bitterness. Their teas are produced at the oldest organic Camelia sinensis tea plantation in the whole of Indonesia. It grows in Mount Halimun, in the cooler, humid air of the high mountains. The couple often drinks it together, sipping it as Leo's music plays, in the middle of the morning or in the afternoon. They might just share that moment of peacefulness in silence, because they do not always need words to know what is occupying the mind or the heart of the other.
Their four teas are part of the exclusive AGOBAY tea selection that can be found in our store.
written by AGOBAY
Photographs by NICO SCHAERER