Play Movie
Listen
to Katherine Kennard
reading this story
OGATA Paris
Discover OGATA Paris, a labyrinth of tranquility, tradition, and taste. Here, in the Marais district, a Japanese visionary is designing innovative forms that enable age-old crafts to live on in modern society.
Whenever he is asked a question, Shinichiro Ogata will provide an answer. Chances are, however, that this answer will prompt even more questions. And pretty soon, you will find yourself in the middle of a mind maze, amazed by its dimensions, its design, its ever-changing mesh of roads and pathways, and by the personnel it is inhabited by. Luckily, there are many peaceful corners, too – spaces that encourage you to sit down, take a breather, and allow you to marvel. Just marvel.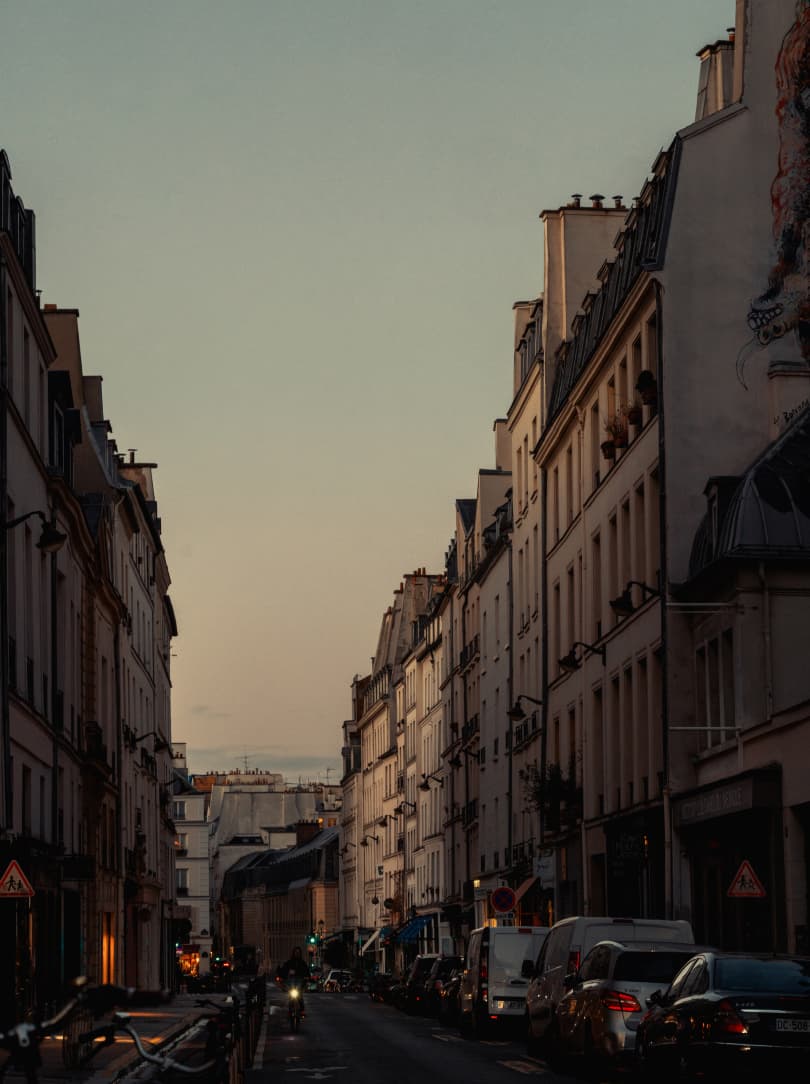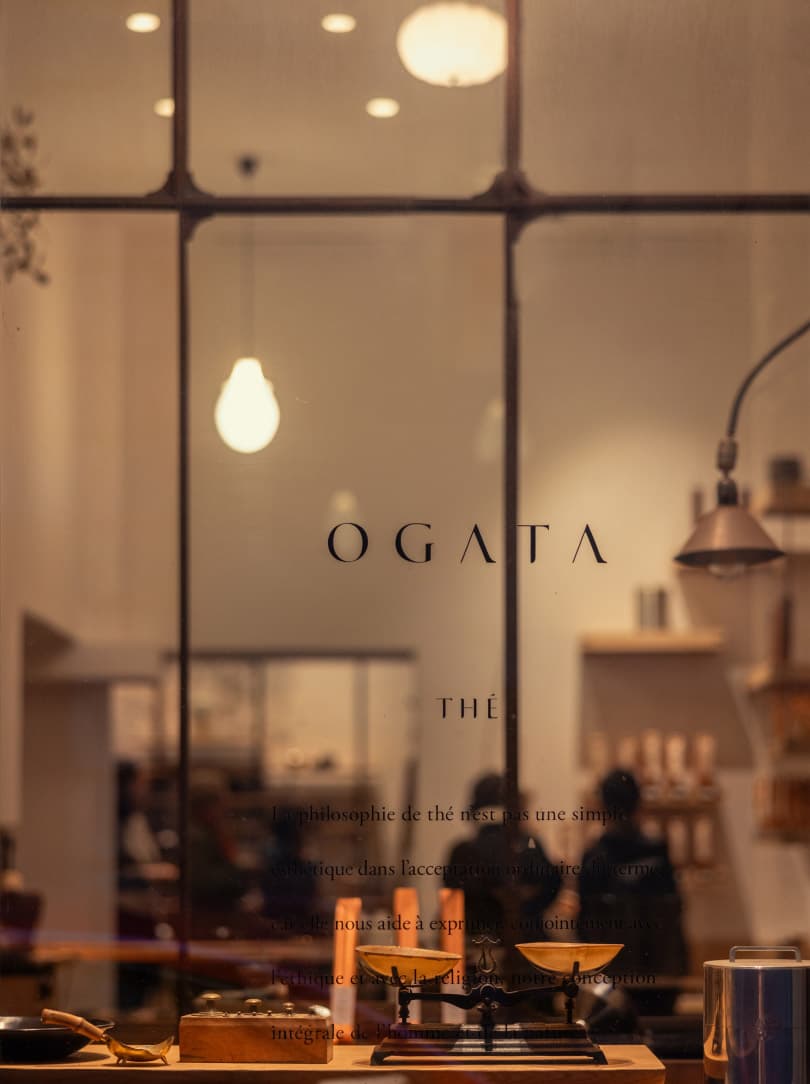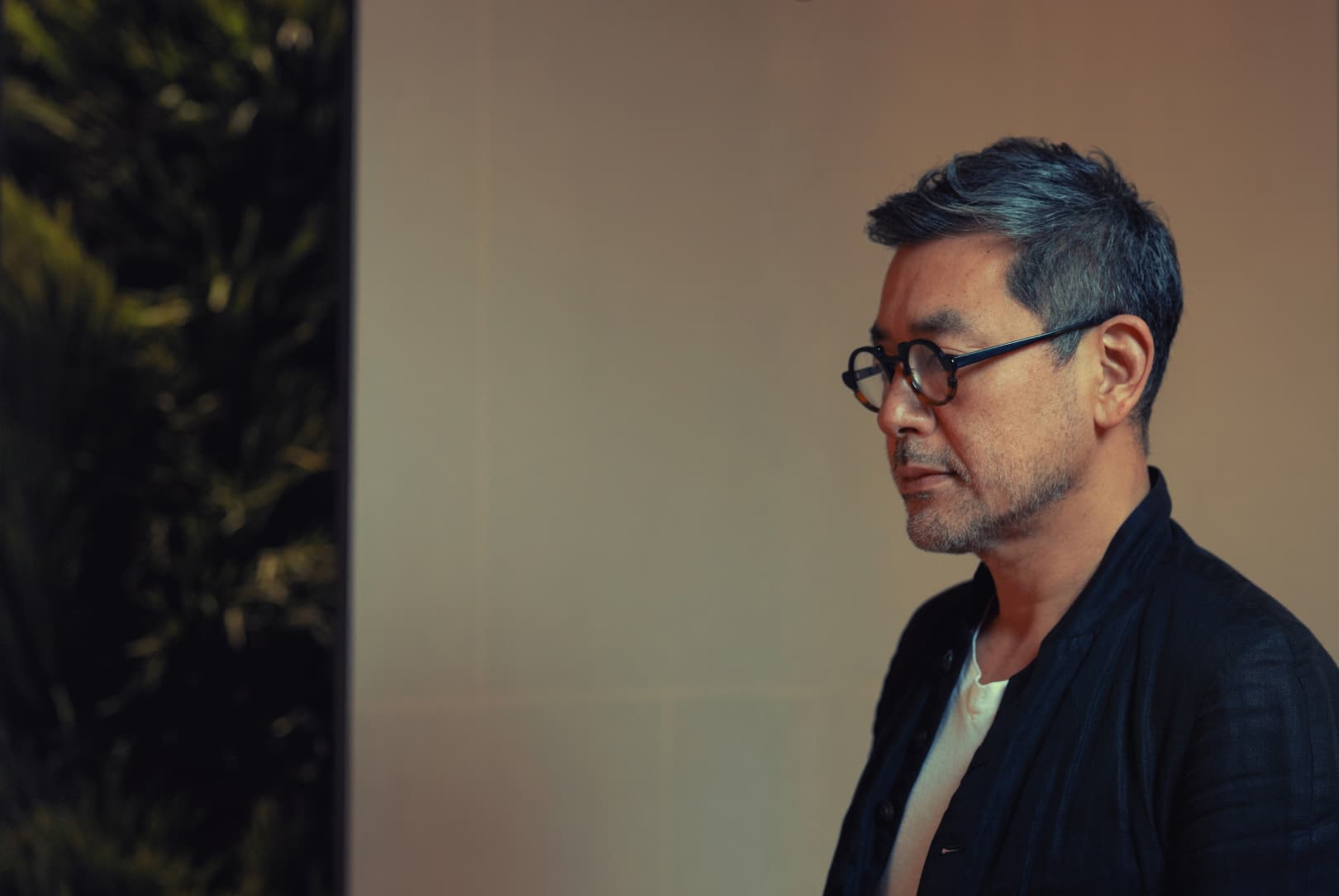 For instance, when asked about his definition of beauty, Ogata replies: "Nature is true beauty. Something that is particularly honest, without any lies in its forms or shapes. Something that is a pure reflection of what it is, that doesn't hide anything that isn't real."
But even if conversing with Ogata might not provide much closure in a strict sense, what you will obtain, nevertheless, is satisfaction – and plenty of it. Also, the deeper you choose to advance into his mind, the deeper your understanding will become of how this man works, literally. In the end you will walk away from the encounter with a compass to OGATA Paris – a physical, very real representation of a man's vision that transcends time and space.
Here in Paris, in the heart of the Marais neighborhood, the Japanese designer and entrepreneur has recently transformed a former 'hôtel particulier', a grand townhouse, into a cabinet of crafts. OGATA Paris is a small, elegant world. Tranquility, peace, and pleasure exude from everything encountered there, be it pastries and vegetal sculptures or 'ocha', Japanese tea, prepared before your eyes. And since every aspect of OGATA Paris is the brainchild of one person, one visionary mastermind, you will end up finding plenty of answers. Along with a couple more questions.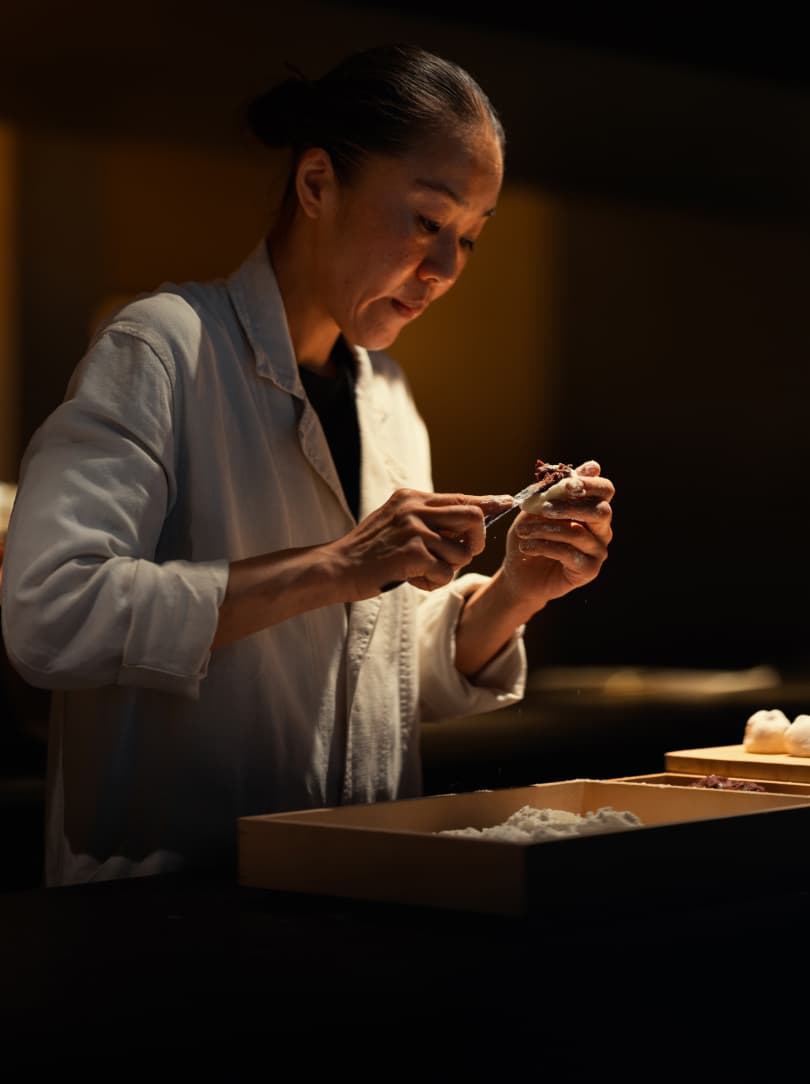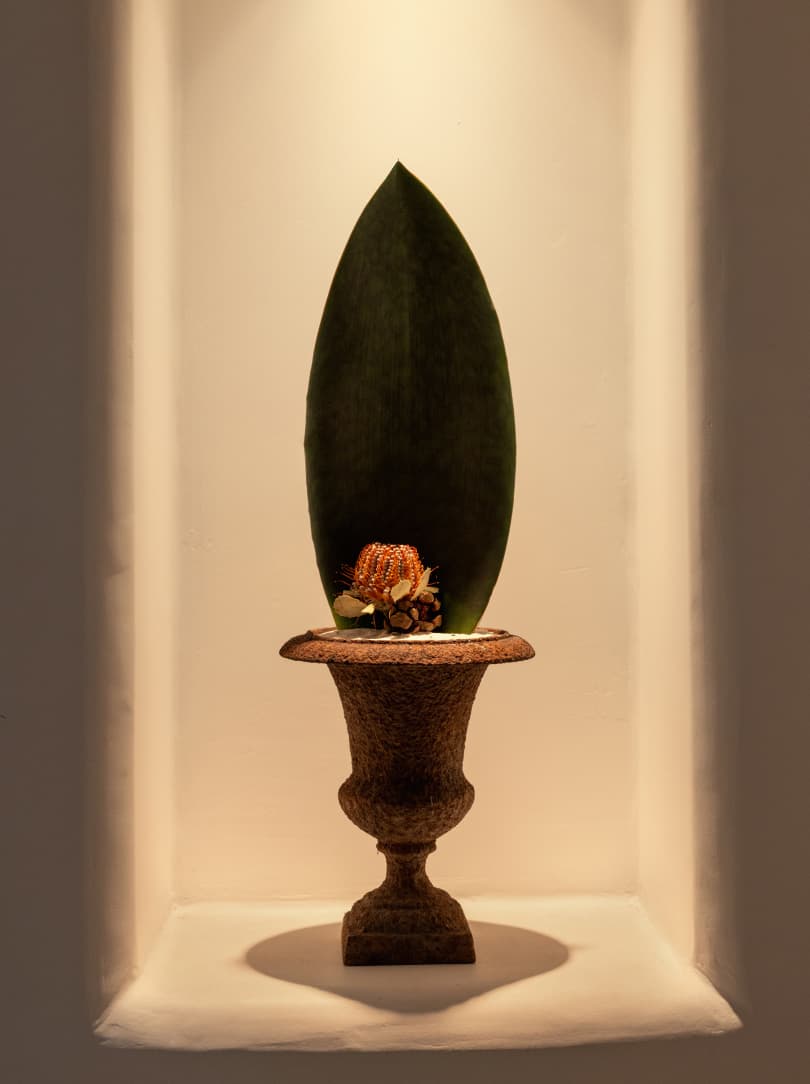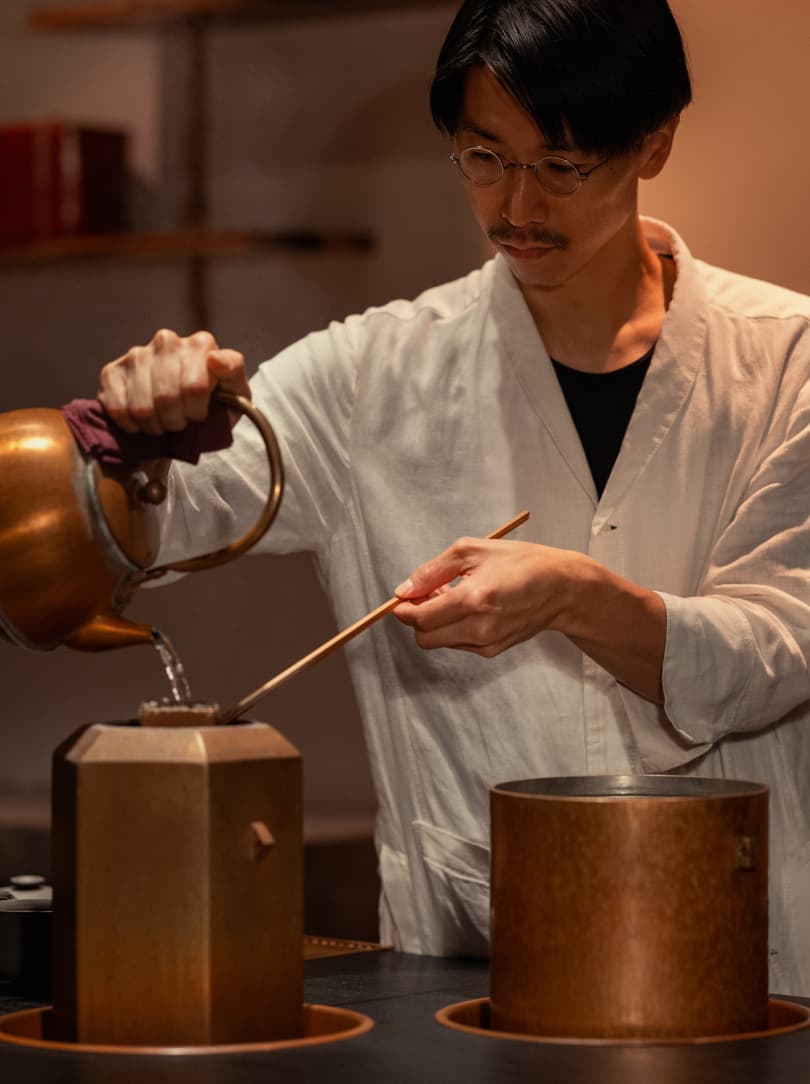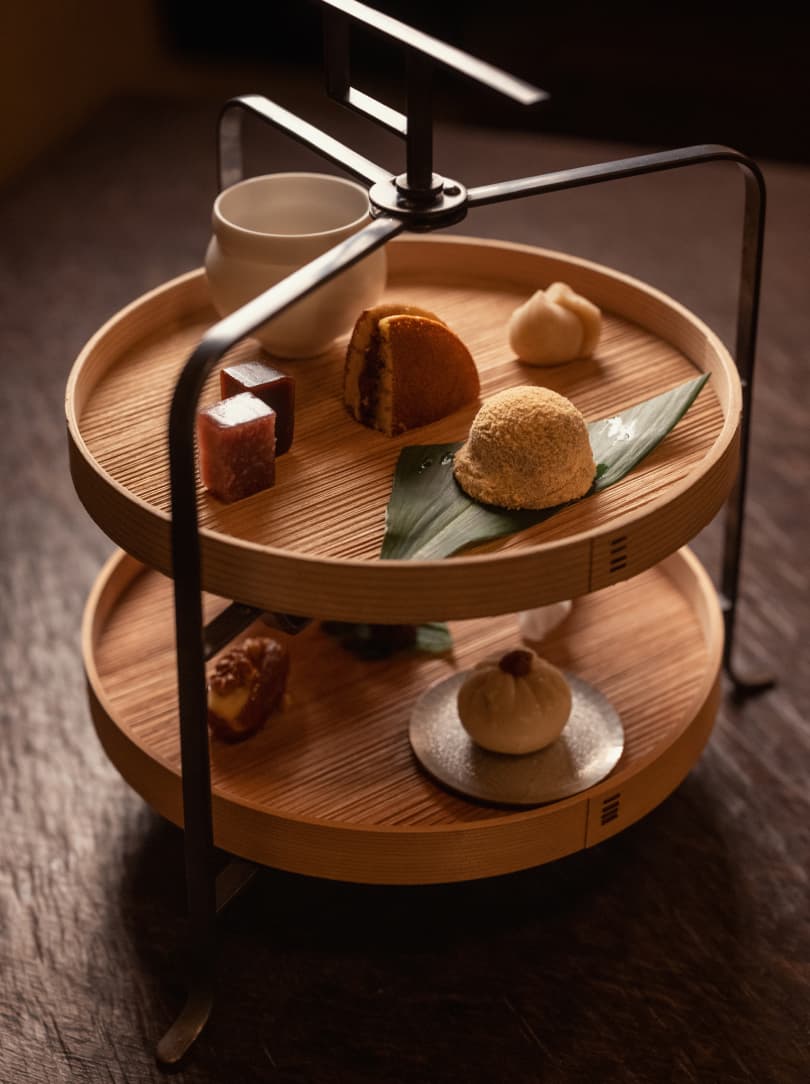 "Direct experiences enable encounters with forms that enrich your life. OGATA Paris is the place for such individual and shared experiences."
Shinichiro Ogata
More often than not, the Japanese language is ambiguous. Where Western minds will try to divide the world into black and white, the Japanese language will identify scales of grey. Words, sounds, and syllables can have several meanings, depending on their individual context – or your imagination. Just like nature itself, the Japanese language, despite all its rules, has managed to retain a lot of flexibility. To prove what an impressive job it is doing in mimicking the natural course of things, let us start at the beginning – with the word Ogata.
Ogata is made out of two Japanese characters, or kanjis, 'o' and 'kata'. 'O' means 'to connect', 'to join' or 'to link'. But it can also refer to the noun 'string', something that holds things together. 'Kata' means 'the way of', but also 'form' or 'method'. "Perhaps it was my fate to be named Ogata because it is my goal to create forms that allow me to bring people together," says Shinichiro Ogata. Therefore, to him, the preparation of tea or the execution of any other craft are above all forms – designed intentionally in order to establish a feeling of community.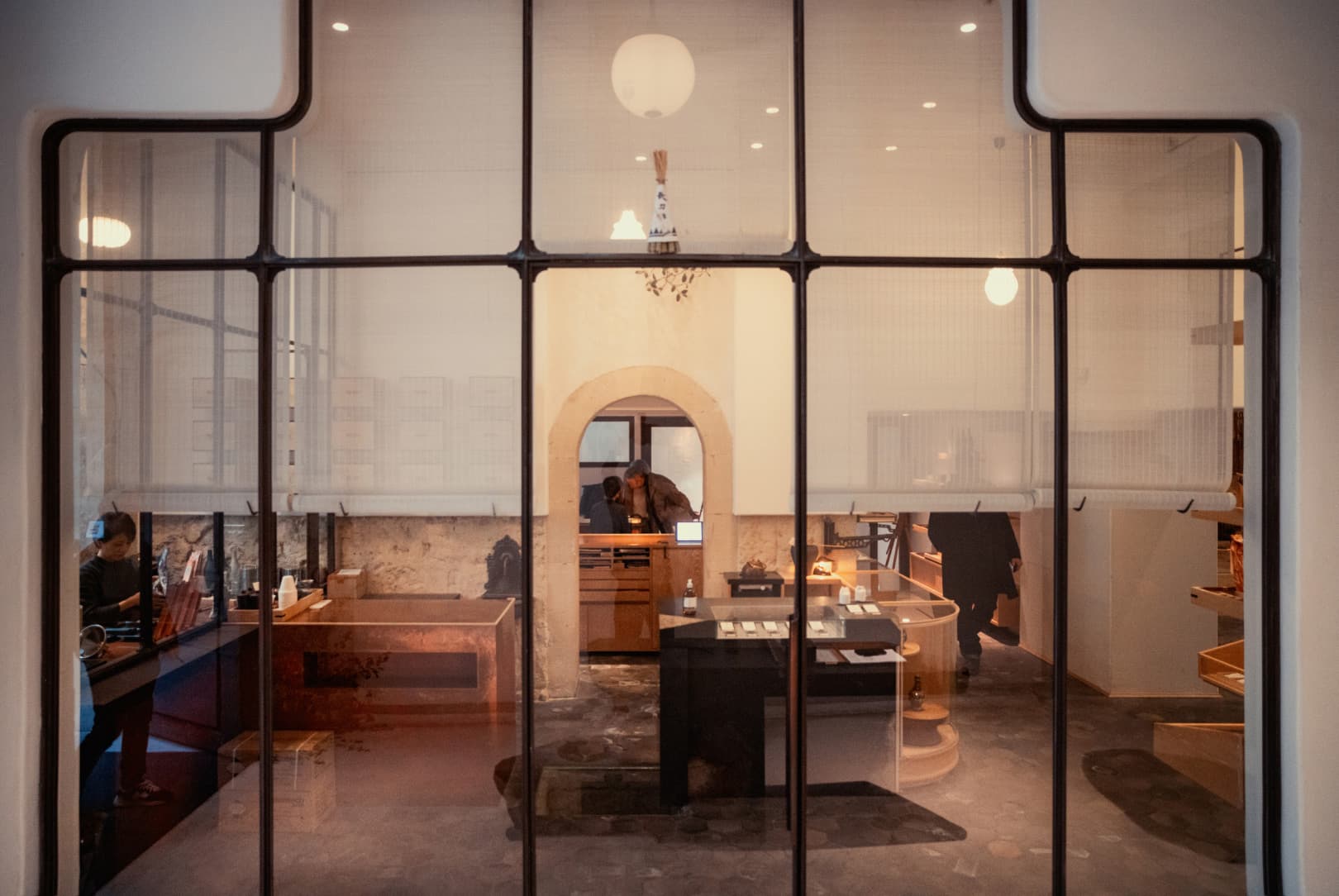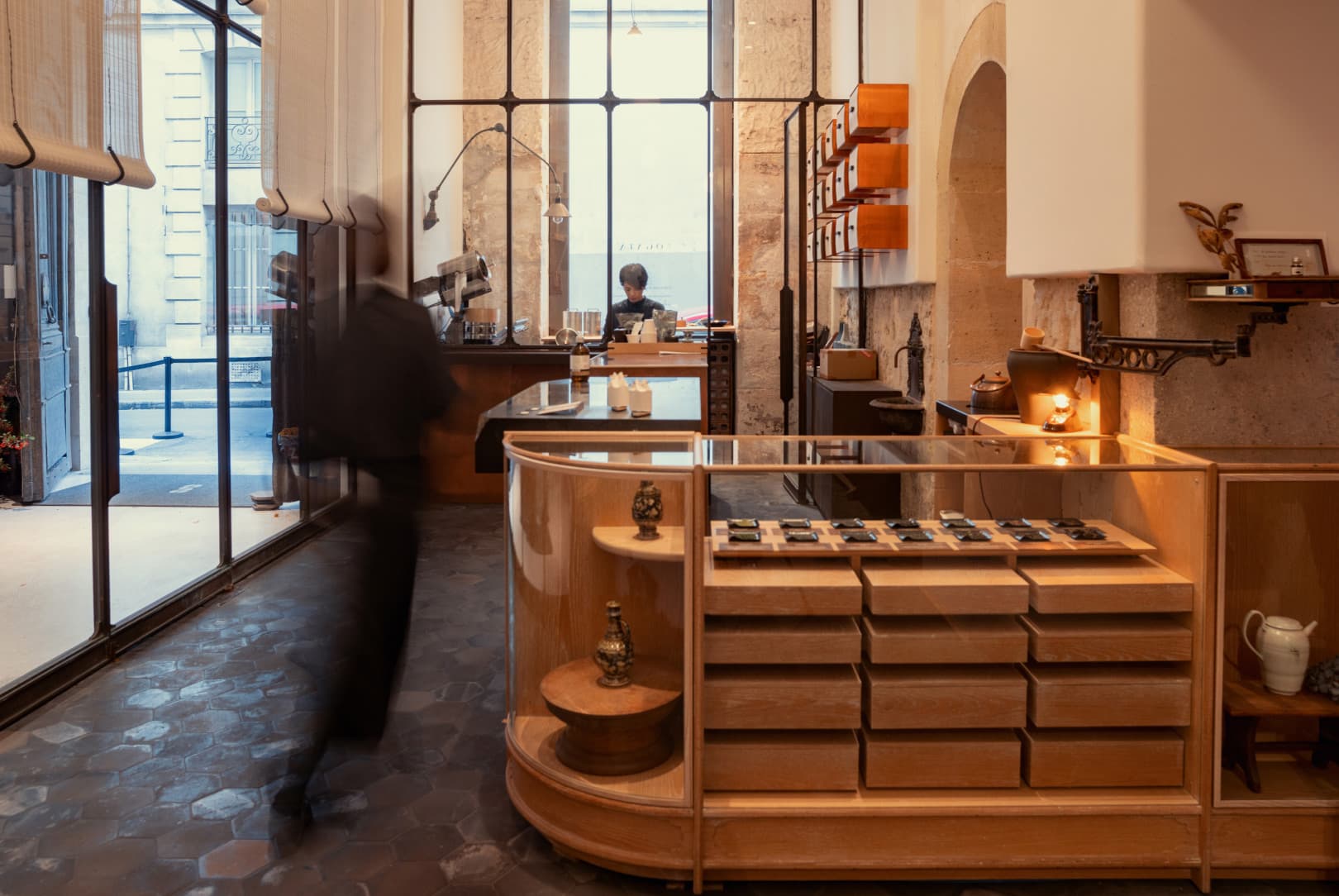 But Shinichiro Ogata is much more than just a designer. Rather than focusing on innovations, he sees himself as a caring supporter of tradition and craftsmanship. Everything, says Ogata, starts with the same question: What is it that I want to create?
It is only after deciding this that he begins searching for the right people; people who can help him achieve all the things he envisions but cannot make himself.
For him, it is crucial to distinguish between craftsmen and artists. "An artist is somebody who designs their own ideas and mobilizes techniques to give form to their expression," says Shinichiro Ogata. Whereas what he wants is to work with craftsmen and women who have mastered a specific technique, but do not have the means to convey it to a temporary audience. "Those are the people I am trying to protect," he says, describing the process of designing things as a dialogue between himself and the craftsmen.
"It is my responsibility as a designer to help people who have a special technique to readjust to modern society. By doing so, I hope to be able to preserve arts and techniques that are dying out," says Ogata. It is no wonder, then, that the entire staff of the OGATA boutique, the shop on the ground floor at Rue Debelleyme, are schooled in calligraphy, for example – just so they are able to beautifully fill in a gift form for customers using a fountain pen and dark ink.
The way in which all of these crafts have been rescued and integrated into a setting that is rich in history, but seamlessly blends with our modern lifestyle, can be witnessed in every nook and cranny of OGATA Paris. The 17th-century building that last housed a hardware store is the ideal vehicle for transporting Shinichiro Ogata's vision so that it can be experienced first-hand. There is a restaurant, a bar, a tea salon, an art space, and a concept store – but the whole is much greater than the sum of its parts.
"It is a living and breathing organism. "
Sometimes, Ogata's vision creeps up on you unnoticed, stimulating your senses in the form of a smell that fills the air on your way down the stairs into the basement. There, the master blender meticulously selects and grinds plant roots, tree bark, and herbs in order to create room fragrances. You may even choose to carry them with you using tiny little sachets that can hold small amounts of the fragrant mixtures.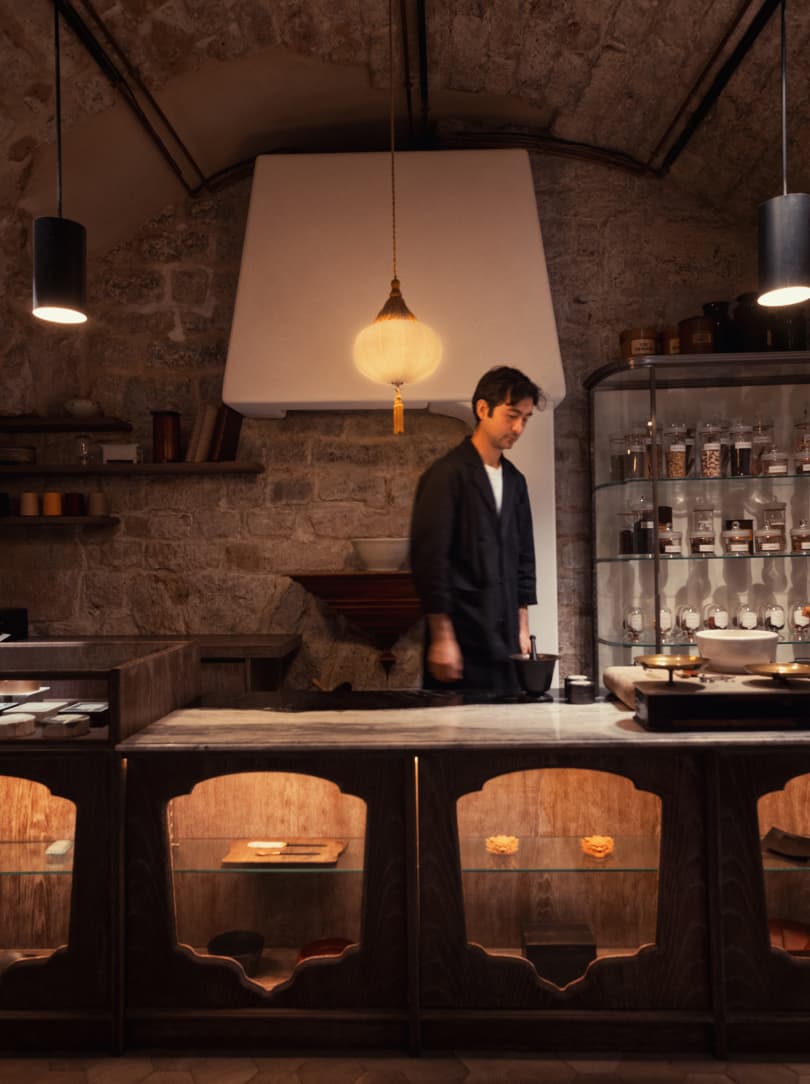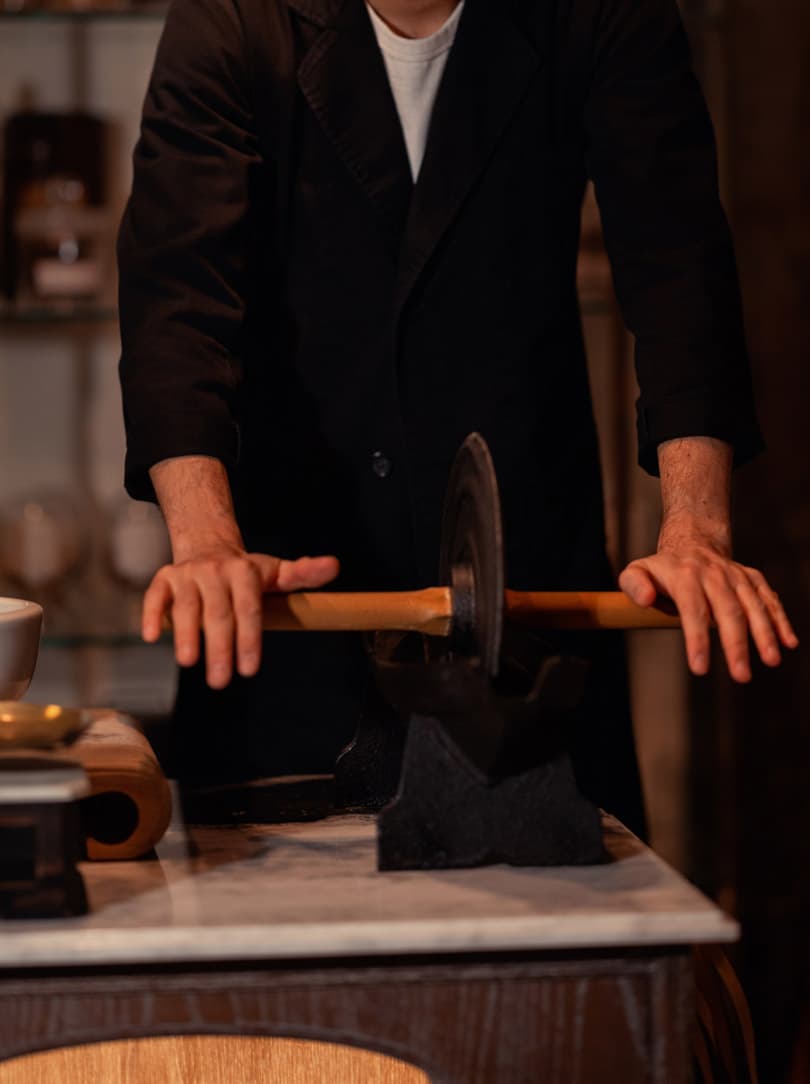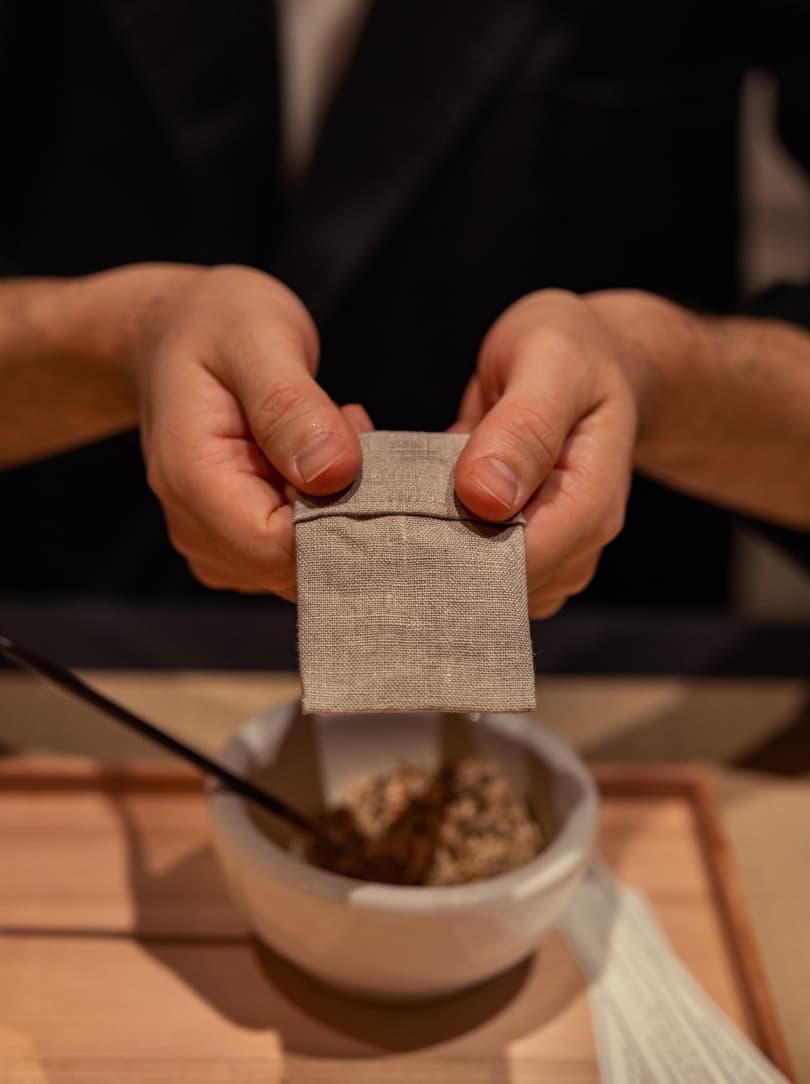 At other times, you can actually look at Ogata's vision, and even touch it or indulge in it. Traces of various crafts are spread throughout OGATA Paris. They are present in the form of paintings, handmade ceramics, and vegetal sculptures; they can be witnessed when watching a female chef silently brush off the skin of a shiny red apple in the kitchen; and they are visible when the tea master pours you a cup of tea ever so slowly, patiently waiting for the very last drop to come out of the pot.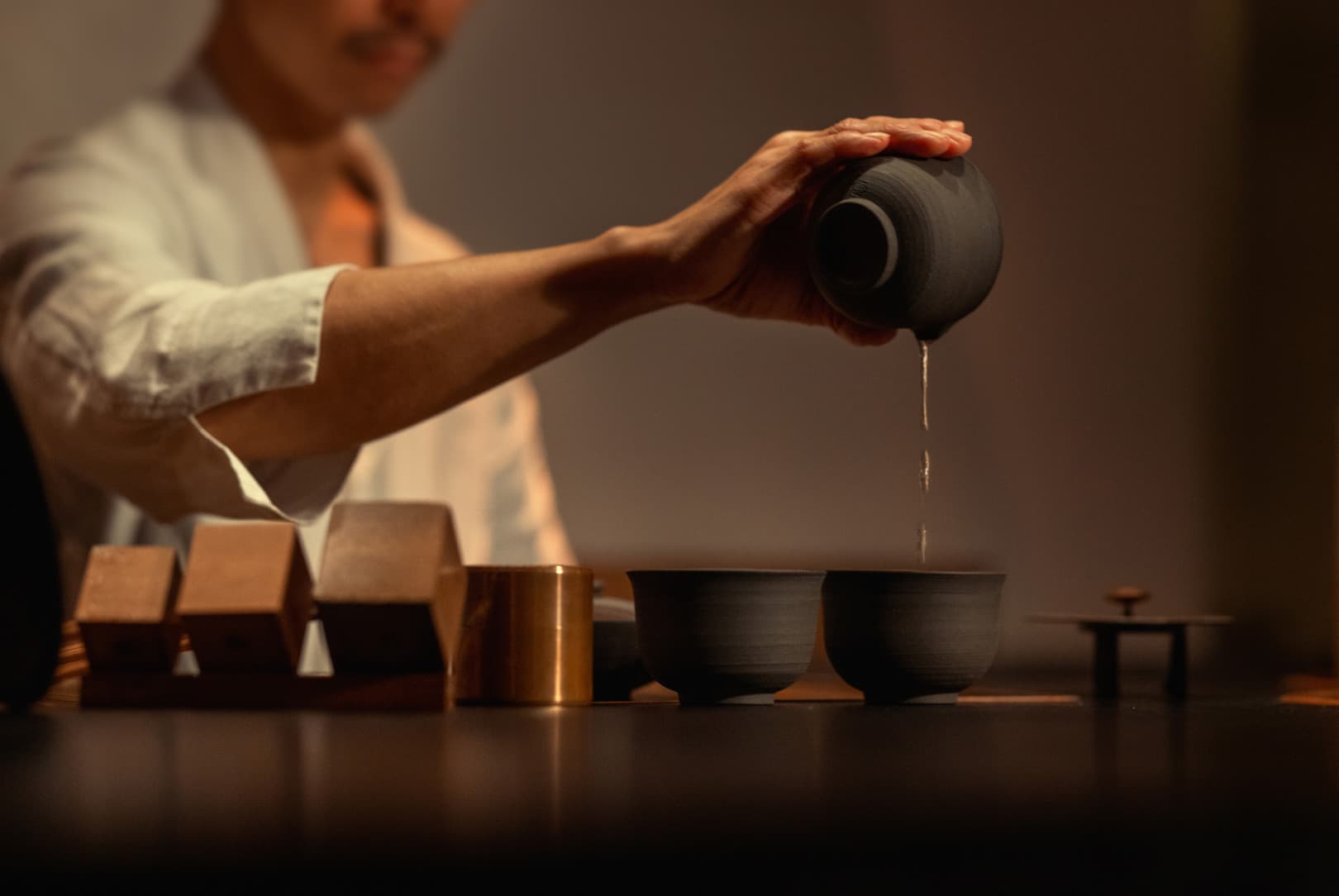 In each of these situations, actions, and materials, you will find parts of the story the creator is telling us. And you will understand what he means when he says that he is driven by the need to create connections.
You may find traces of the Ogata vision while watching a shop assistant wrap a box of wagashi, traditional Japanese pastries, in white paper. Even when walking down the stairs leading down to the SABŌ, tea salon, you might notice the fine, characteristic pattern left by tatami mats that have been pressed onto the wet concrete like a stamp, merging French and Japanese culture and history.
"I have tried to achieve a design that expresses a balance between the old French buildings, where the raw stone remains visible, and Japanese culture," Ogata reflects. "I don't think your average French person would want to be in the basement, in the 'cave' of a building," he adds, "but that was the reason why I accepted the challenge to create two more interesting and welcoming spaces."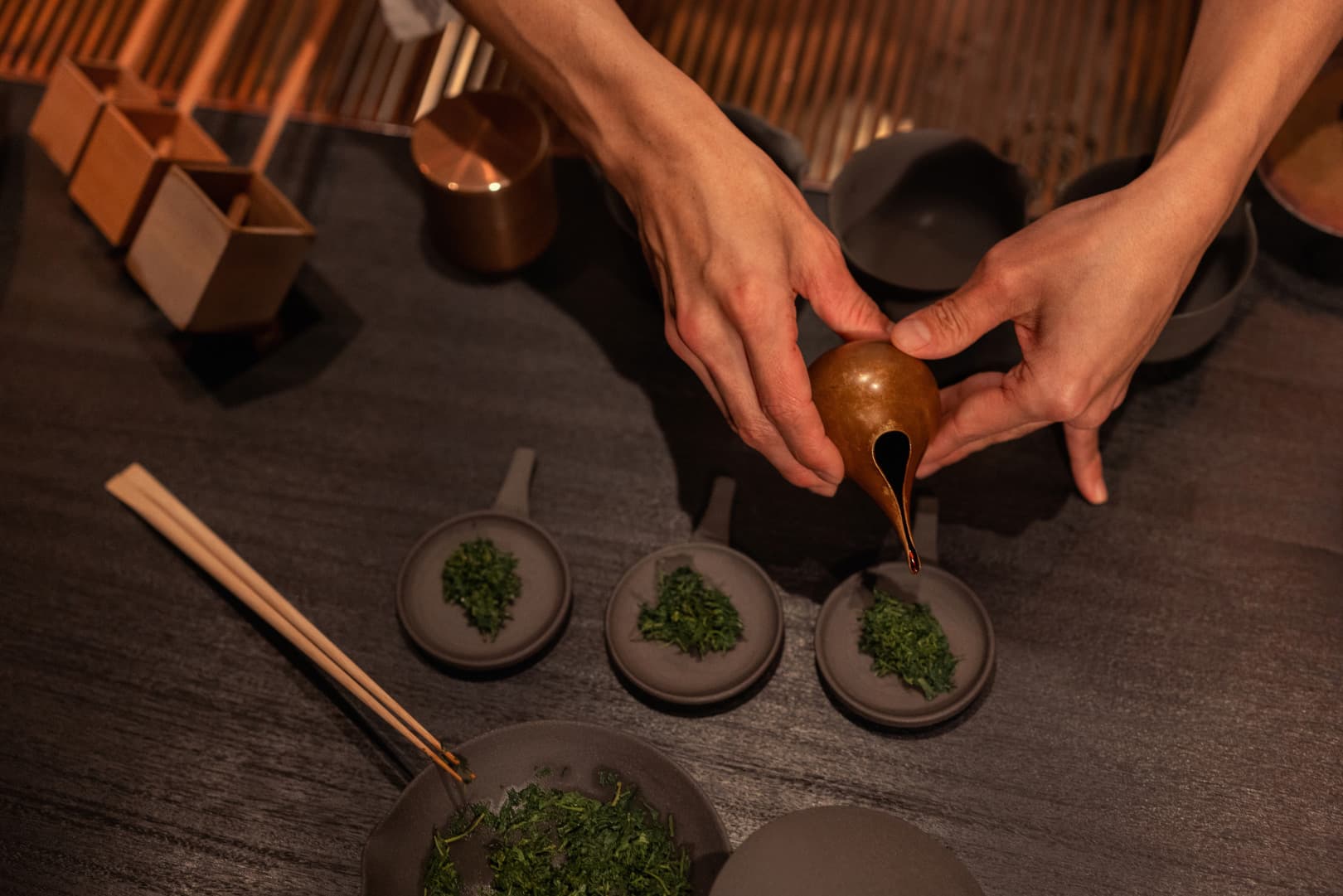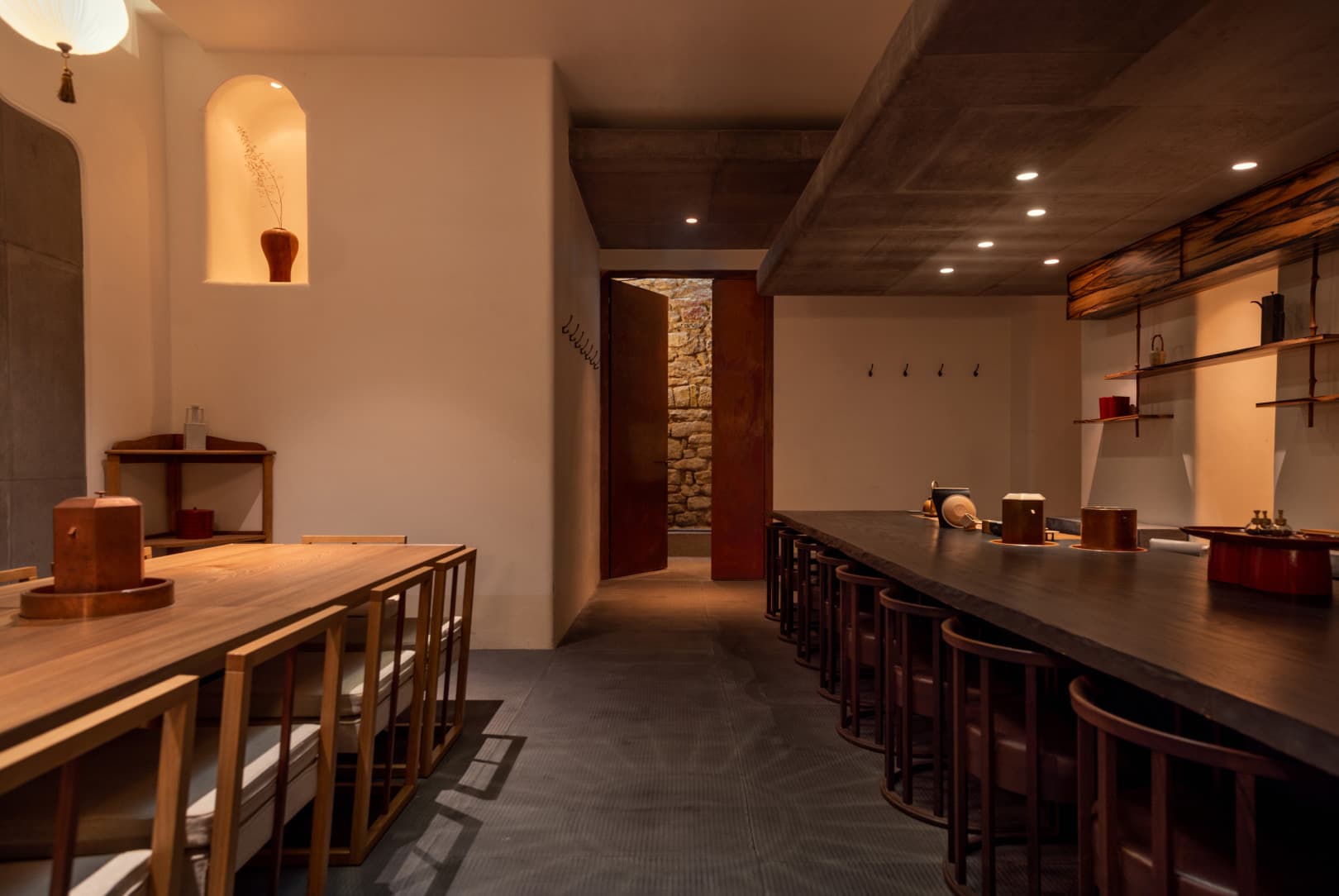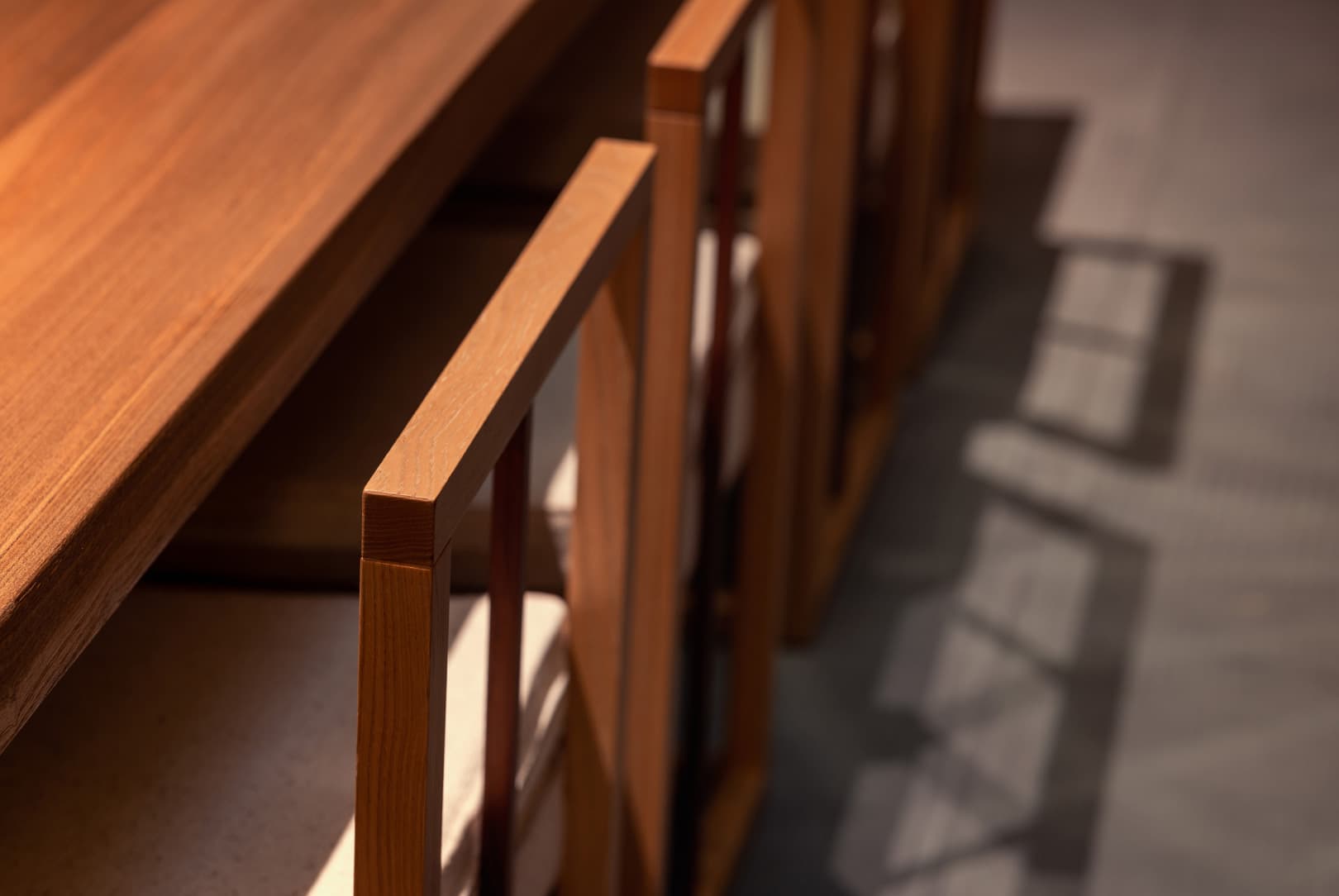 Ogata was born in Nagasaki Prefecture on the west coast of the country. He is the founder of the design brand SIMPLICITY, and operates restaurants, tea salons, and HIGASHIYA, a brand of wagashi, Japanese confectionery. Opening OGATA Paris in early 2020 gave him the opportunity to widen the market and to create more exposure. Preservation, he says, is one of the key missions of his business. "Even though I already had a few places in Japan, there wasn't enough work to keep a lot of these craftsmen occupied," says Shinichiro Ogata.
Ogata personally interviews all of the people he chooses to employ. Many of them have been working with him for many years, even decades. The chef, who cuts raw fish with unseen precision in the OGATA restaurant on the top floor of the building, was hired over twenty years ago and accompanied his employer on his first business venture outside of Japan, for example.
When talking to Shinichiro Ogata about his vision, there are two words he uses a lot that might need further explanation: sahō and omotenashi. Sahō could be translated as 'art of being', meaning the subtle, conscious way of going through life. "In order to create this way of being, I needed to use different mediums of expression," says Ogata. First, he adds, there is the necessity for people to eat: "Without food, we cannot survive." That is why his venture in Japan started with cuisine and food. His restaurants are places where people can gather, create a community, and eat and drink.
Next, he set about making a mark on the world through the medium of Japanese tea. After establishing all these fields, Ogata realized that he also needed tools to express the different things he wanted to convey. The tools he required in order to create his new sahō: "That is when I began to make my own products, working with artisans from the north to the very south of Japan."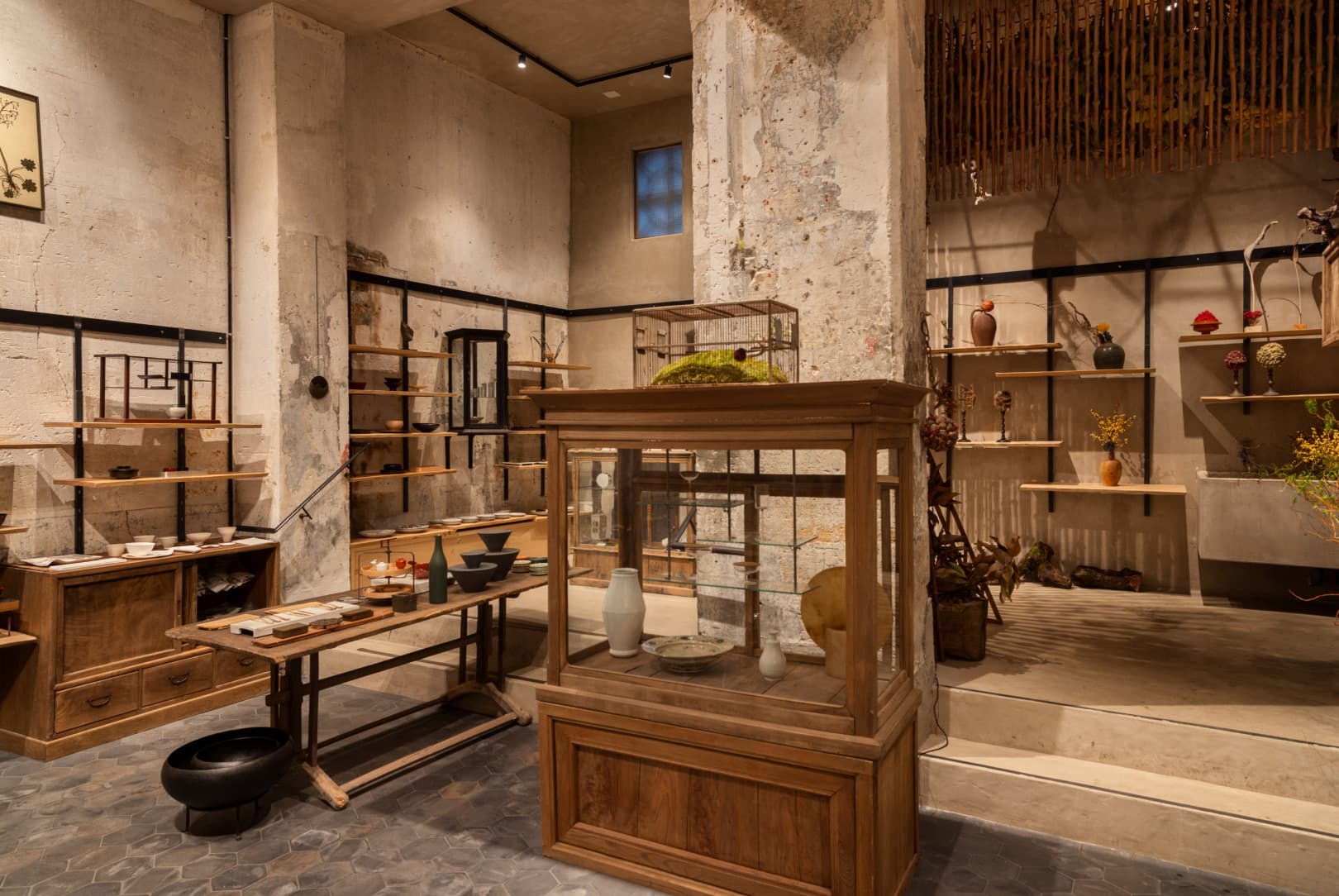 However, after the product design phase, there was one piece still missing: Ogata needed to have a space for people to experience his saho, a space that itself is very much part and parcel of his philosophy. Recently, there have even been two further additions. The above-mentioned KAORI (fragrance) and NENGE (vegetal art). "These are other values that enrich my concept and this way of being that is OGATA."
But as you get to know Ogata, the person as well as the concept, it is soon clear that it is inevitable that this saho is steadily growing, like an aesthetic maze. This is why there is constant evolution – and why there cannot ever be any real conclusion.
The other term frequently used by Ogata is 'omotenashi', which is even more difficult to explain. "Sometimes, I feel it can be misunderstood", says Ogata. " 'Motenasu' literally means to create something to give to someone or to make something for somebody. But there is another nuance to it," he says: "You don't push it onto that person and force them to have it. It's much more subtle and can almost go unnoticed."
Omotenashi, he adds, is not about making someone feel obliged to accept something that they might not necessarily want. "It's about doing something not just for yourself but for somebody else, without being too oppressive. Whether that literally translates to hospitality or not, I am not sure. But this is what I would like to do, to continue to create sahō and to design omotenashi."
What then, are his future plans? "The one thing I have not yet been able to accomplish is to create a space where people can stay and experience our philosophy for 24 hours," says the restless innovator. As always, the picture of this space in his head is very clear. He envisions a place in nature to escape to. Maybe a little hut in the mountains just like the one he withdraws to whenever he feels the urge to recharge his batteries.
But once again, Ogata's big picture is larger than that. He also talks about another space in Paris and many more. "I am interested to see what an OGATA space would look like in the mountains, near the ocean, in the middle of another city, and how my concept could be adapted to all these different areas."
In the end, there is closure, it appears. The underlying logic to Shinichiro Ogata's dream becomes obvious when he begins to talk about his final goal: "Something that I have dreamed of for a very long time is to create a little island." On that island, individuals could not only live the OGATA concept of life, his 'sahō'. There would also be ateliers for craftsmen to work in. There would be a farm that would produce its own vegetables for a restaurant where people could cook and eat. Not stopping there, Ogata would even like to consider the different energies he could use. "Is there a type of sustainable energy that the island could produce and recycle?" he asks.
OGATA as an entire eco system ...
"… as much as it sounds like the answer to a lot of questions, it might as well be the beginning of something else entirely."
OGATA Paris, 16, Rue Debelleyme, 75003 Paris
Written by AGOBAY
Photographs by Nico Schaerer