Play Movie
Listen
to Katherine Kennard
reading this story
FRAMA
It is a crisp early morning. The sky looks like an improvised blend of pale yellow, pinkish and azure shades. The sunlight peeping from behind the majestic neoclassical buildings creates a luminous halo around them, highlighting their well-defined profiles.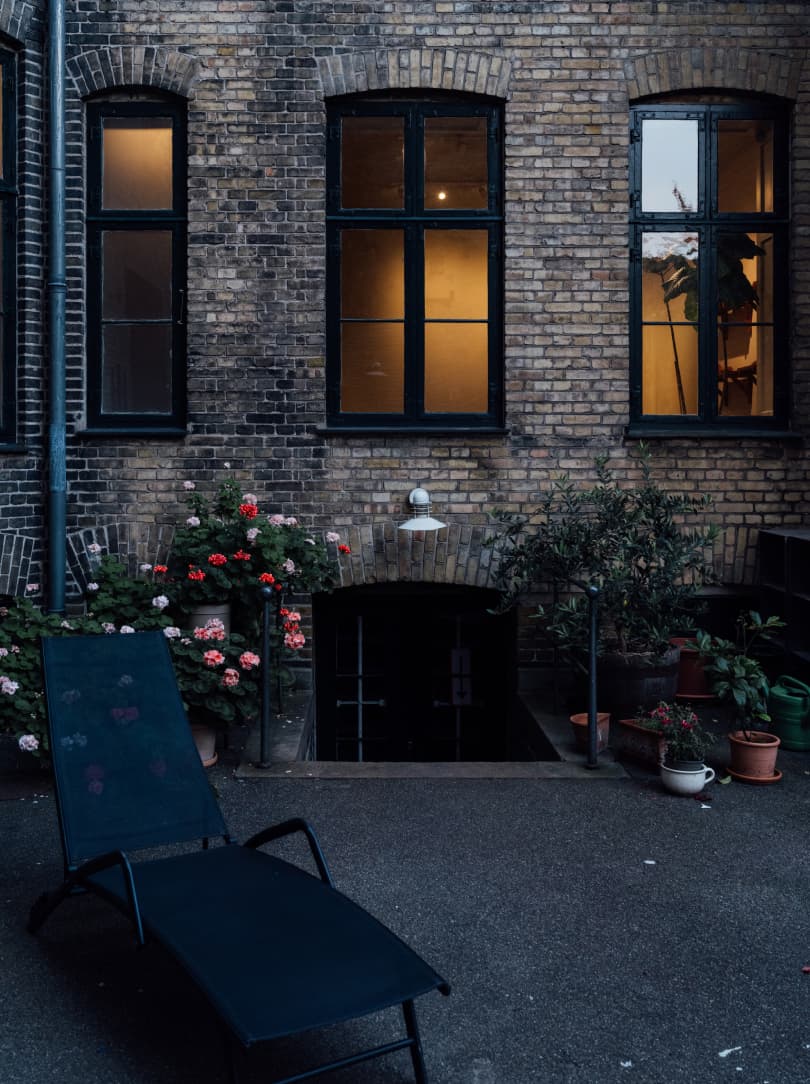 In this flattering morning light, their unremarkable chimneys find a fleeting moment of splendour. As we stroll along the streets, the sunlight transforms to a golden hue, casting a warm glow over the surroundings. We turn a corner, and another. A new vista unveils before us. We are on Fredericiagade, a street of central Copenhagen, known for its Naval barracks dating back to the 1600s.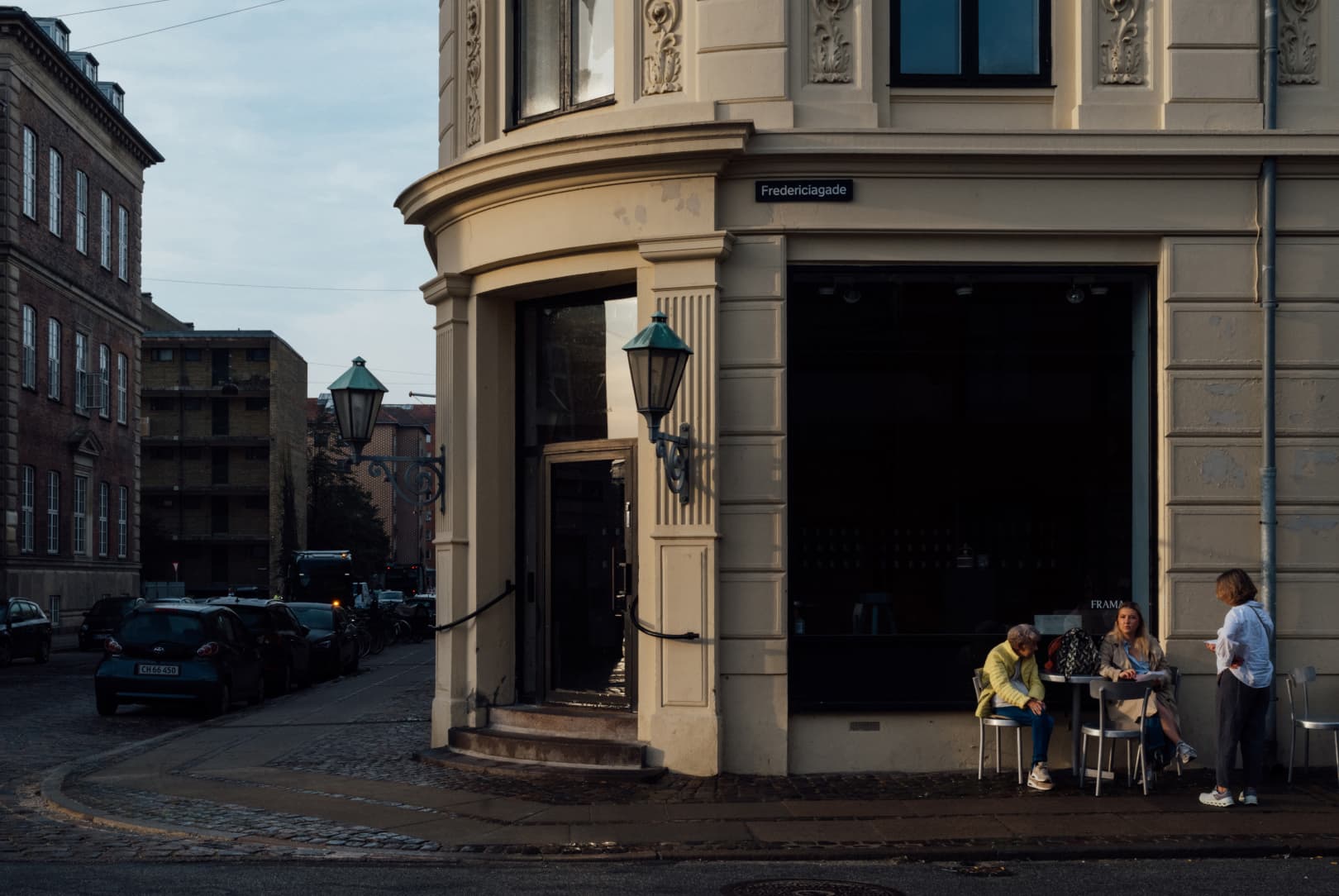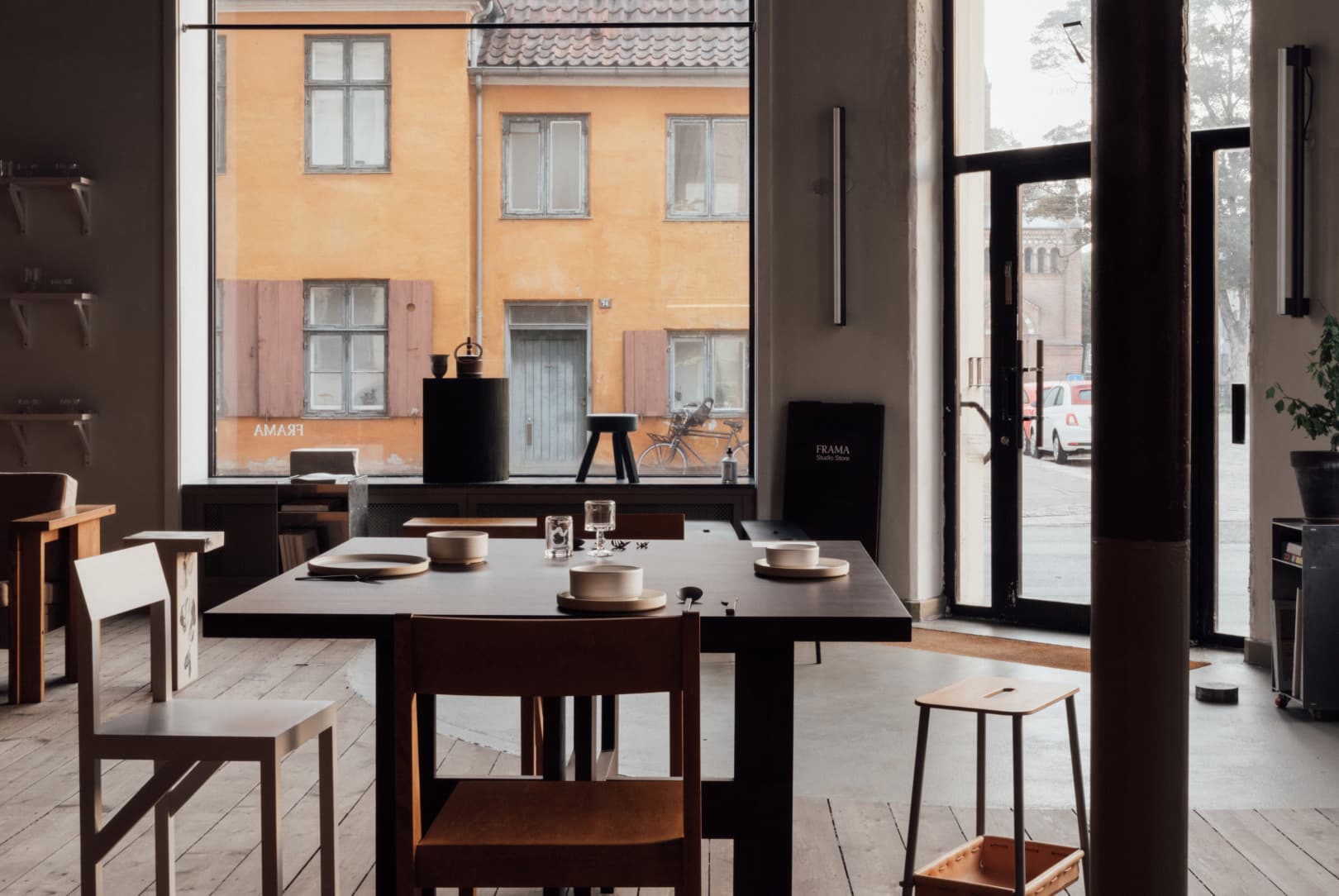 The street still seems to be in its morning slumber. But as we continue walking, with the ochre-hued naval housing on our right, we see someone coming in and out of a building. As we draw near, we notice her welcoming demeanour. She exudes a sincere warmth one hardly encounters this time of day. It would be flattering to think it is our presence that has inspired such reaction, but it is her being. And the amiable atmosphere that pervades Apotek 57, FRAMA's eatery, where she works. She has just finished setting the little tables and chairs to the left and right of the entrance and invites us in.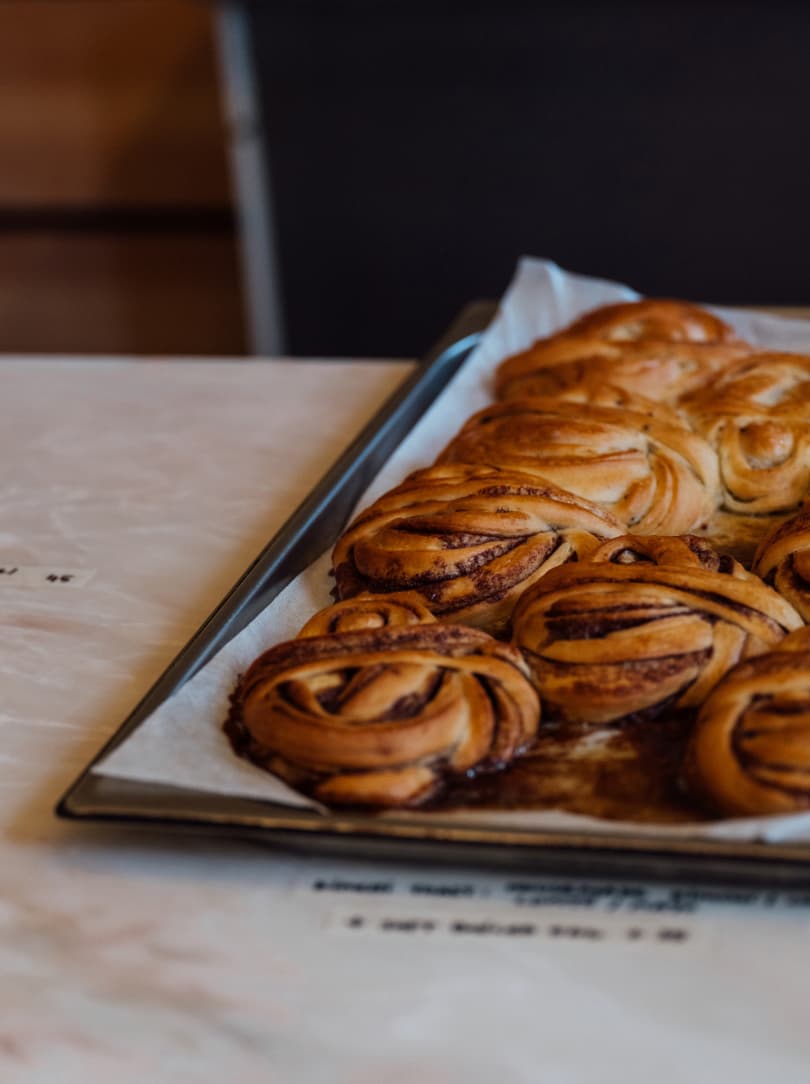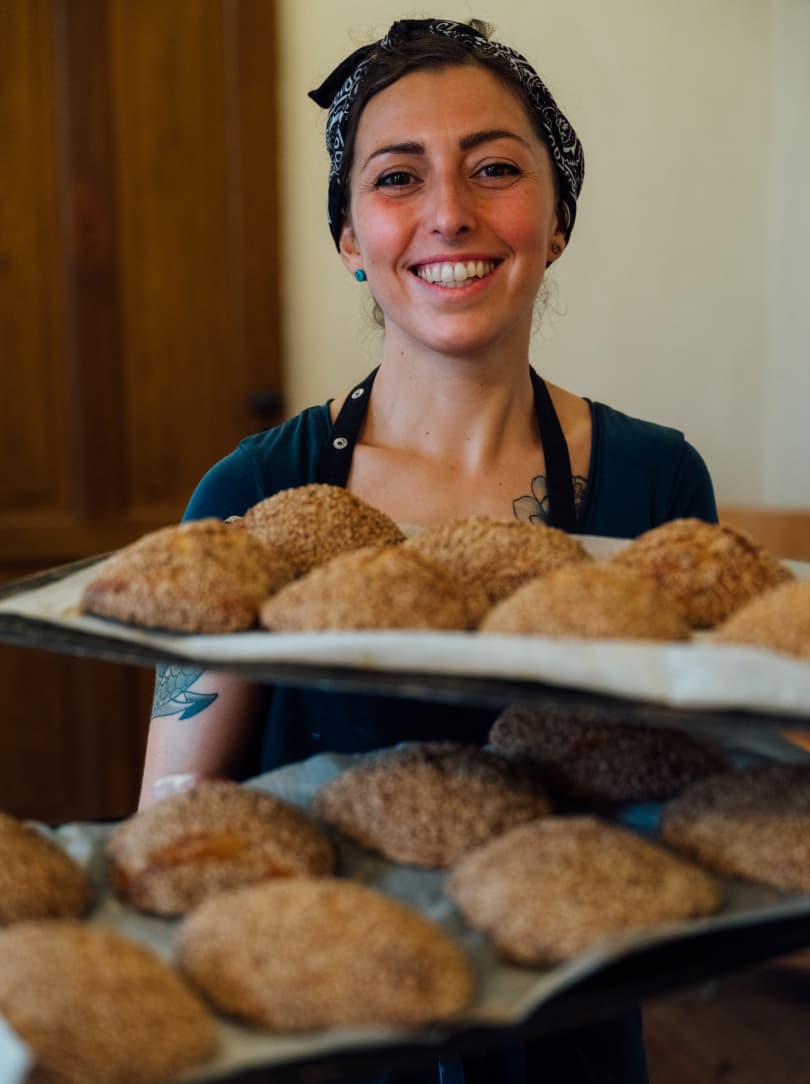 It is a small, almost intimate space. FRAMA's library shelves provide an airy display of cups, glasses and plates. Right below them are the counters, the oven and a few cupboards hiding the kitchen supplies and tools. A warm voice greets us as she divides the dough, weighing it and laying it on a baking tray ready to be put it in the oven. The atmosphere is cheerful but focused: every process is meticulously timed. Especially in the morning, as soon enough the first guests will arrive. Under the lead of chef Chiara Barla, the team at Apotek 57 prepares everything they serve from scratch: some staple dishes and others created on the spur of the moment. All using simple, high-quality ingredients – beautiful for the eye and delicious for the palate.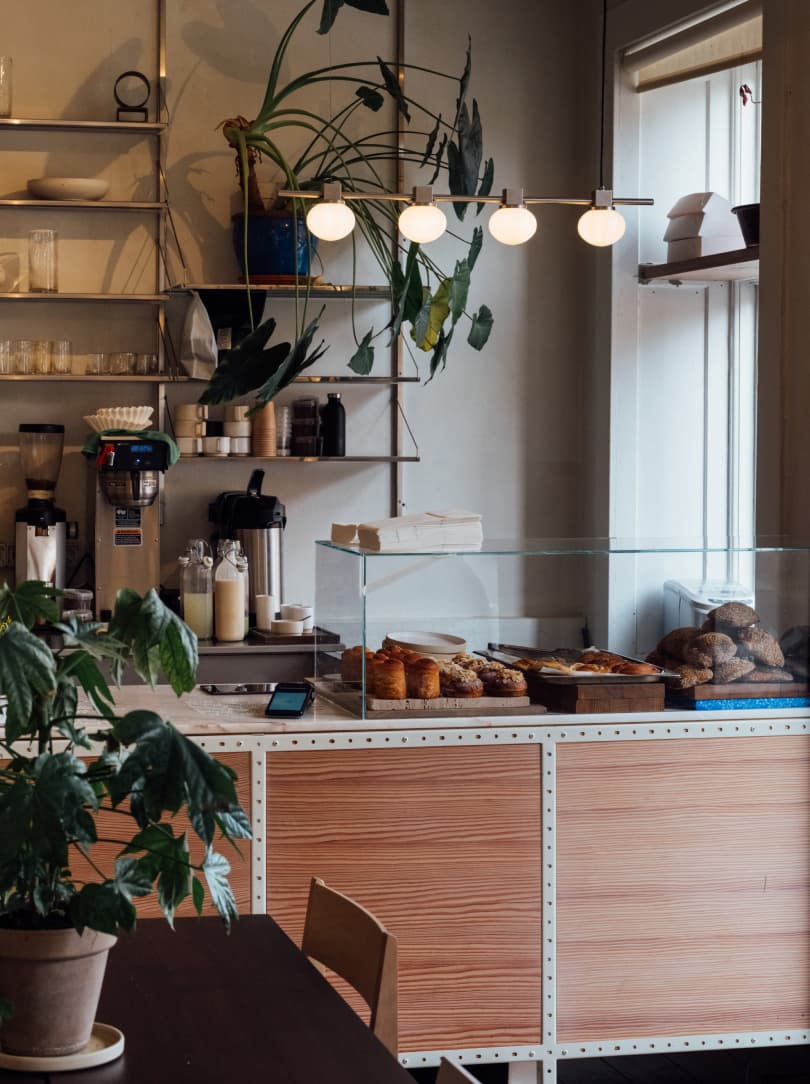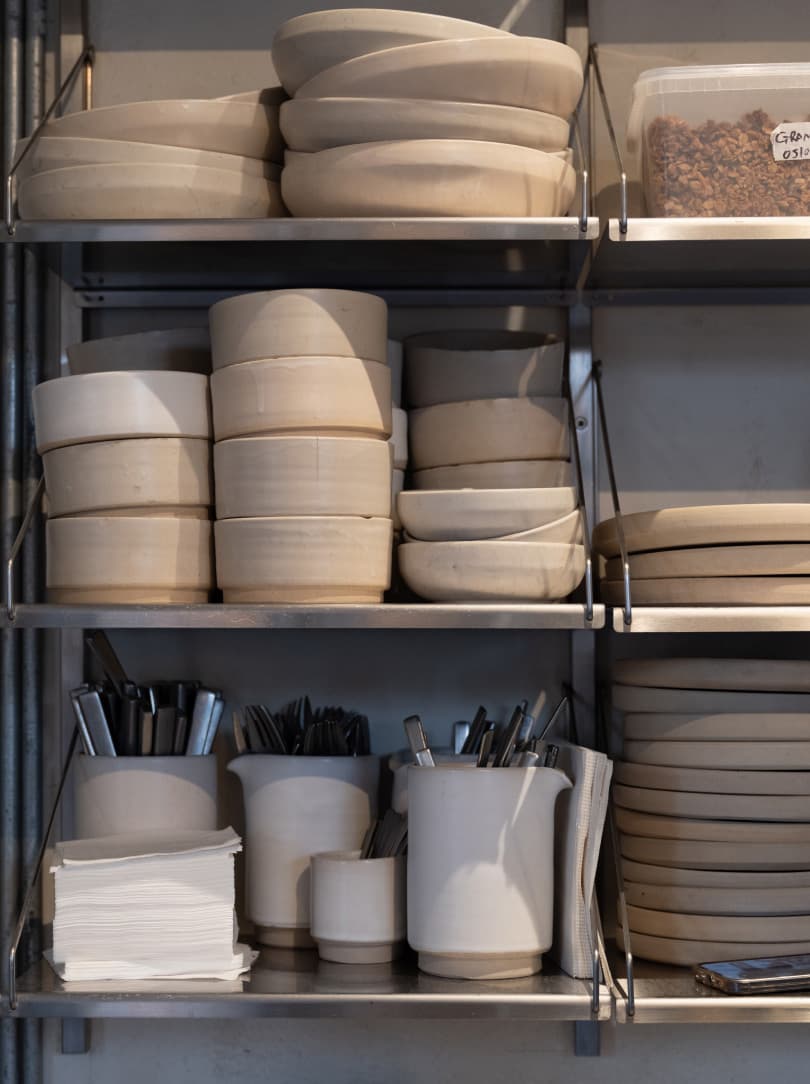 The aroma of freshly baked goods adds to the welcoming atmosphere. The fact that they bake and prepare nutritious dishes themselves makes Niels Strøyer Christophersen, FRAMA's founder and creative director, genuinely proud. Not of himself – he will be the first to tell you that it is the girls from Apotek 57 who do it all, and they do it so well.
"Apotek 57 introduces a lively dimension to the FRAMA studio store. With the eatery, our spaces have evolved to be more welcoming and accommodating to everyone."
Niels Strøyer Christophersen, FRAMA's Founder and Creative Director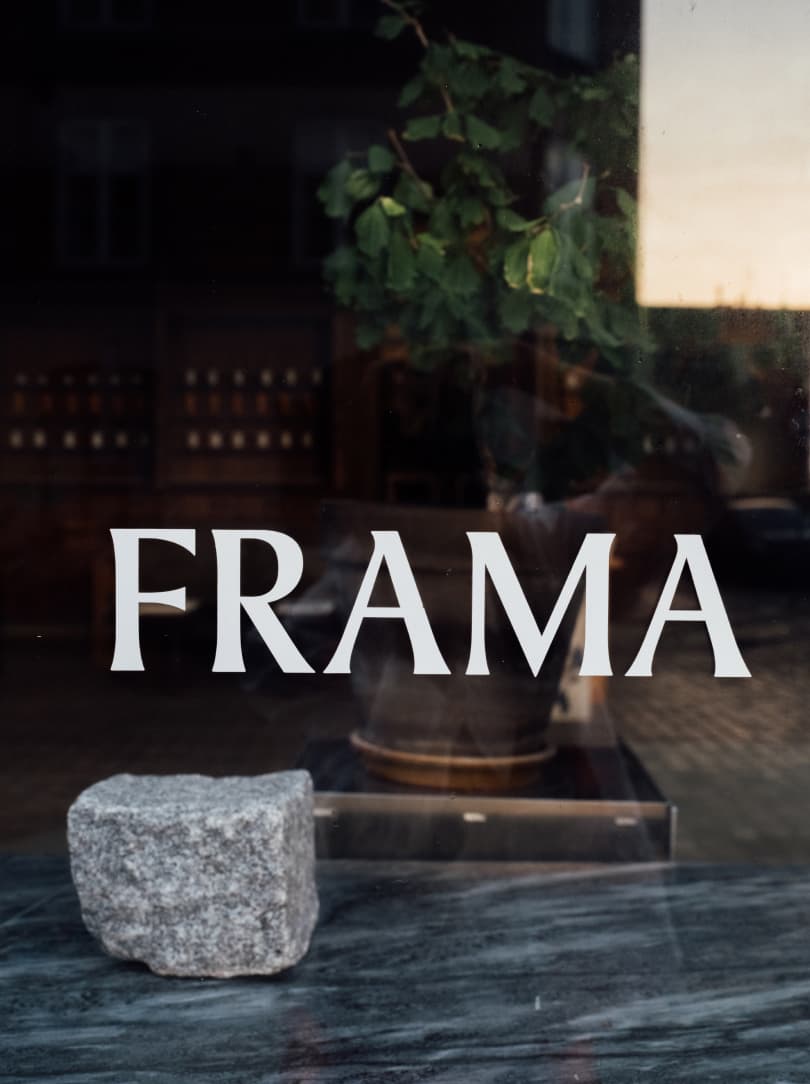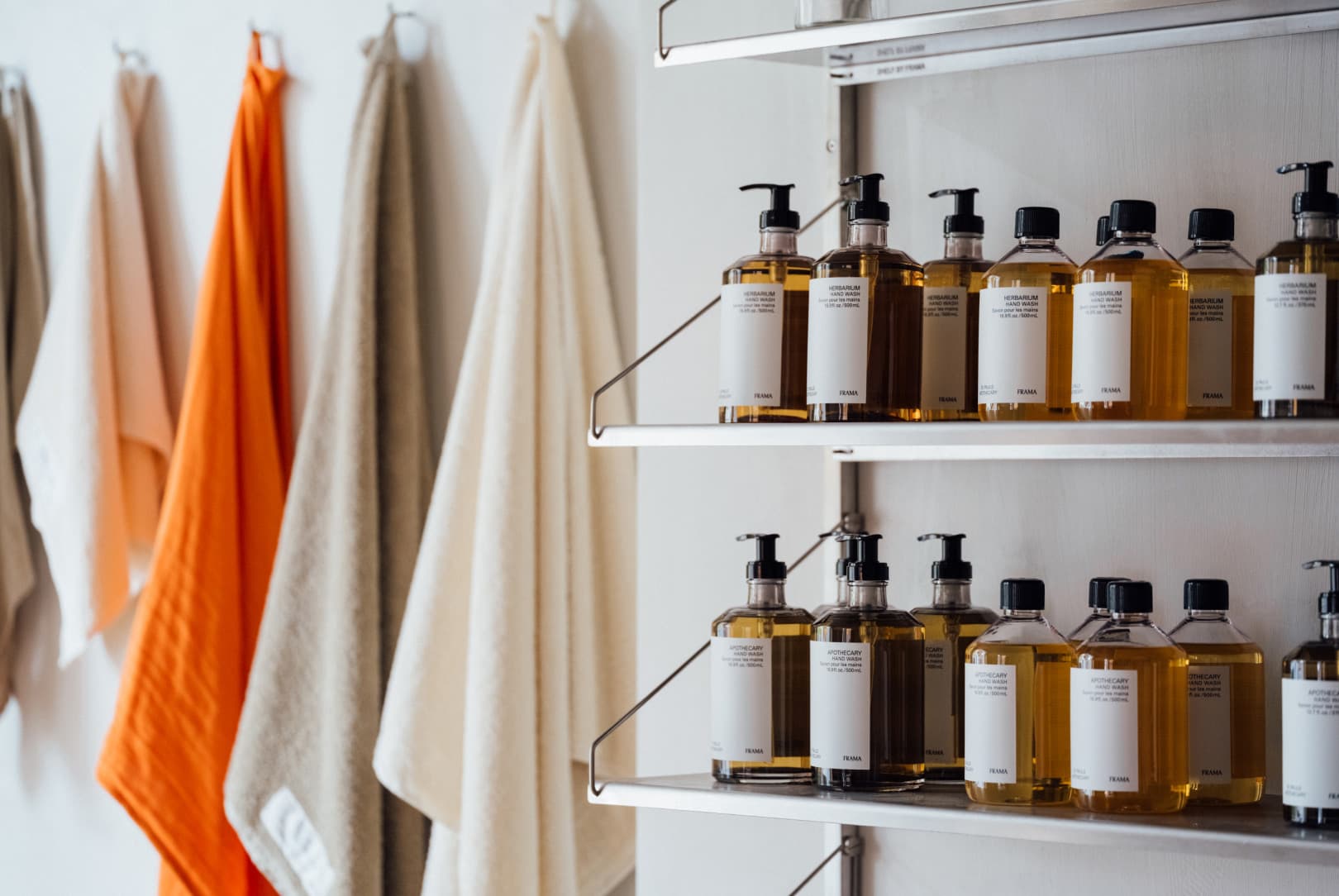 There is genuine appreciation in Niels' voice when he talks about those who work with and for him – whether at the eatery, in the studio store or in the office. If you linger for a while, you will witness him opening and securing a window here, moving the benches in front of the store as he assists with opening for the day or carrying a tray of glasses before disappearing into the backyard. This internal court is a space reserved for the team: here, they can take a breather, eat and chat, or simply enjoy some sunshine. We cannot but wonder if his sense of appreciation for his team comes from the fact that he is there, by their side, every day. Doing the things that need to be done. Together with them.
On this same day, before meeting Niels, we met Rimu and it was a pure joy. With his playful nature he lifts up any person he encounters and any space he gets into. The cheerful and bouncy Australian labradoodle is one of the latest additions, not only to Niels' and his wife Franca's lives, but to the whole team. We found him sitting as patiently as he possibly could next to one of the little tables outside, right by his master's side.
Niels is not only here with his team, but also with friends who stop by. How unexpected to find him sitting at the outside tables of Apotek 57, just like any other guest. But then again, this is who Niels is. And he is much more social than you would think when you first meet him: "I've always been happy to have people around me," he says. "I understand that there are those who need their alone time, but I simply don't."
"I can socialise 24/7 because I get energy from people, but I'm also calm with them."
Niels Strøyer Christophersen
The more you talk to Niels, the more you realise that the alone time he does not need happens naturally anyway. And it seems that he fills it with self-reflection and books. Many, many books. He usually has ten on the go at once. Often biographies. Like others, he believes that books find us. And he challenges them in his own way to share what they have to tell him. His book reading is rather unconventional. He opens them randomly and if the written ideas and thoughts take hold of him, he continues for a while. Then he moves on to the next one. The books he reads become part of how he explains his thoughts – and himself really. When asked a question, he would often answer with a real story about an artist, an architect or a photographer that he has read here or there.
When you meet Niels you immediately feel at ease. It's something about the kind way he engages with everyone and the refreshing warmth he exudes. The timbre of his voice is calm and pleasing. His clothes are purposefully chosen, and it shows. In fact, he believes that "everything tells a story about who we are. And communication is everything". Not only what we wear, but where we live, what objects we surround ourselves with, which books we read, which people we meet. And the story his clothing tell is that of conscious living – in an informal, casual way. This seems to be his true personality. There hasn't ever been a wall of formalities between us – on the contrary. His blue eyes are curious and kind. His long brown hair casually touches his well-groomed beard and you won't see him play with either – there is no sign of nervousness or the need to be elsewhere, doing other things. He is there with us, fully present. If it weren't for all things that go on in his mind. But you often don't see that, you only see calm. He laughs when told, because he can be very different.
There is a pulsating force within him and he has focused on transforming it into a positive, creative energy. Just like anyone who has a true passion that comes from deep within, there is a fine line between driving things forward and letting the sensation of a disillusioned moment of frustration at the status quo take over. This he knows very well. He remembers times when he felt that he did not live up to his full potential. While he speaks about it, his expression changes: it does not seem that he is affected by it, but he takes a moment to acknowledge that distant past and then moves on. Because he is in a different place today. And there he is again, present with us. We realise that this sense of ease within himself has been something he worked hard to achieve.
As of its foundation in 2012, the Copenhagen-based FRAMA has evolved into a multi-disciplinary design brand that inspires and encompasses diverse core aspects of conscious living: from creating furniture, lighting, home goods objects and developing self-care products to leading complete renovations. This broad variety of disciplines reflects the interests and areas of impact that founder and creative director Niels Strøyer Christophersen and his crew are most passionate about.
As we walk through the offices on the first floor, we discover the beautiful rooms of an apartment now turned into a working space. It feels inviting. The colours are the muted natural tones that we know from FRAMA, while the eye-catching objects are all carefully selected for their aesthetics and presence. As the team has grown, they have started taking over and remodelling more of this building to create spaces in line with their vision and needs. The ground floor of the adjacent building could have been seen as an extension of the studio store. Instead it is a warm, minimalist space where team lunches and meetings often happen spontaneously.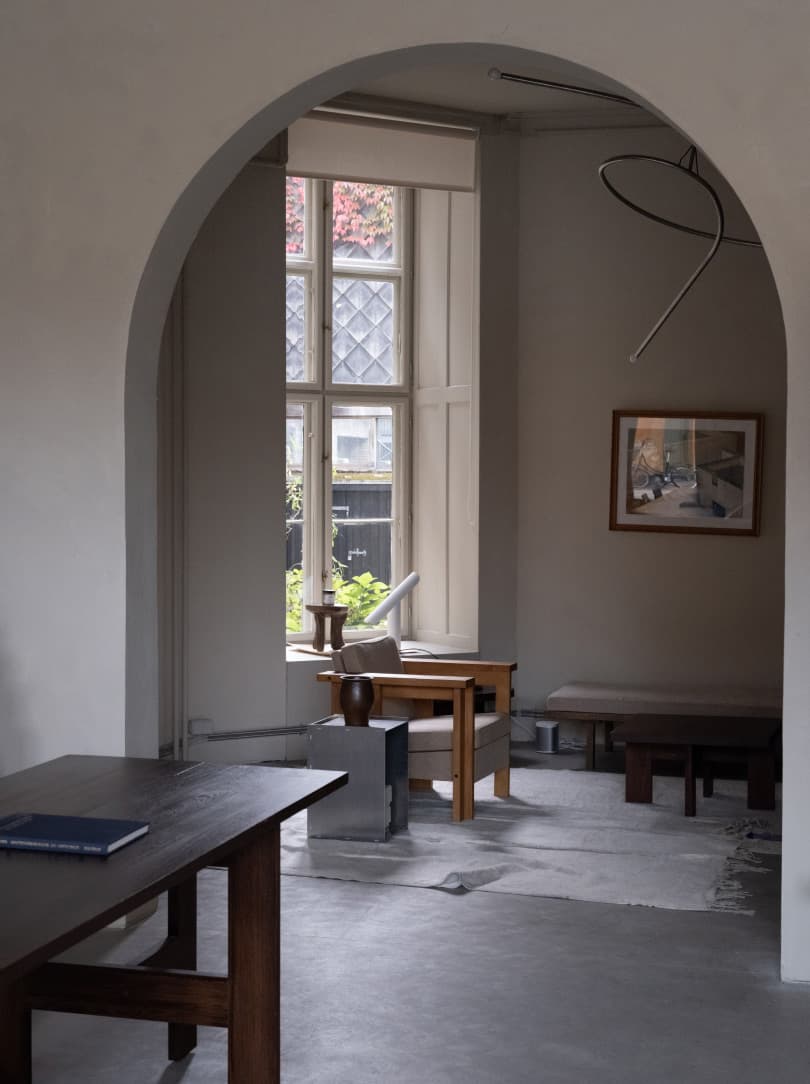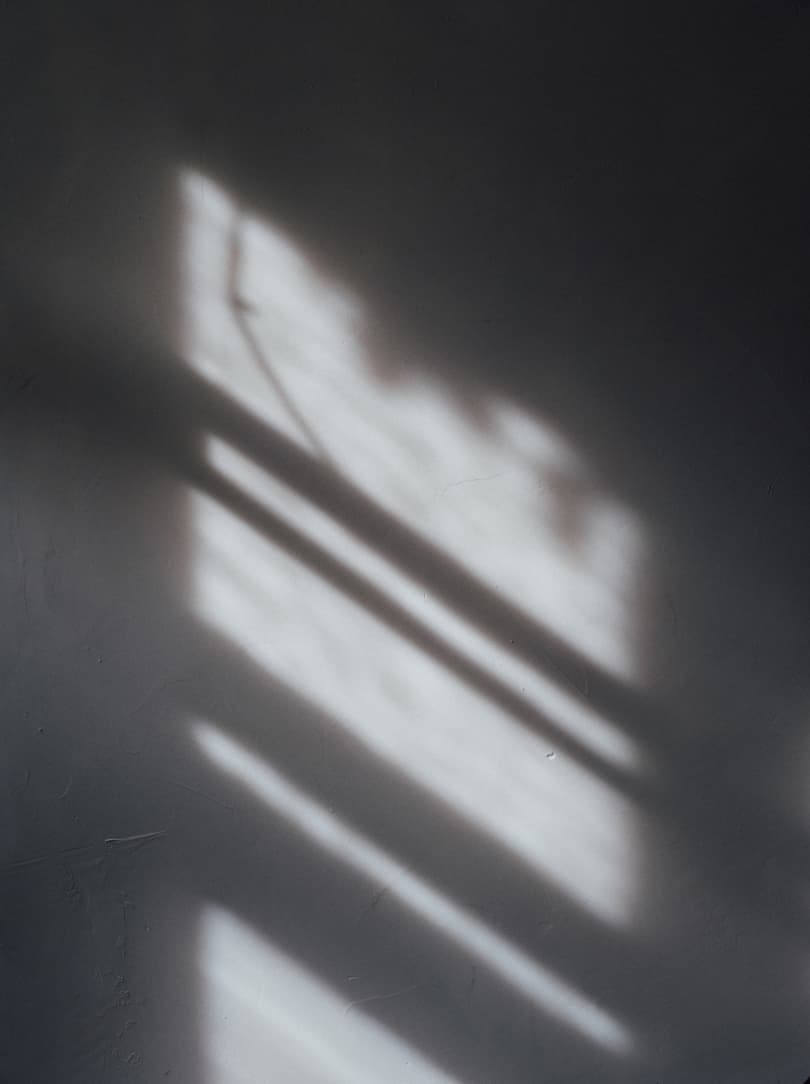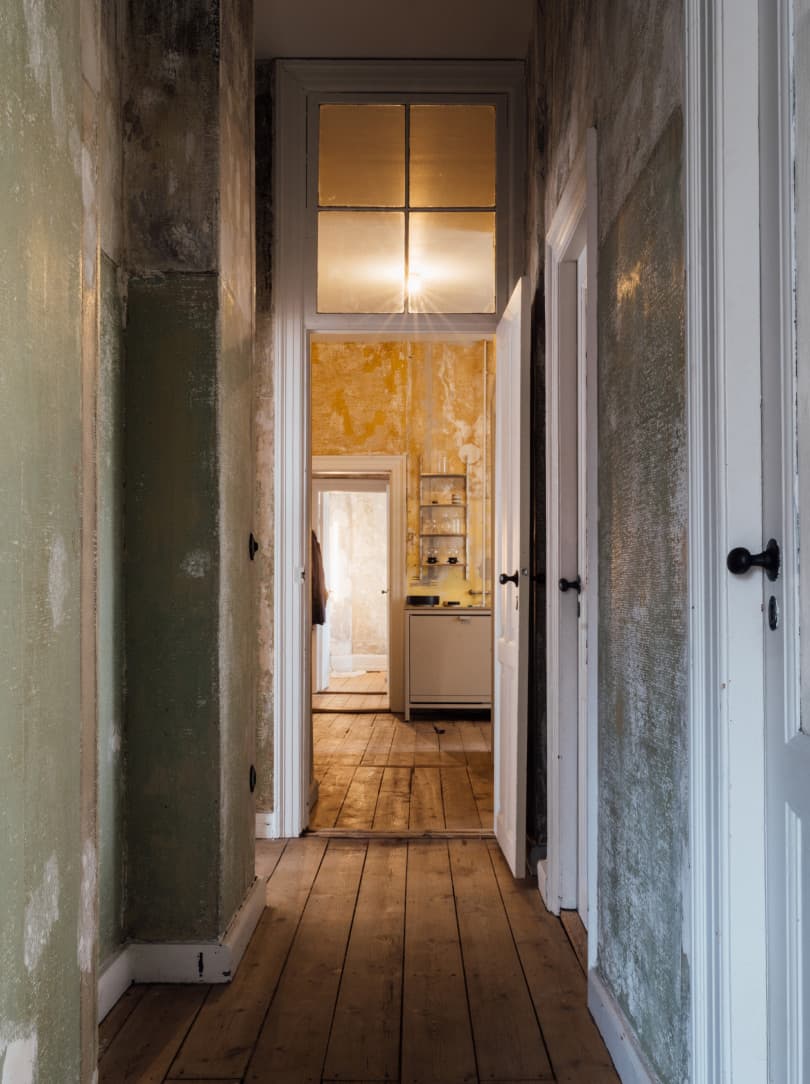 There is something fresh and a sense of being in the flow that pervades these spaces – accentuated by the sunlight that shines in, forming a living play of light and shadows that invites you to move with it, slowly but constantly. The young members of the FRAMA crew come from different corners of the world. All of them are design aficionados with the same sense of aesthetics and an engaged way of being. And it does not go unnoticed. Regardless of their individual characteristics, everyone we encounter has a spark in their eye: there is a profound sense of being fully alive, present in the moment, and ready to take on any challenge. It's as if a palpable sense of purpose permeates the rooms, balancing out the overall atmosphere of ease and tranquillity, reassuring us that nothing remains stagnant at FRAMA. In this same spirit, Niels invites us to freely move things around as we like. "It happens anyway," he says with loaded light-heartedness. Though he is finding peace with it, a veiled annoyance about things that are not where they should be is still there.
It will be a feeling familiar to those with an innate sense of aesthetics: because there is a right place for everything, one in perfect harmony with the surroundings.
When the team imagines a new product as part of the FRAMA collection or in collaboration with others, they make and take time. Once a first prototype is available, they live with it until they feel it has found its space and reason for being. As we talk about it, we think back to the office spaces and wonder if we have missed a new potential piece. Everything seems in perfect harmony, so if we did miss it, it has already found its place. This sense of realness is what guides FRAMA's decision-making. And it shows. Beyond a sense of minimalism and timelessness, most pieces look as if they hold some sort of wisdom that sets them apart.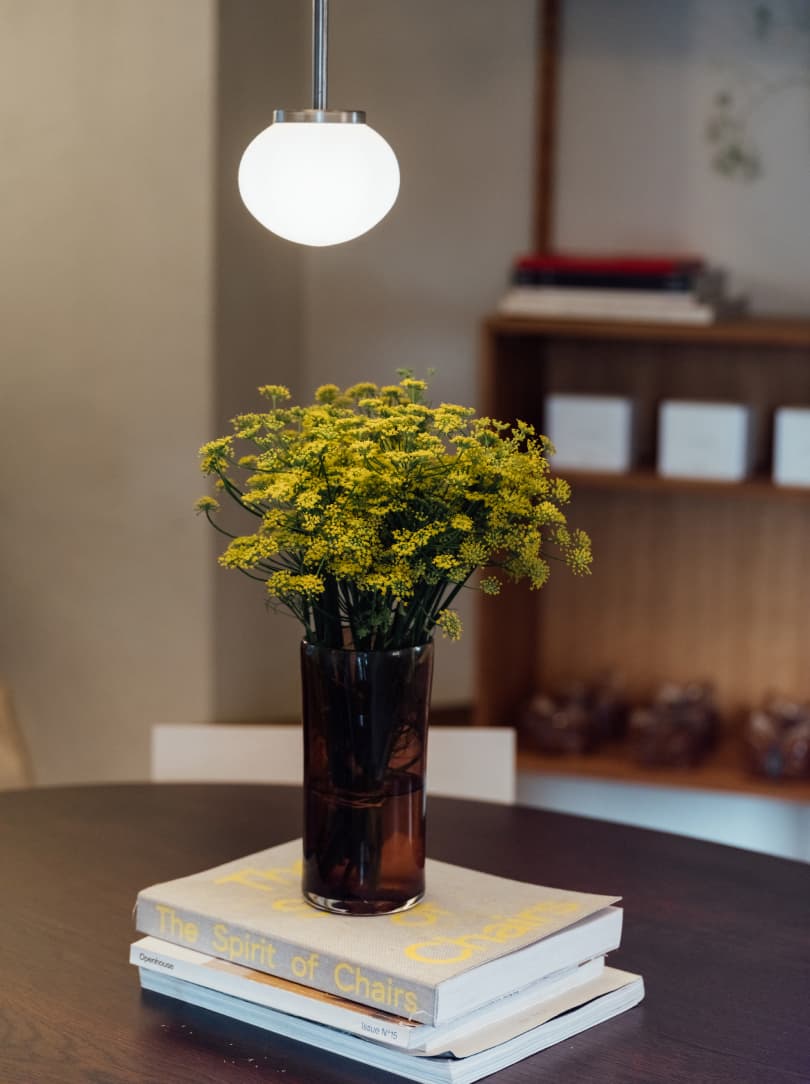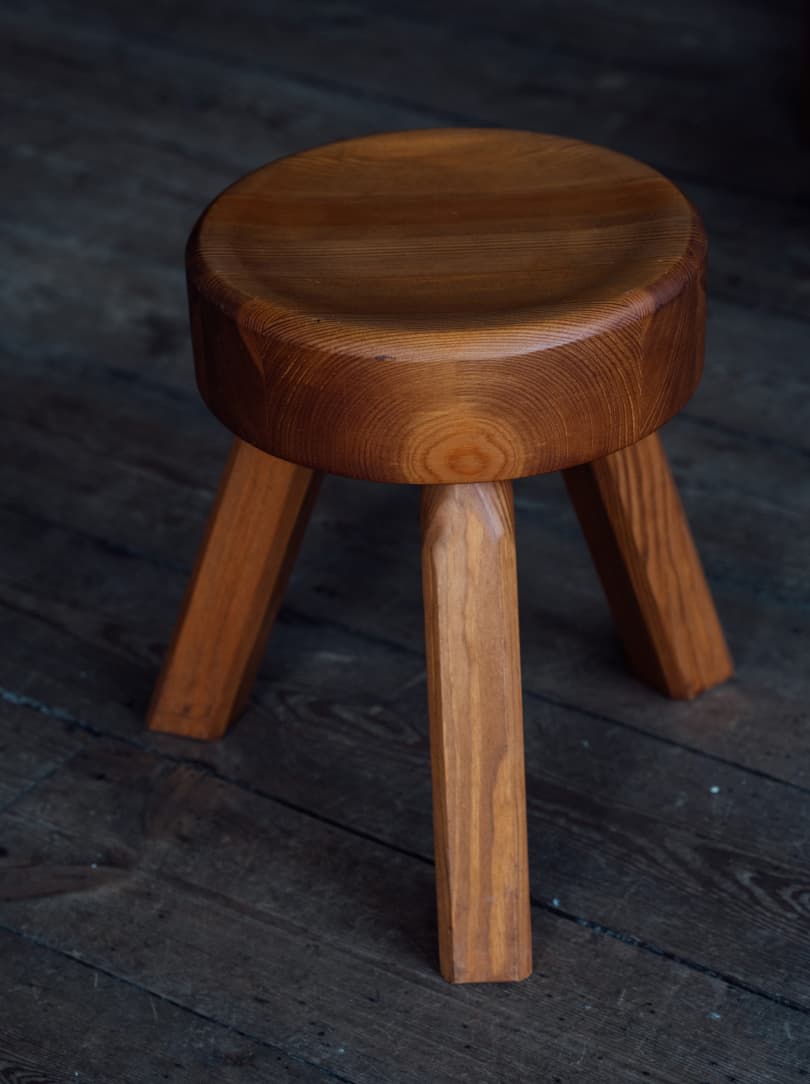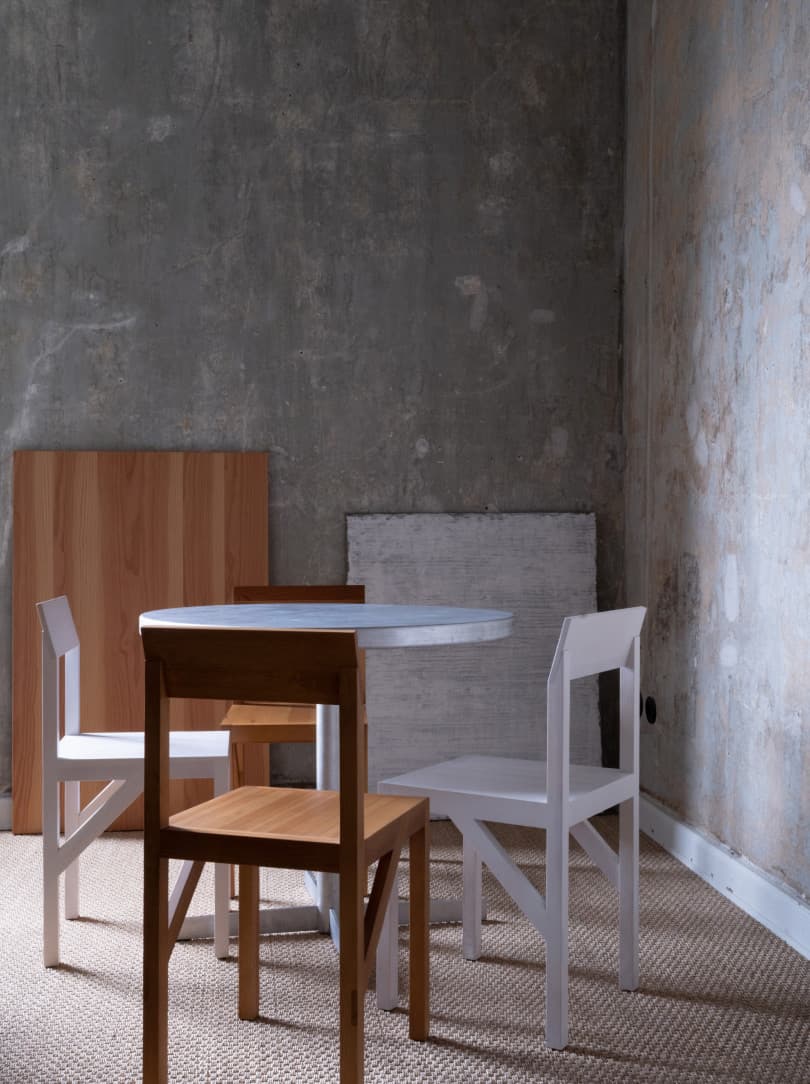 Within the brand's ambition to create a universal design, there is only room for what feels right: if it isn't real, if it isn't meaningful, then it should not be. And so every piece has a presence and takes up space in a natural way, without ever imposing. It conveys a sense of simplicity that connects with us at our core. This might be why, when you enter the studio store, you feel a sense of serenity. Everything feels at peace. There isn't an object that screams for more attention, or a perfume that overpowers the senses. The lighted candles have a natural scent that roots this impression: you might perceive an earthy or citrus note as you walk by, but it is subtle and centred, like everything here.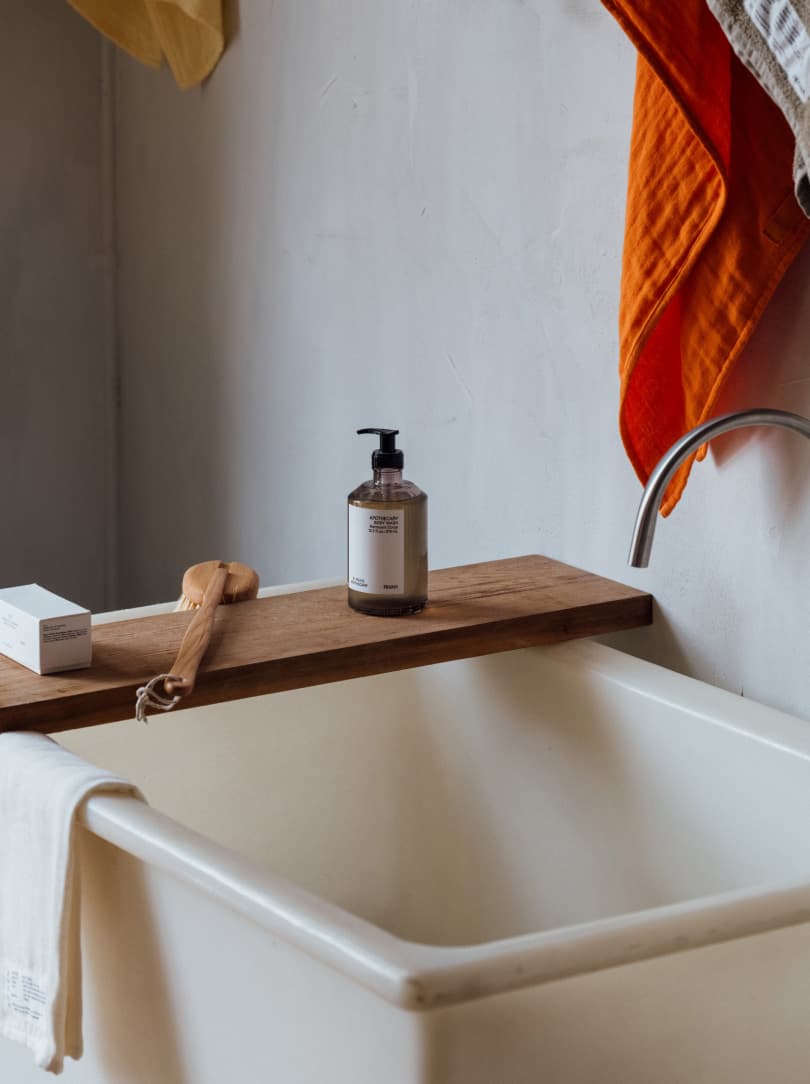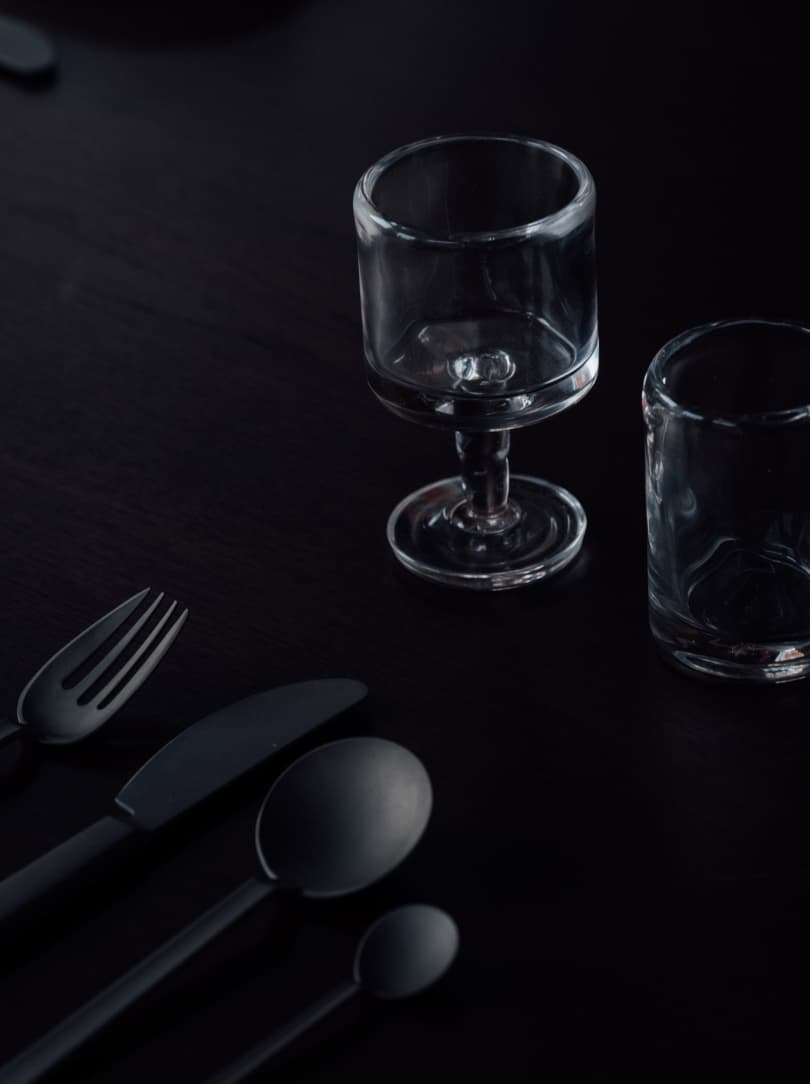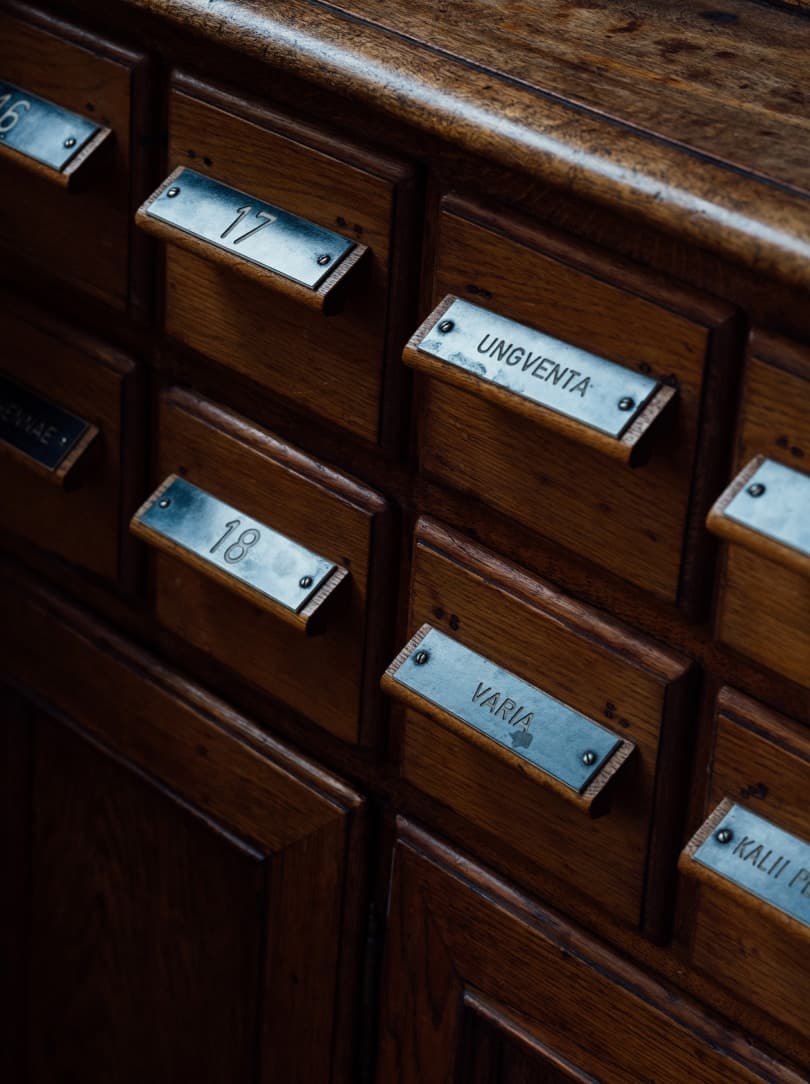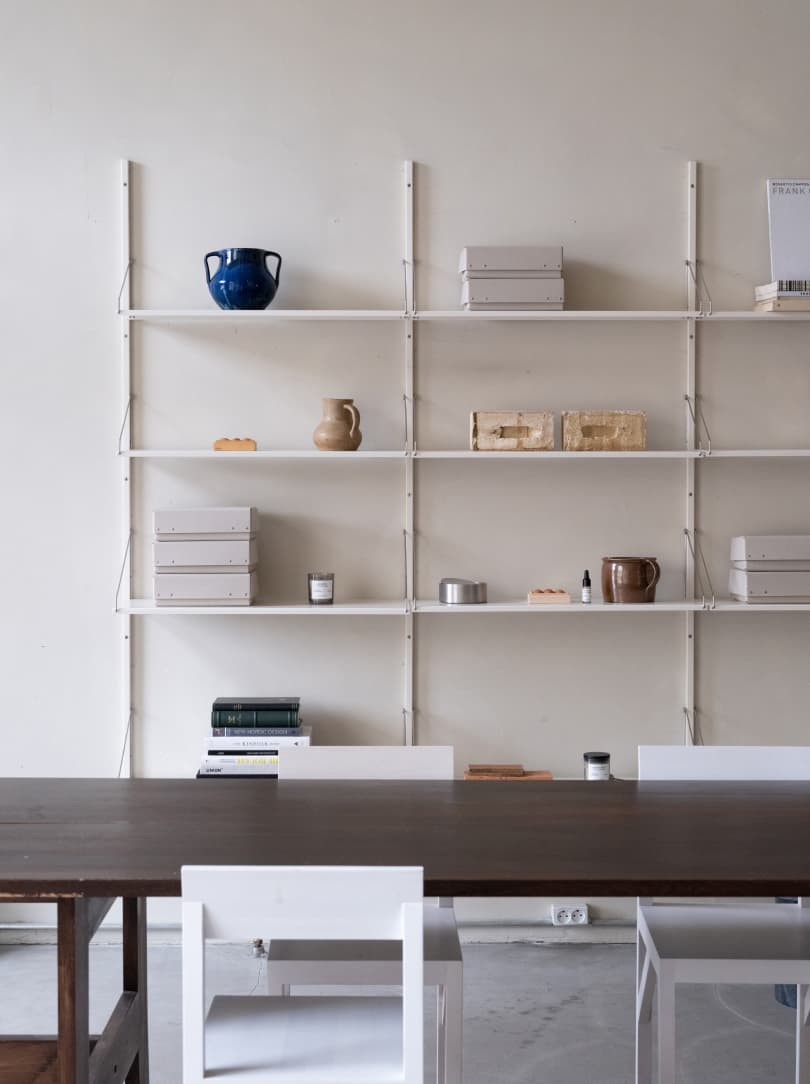 "FRAMA is extremely down to earth, very grounded, very independent, very casual."
Niels Strøyer Christophersen
It is not surprising that this genuine sense of realness and connectedness is not limited to the creations. There isn't a fibre within FRAMA, Apotek 57, the Studio Store and everyone who brings the brand's vision and these spaces to life that does not feel real. Everyone is welcoming, curious and open. There is a genuine interest in engaging, sharing and being together.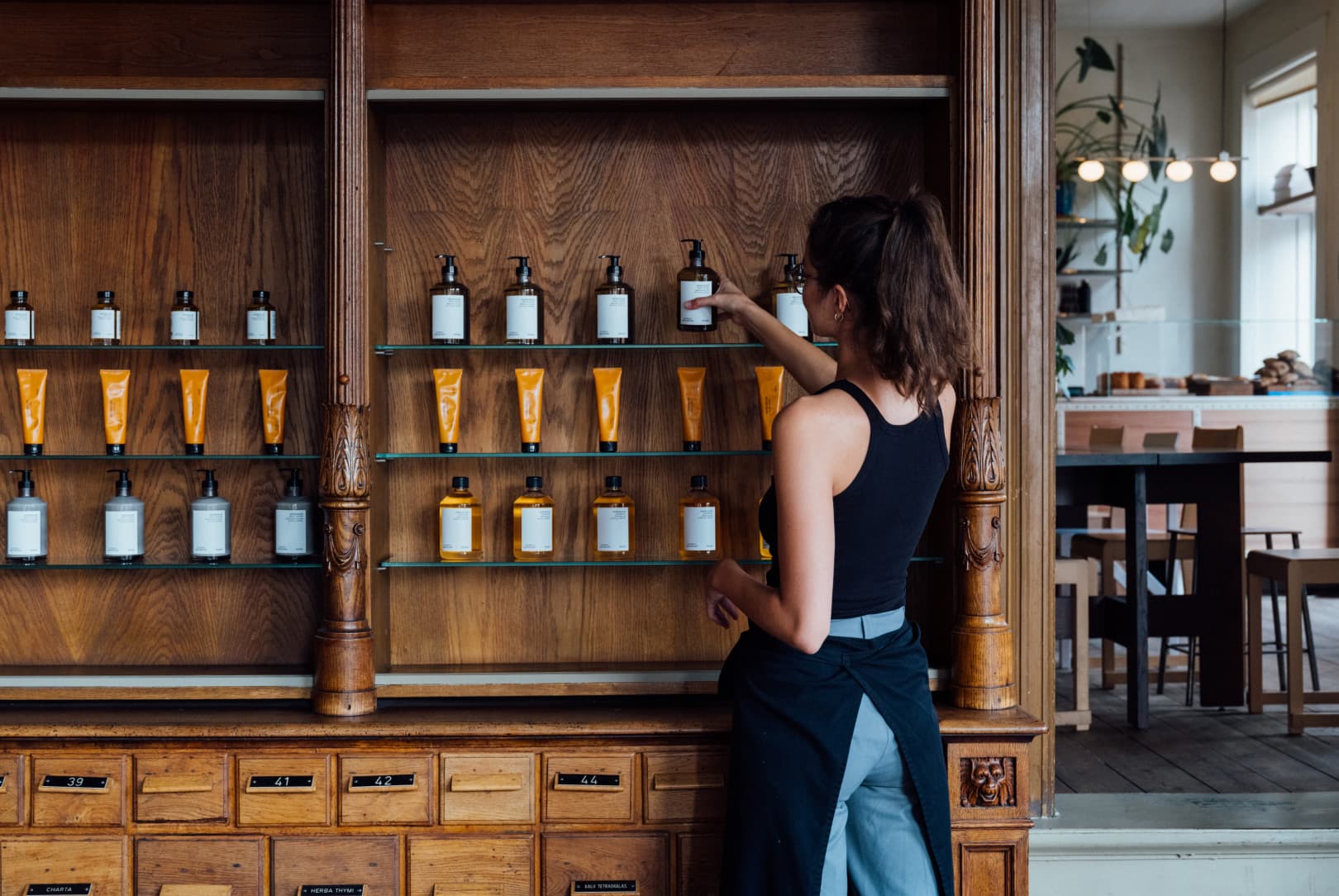 Reflecting on the importance of conversations and dialogue, it becomes clear how essential they are to their being and creative process. Everything is a conversation and a dialogue. For the small as much as for the big things. "You're going to have a conversation within yourself," says FRAMA's creative director, "but also with your partner, your surroundings, with your home, your family, your colleagues and collaborators." If you don't have conversations, you end up spiralling inwards. And life happens outwards: we must be spiralling outwards. How liberating. While the discourse and focus of many lies on individualism and setting oneself apart, FRAMA creates an inviting and collective sense of freedom. A vision strongly shaped by the Niels' openness for interpretations, perspectives, and people adding their puzzle piece and thus contributing to a broader ecosystem. "I think that's the most exciting part," he says, acknowledging that FRAMA is borne of many brands and companies. It has never been one person only. "And especially within FRAMA, it is a team effort," he adds eagerly. While living up to his role as face of the company, he pushes it to evolve, as with everything else around him. And he observes it changing, he says, as the influences within the team come more and more to the surface. 
"Everything that's framed, labelled and defined is the opposite of freedom."
Niels Strøyer Christophersen
While much simply resonates and feels natural within FRAMA, there is more to it. Much like life itself, it is a place where apparent contradictions find their balance and can simply exist. It all starts with this unique place: St. Pauls Apotek – a historic, wood-lined pharmacy in central Copenhagen first established in 1878. A space with heritage that is being conserved while in contrast with FRAMA's aesthetics. But is it really a contrast?
From the outside, the neoclassical, adorned building with its beige tone would seem almost plain if it weren't for its large, dark windows and their black frames. The studio store seems veiled in an aura of mystery. Only once you get close do you start seeing what's inside. In the window are a few FRAMA products together with raw materials and pieces collected in Japan, Mexico or elsewhere. The veiled intention is to instil curiosity and avoid being in your face.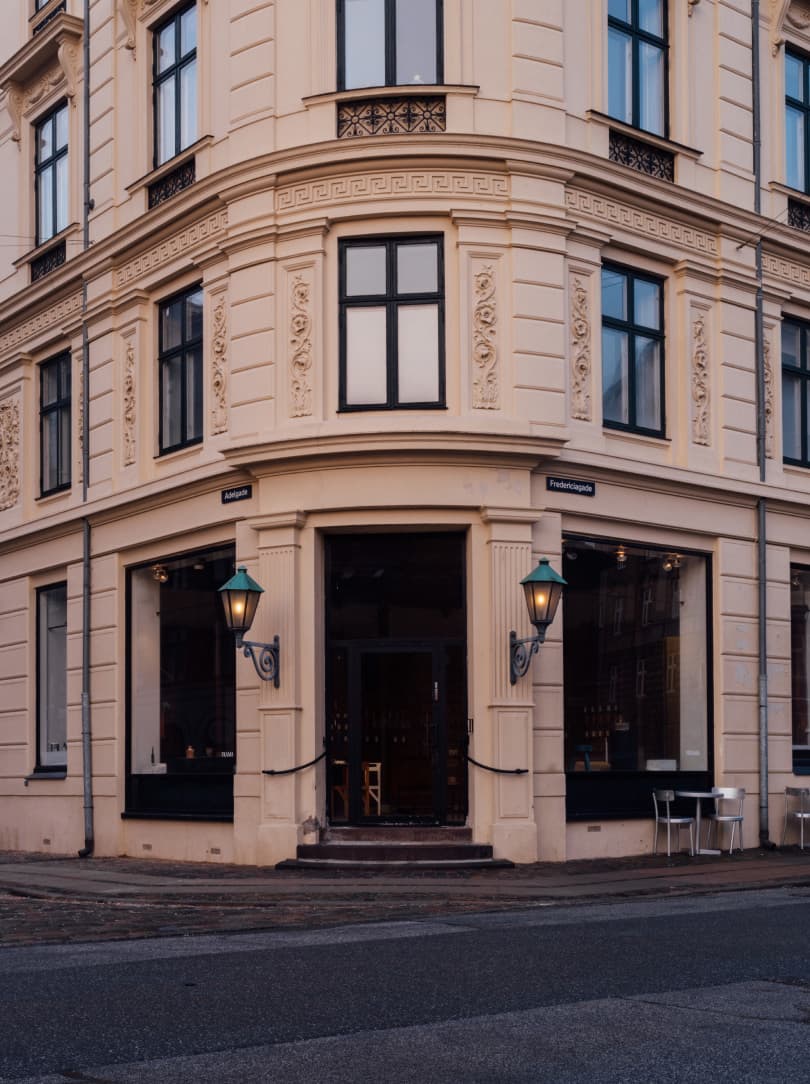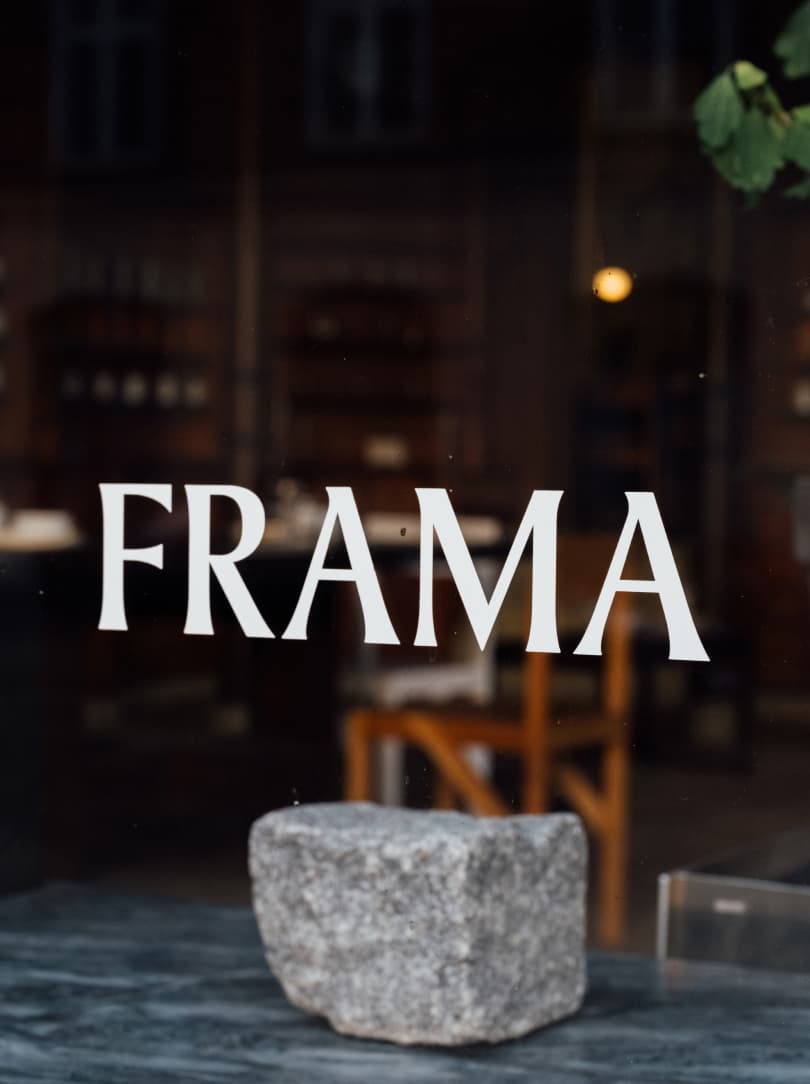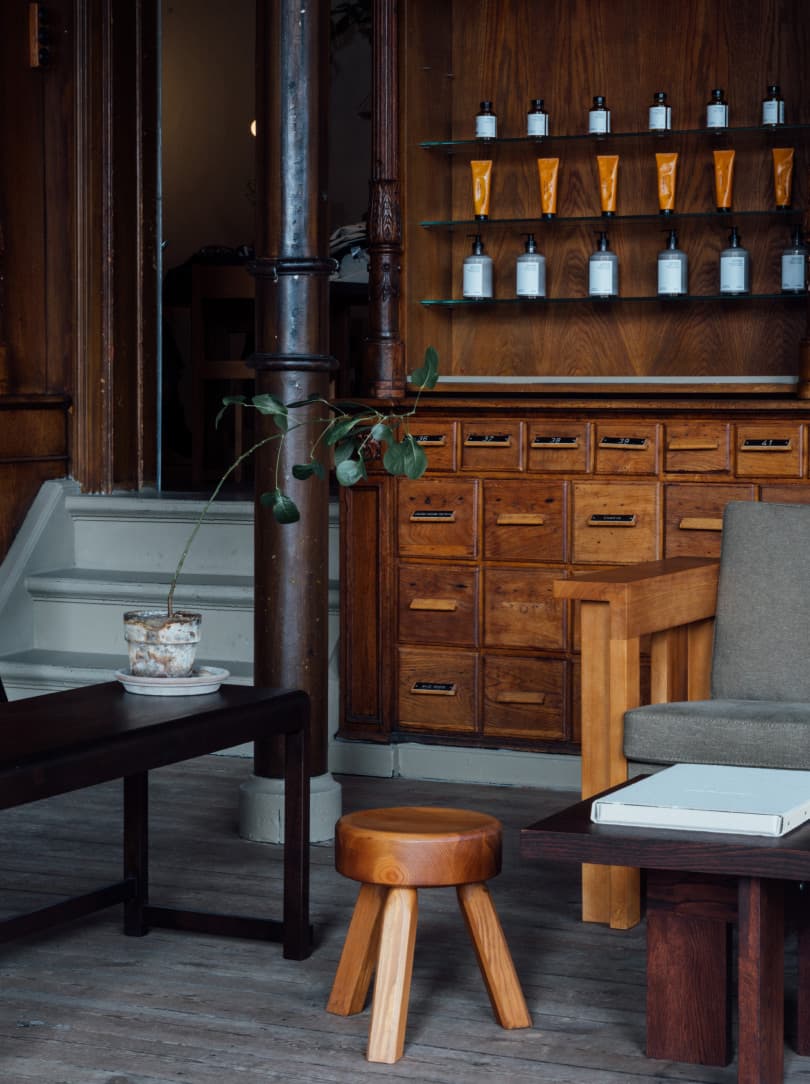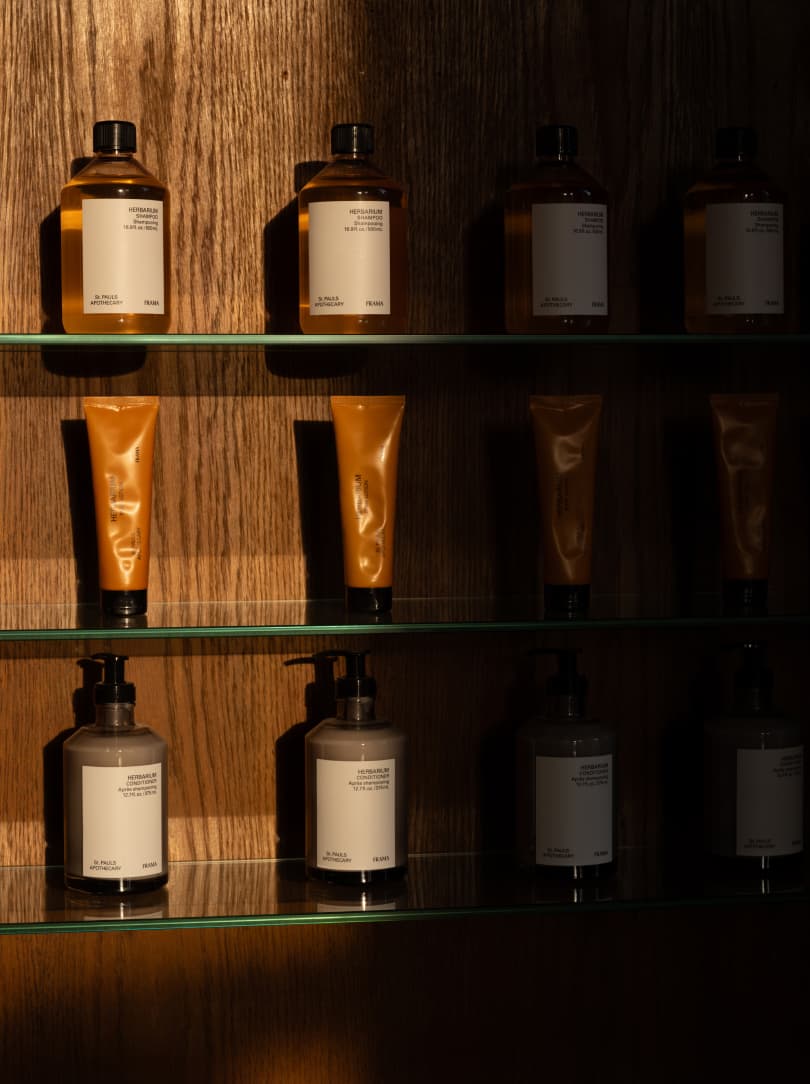 The self-care collection, St. Pauls Apothecary, seamlessly integrates into this subtle play. The wall shelves from the former pharmacy serve as the ideal canvas to showcase the elegantly designed, minimalist bottles and tubes. Row after row, perfectly aligned. They imbue a sense of reverence, reminiscent of things too beautiful to touch. Who dares break this symmetry to take home their shower gel, shampoo or conditioner? And yet, once you approach the shelves, the bottles invite being picked up and held, just like the tubes with their seemingly imperfect shapes. They look as if they have already been touched or squeezed here and there. Their organic look gives them a natural appeal that makes them seem more approachable.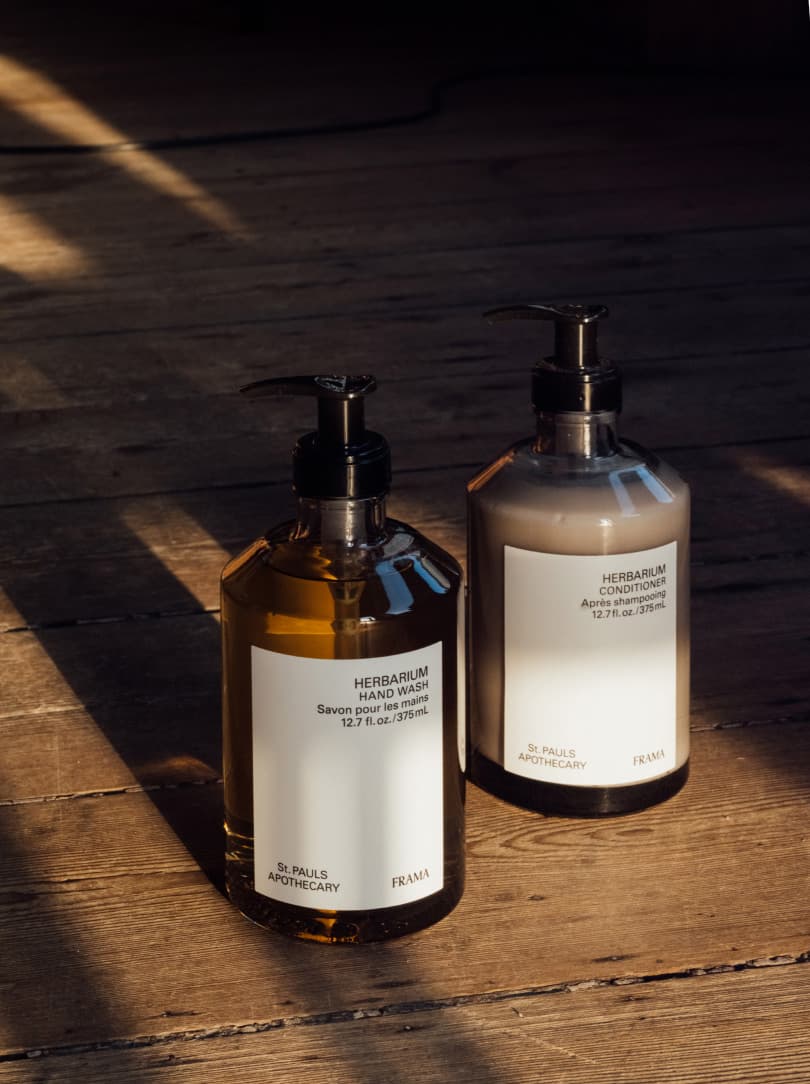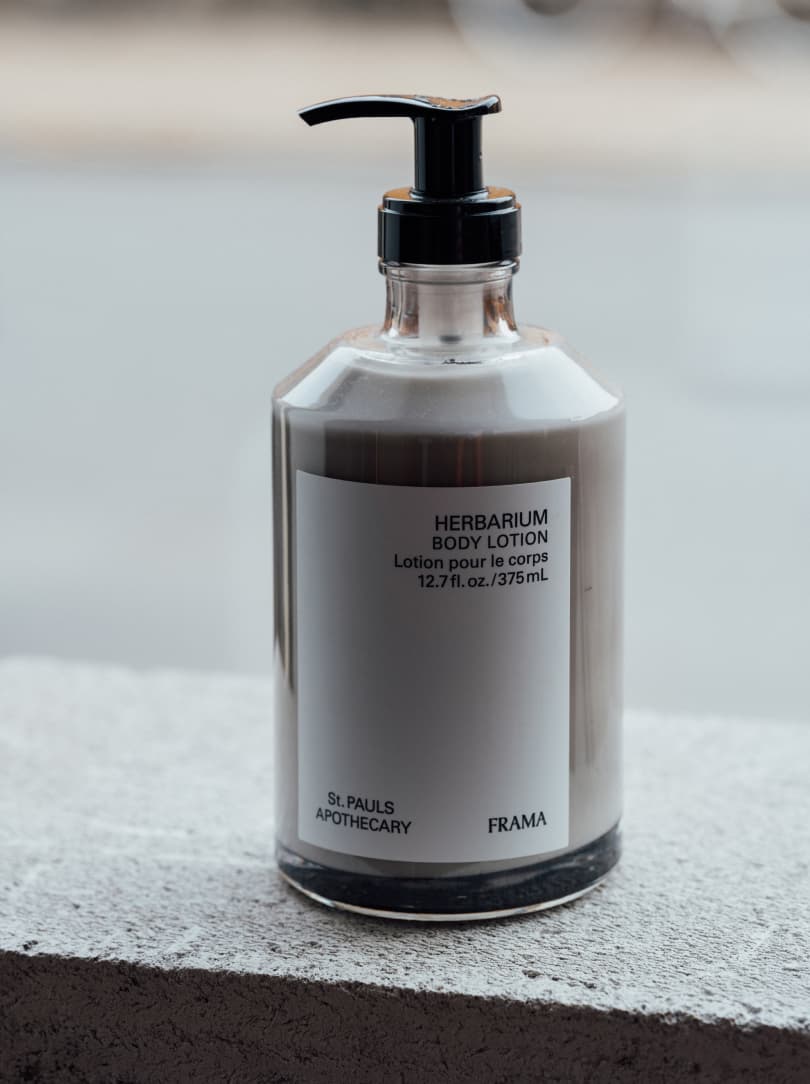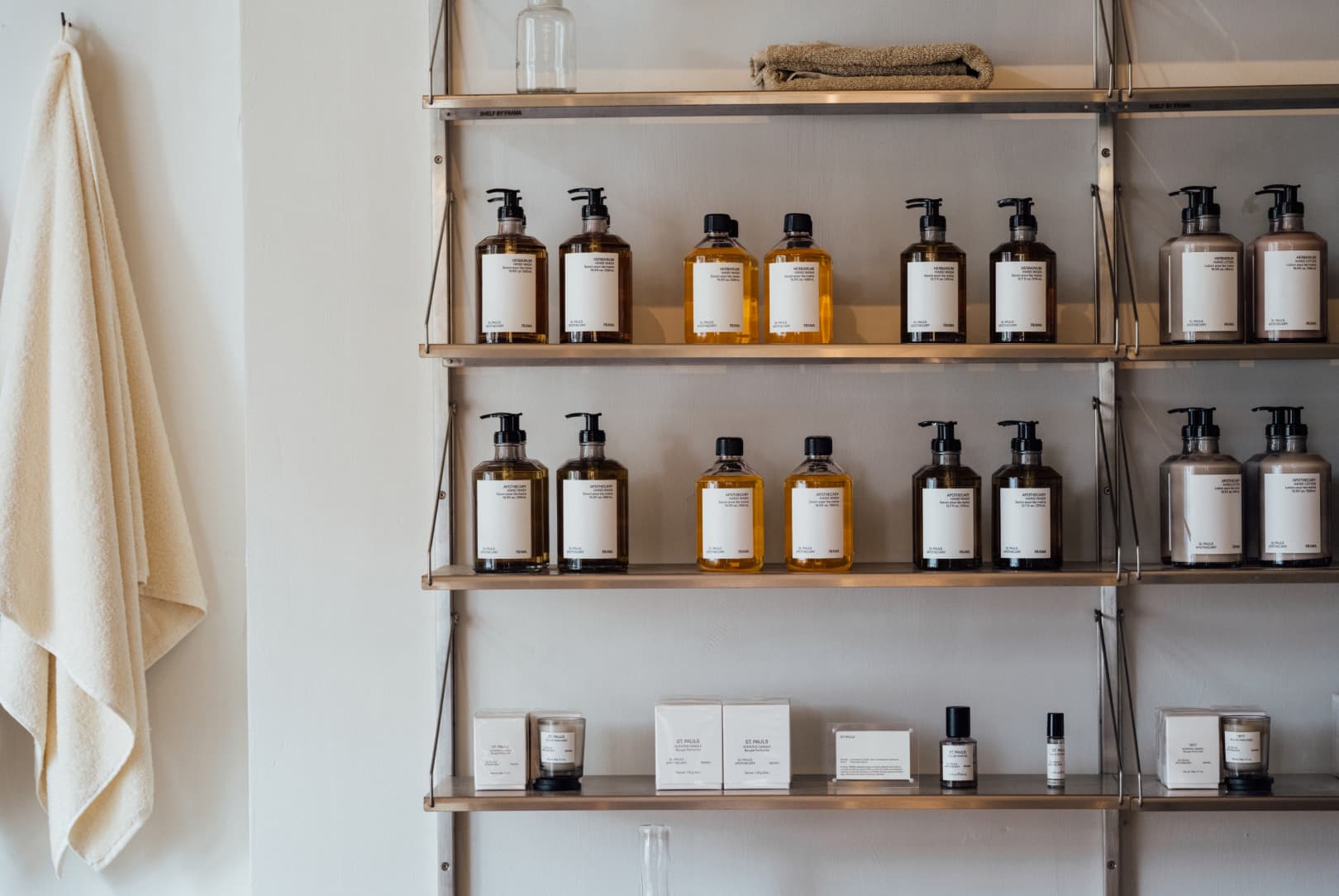 Inside the store, the large windows illuminate everything. Bathed in this light, it all looks different and the sense of mystery lifts, giving way to a natural sense of being. At the same time, you feel somewhat protected once you are inside, perhaps because you know you are shielded from the gaze of passers-by. Many visitors walk in through Apotek 57 – between a filter coffee, a signature dish or a slice of cake. They take in the space. They photograph this corner or another. They ask about this or that piece. Some seem to breathe more deeply after enjoying the calming blend of the Apothecary line with its sandalwood, cedar and ylang-ylang. Others feel pleasantly energised after inhaling the rich woodiness and bright citrus notes of the Herbarium line. Each to their own.
Though filled with contrasts, all spaces are in harmony. And all feel like FRAMA. There is a recognisable thread running through the differently purposed rooms, every object you see and the many encounters you make. There is an effortless beauty without any flaunting. It is a living world that keeps changing and expanding, while remaining true to itself – whatever they do, whatever new aspect of life will be added to FRAMA, you will imagine that it will always have the same feel. As we walk into the evening, we are serene and at peace. The natural flow of the everyday within the world of FRAMA gives us the impression that time itself has slowed down. And slow does not mean empty. On the contrary. It is the right rhythm to truly take in the many impressions. The perfect balance of what we have savoured. The inspiration of those we met. The natural way things simply are.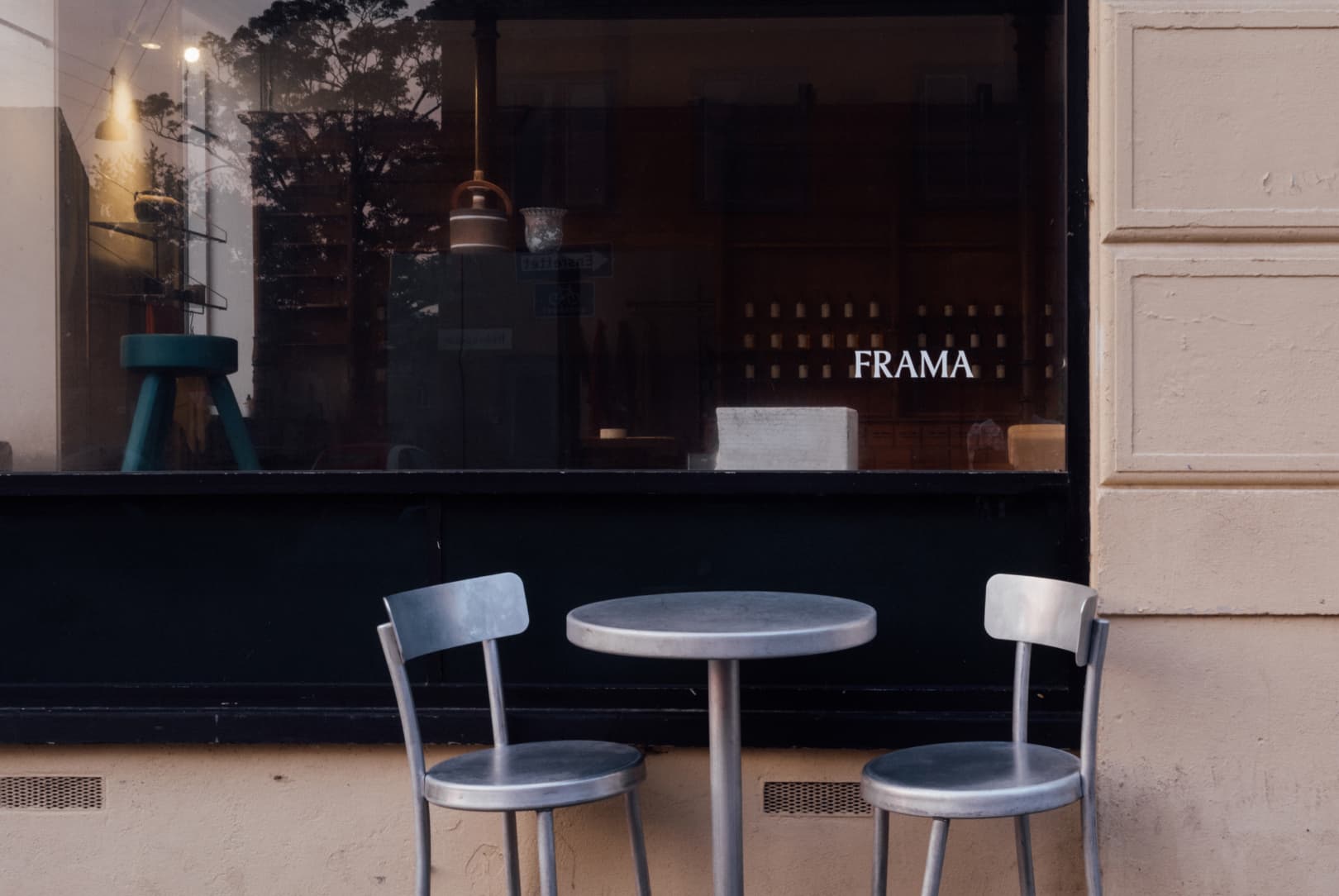 Selected products from the St. Pauls Apothecary Herbarium line, made by FRAMA, are part of the AGOBAY collection. Since the first moment we inhaled the Herbarium's signature scent and experienced its pleasant texture, we felt as though we had been transported into the midst of dense, wild greenery. This sense of connectedness to nature combined with the effectiveness of traditional herbal medicine becomes a beautiful multisensorial escape that enriches any moment of our day.
Written by AGOBAY
Photographs by Matilde Travassos