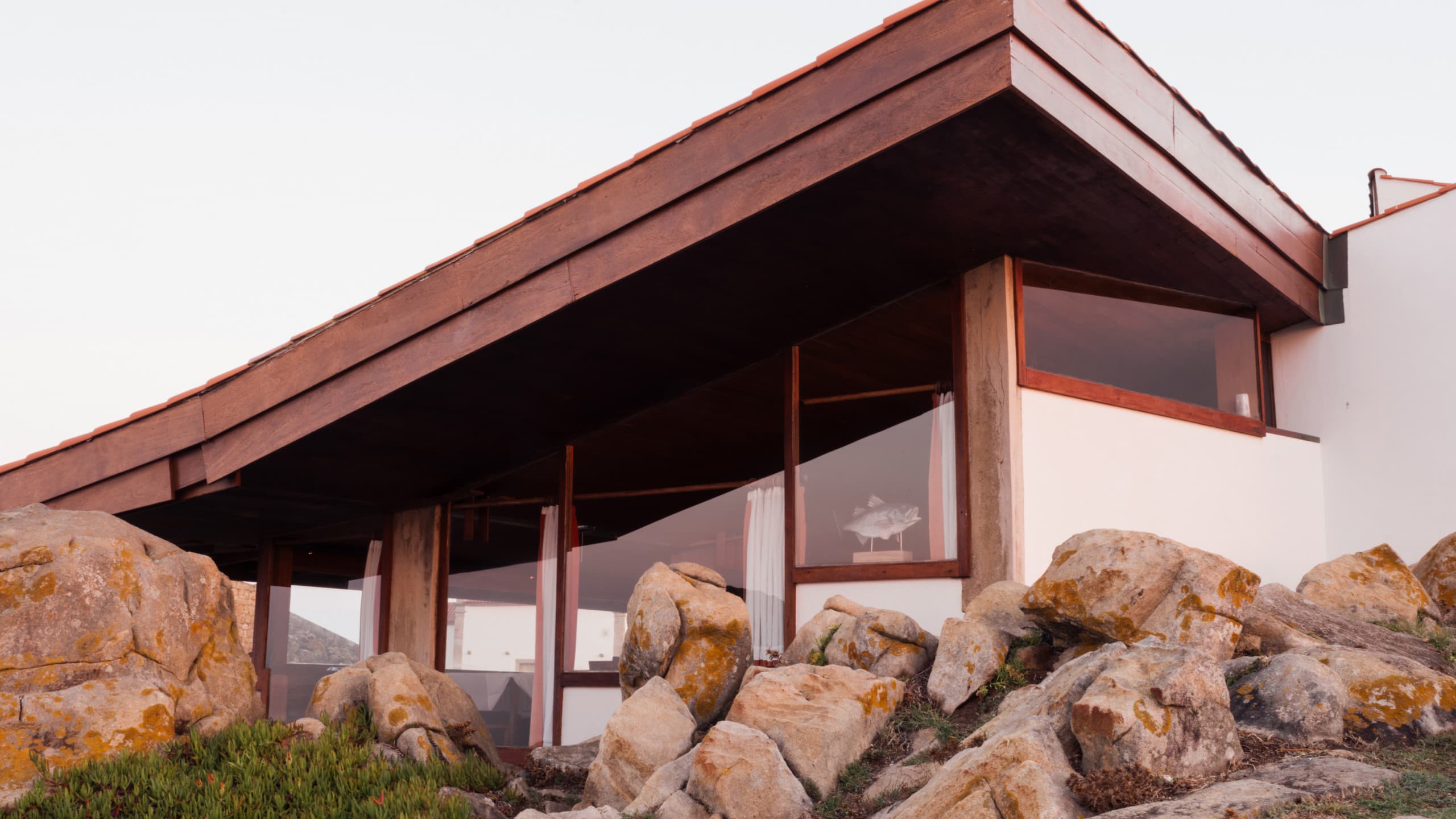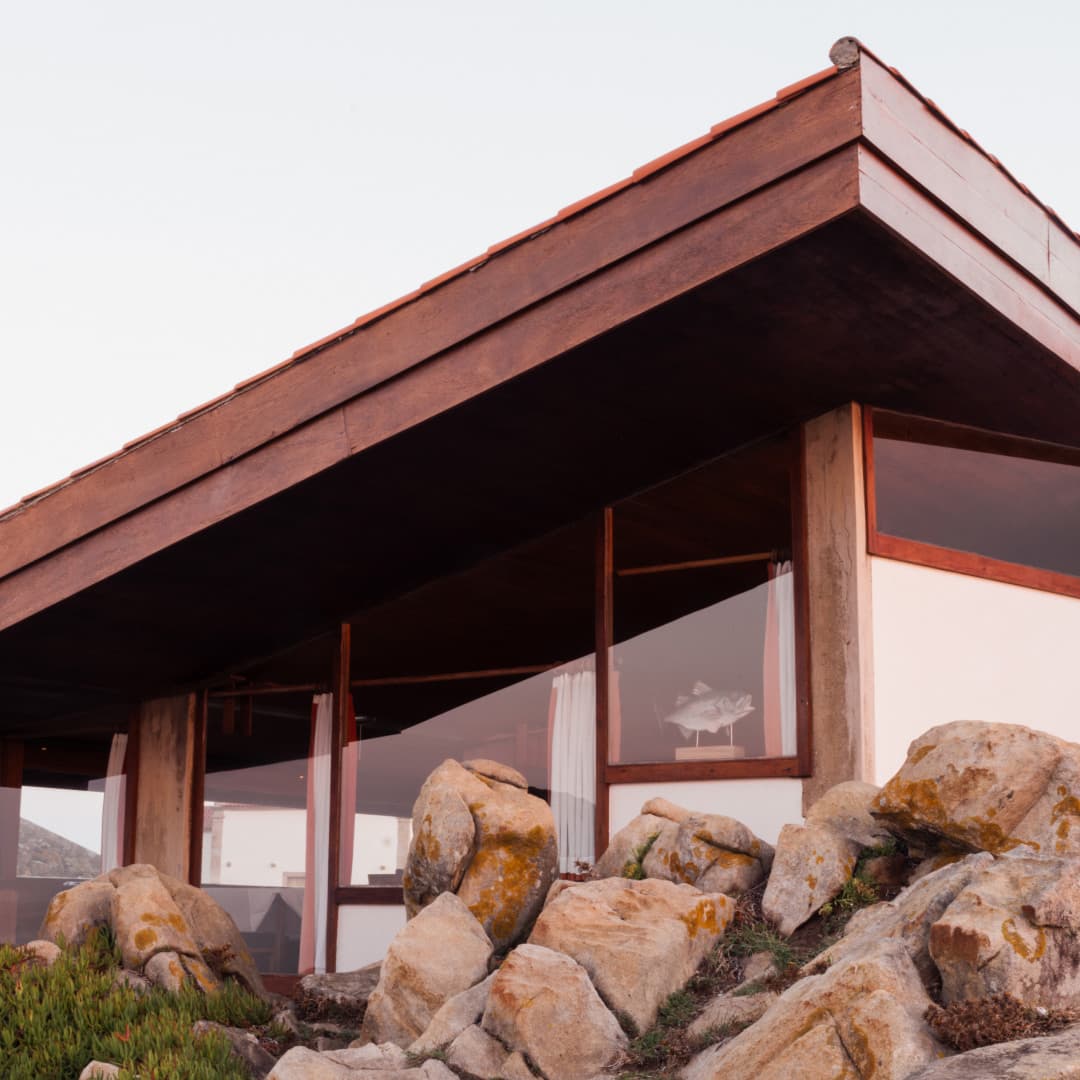 Listen
to Katherine Kennard
reading this story
A SENSORY EXPERIENCE INSPIRED BY MEMORIES
Casa de Chá da Boa Nova
It is a beautiful, sun-drenched morning in Leça da Palmeira, a seaside town on the northern edge of Porto, and excitement rises as we make our way along the sprawling promenade that stretches over the shoreline. A mere 25 minutes from Porto city centre, we swiftly arrive at what would become one of the most wonderful locations we have been to. What many decades ago was only boulder formations and the mighty ocean roaring up the coast now lies the restaurant Casa de Chá da Boa Nova, a former tea house named after the pocket-sized Boa Nova beach where it was built. Since then, it has become an outstanding example of architecture in all its timeless grandeur, tucked dramatically into the rocky outcrops that make up the seashore.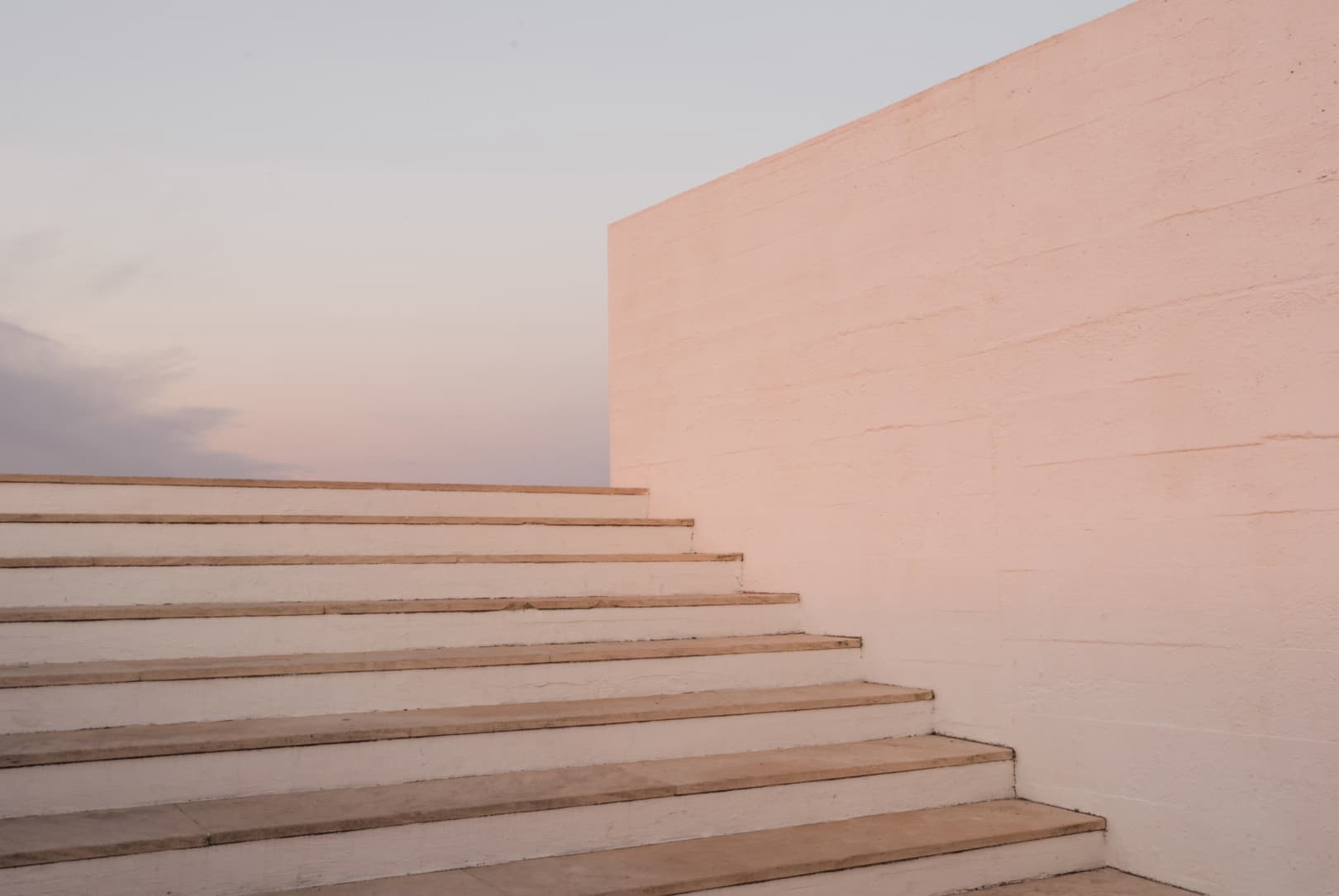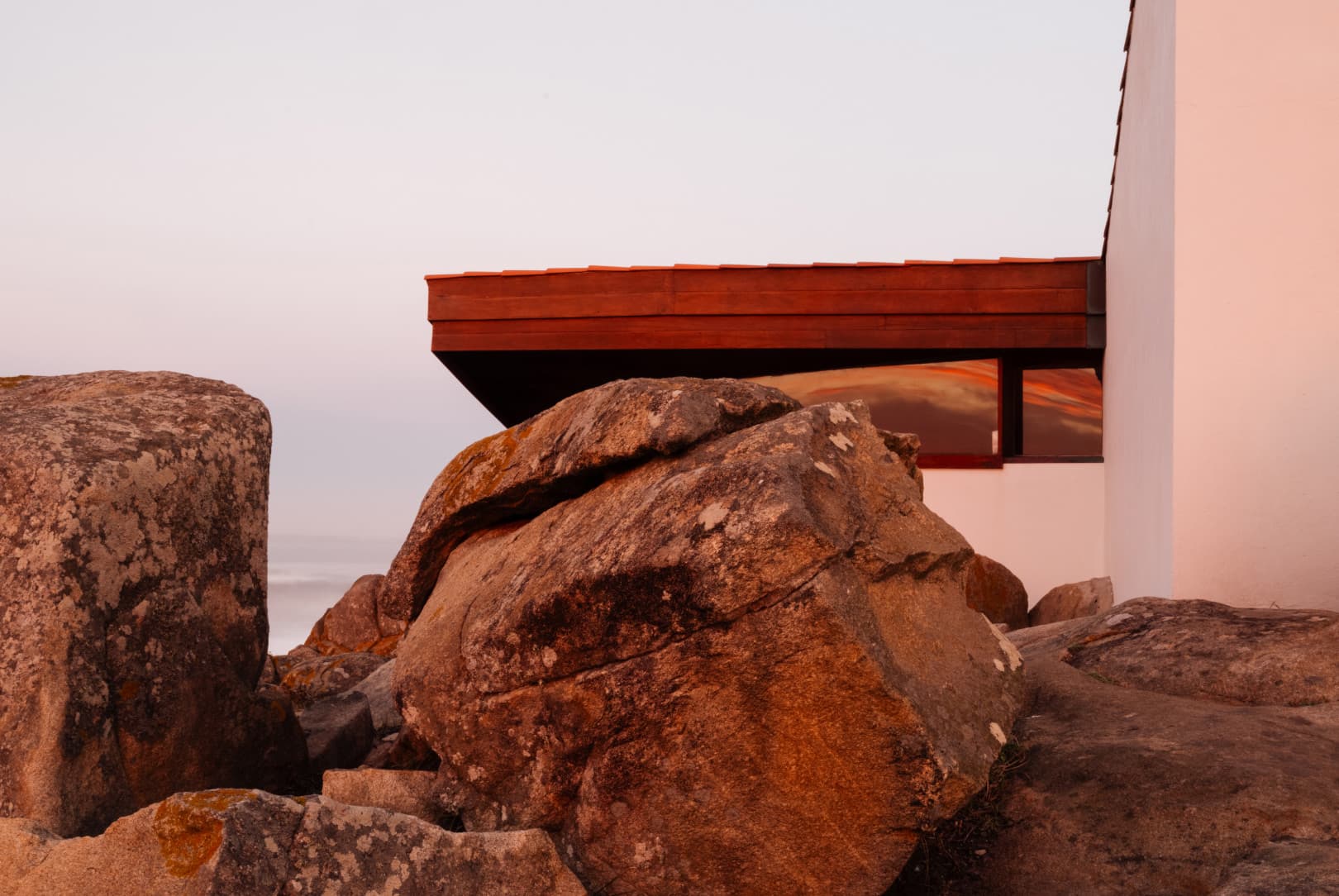 As we reach the enigmatic structure, the morning light delicately hitting the majestic, white-washed stairs and platforms, we are guided to a nearly secluded entrance framed by a low eave. The prevailing scent of the ocean feels like a deep-rooted element of Casa de Chá da Boa Nova, its sometimes soft, sometimes harsh murmur bristling against the rugged shore. The changing dark-red-hued slopes seem to simultaneously rise and descend onto the boulders, emerging as a contemporary arrangement of volumetric blocks.
Designed in 1958 and completed in 1963 by a young Álvaro Siza, now a Pritzker Award winner and one of the world's most revered architects, Casa de Chá da Boa Nova has carried the weight of contemplation by onlookers and architecture enthusiasts for decades, particularly after Casa da Arquitectura – Portuguese Centre for Architecture took over its management in 2014. That same year, celebrated Portuguese chef Rui Paula and his team got behind the helm of a new epicurean chapter at this unique destination.
It all started in 1956 when the municipality of Matosinhos held a contest for architectural proposals to stir up tourist interest in that coastal area. Back then, the idea of a tea house was considered modern and fashionable, so when the renowned architect Fernando Távora won the contest, a tea house was already on the cards. Before having to leave the country, however, he passed the project on to his collaborator and mentee at his studio, the young Álvaro Siza, who revealed a singular outlook for that specific project. Aged only 25, the newcomer was put in charge of what became his first major endeavour in the field, following a handful of residential projects in his hometown of Matosinhos – including the house where he grew up – and the neighbouring city of Porto.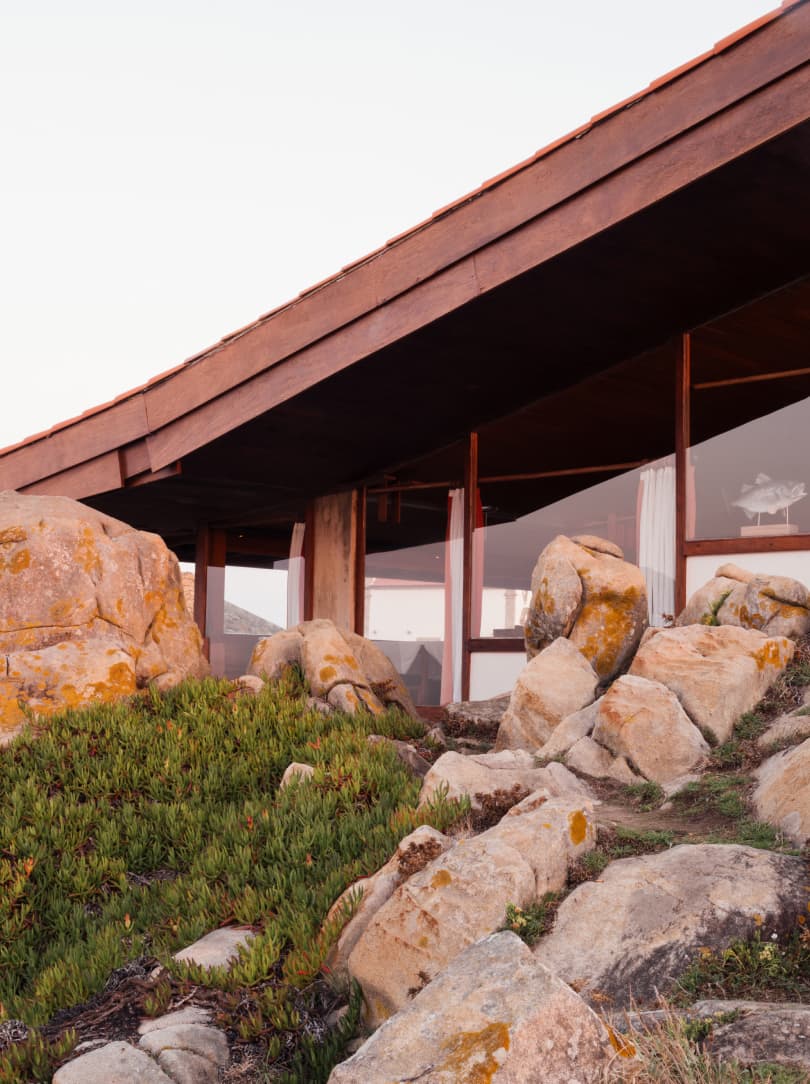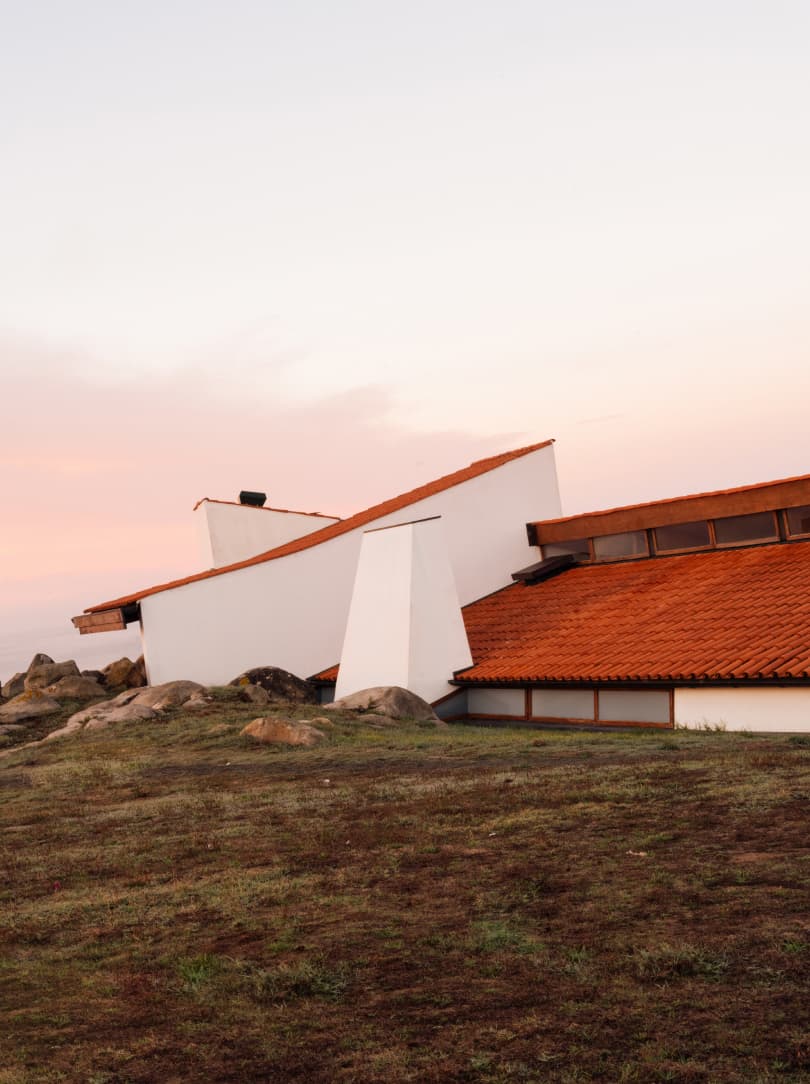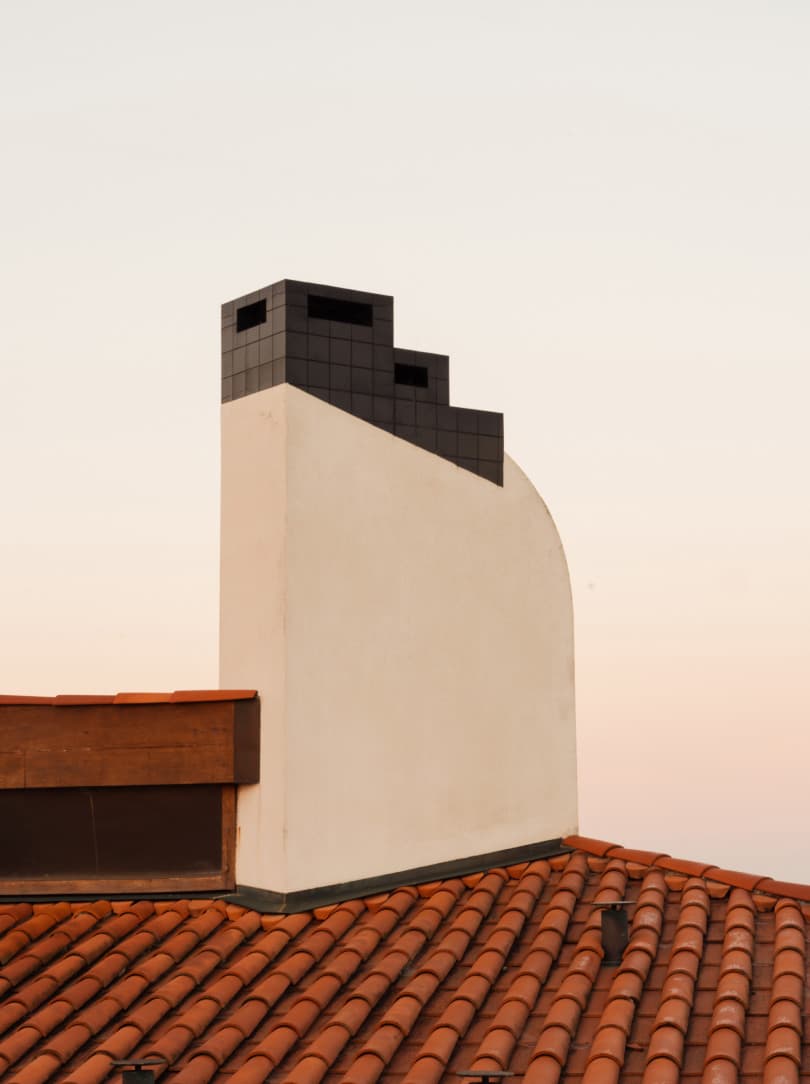 Although he and the team were terrified, as legend has it, Álvaro Siza took on the challenge by visiting the site multiple times as well as endless sketching, a methodology he still follows today as a way to clarify his myriad thoughts and reach the fitting solution for a certain project. His knowledgeable approach also stemmed from his deep understanding of that particular landscape, so close to where he was brought up. Ever since, he has cultivated that intimate bond with nature in all of his projects, old and new. The thought-provoking idea of building it on the cliffs came from Fernando Távora, but Álvaro Siza was able to accentuate its surroundings without smothering them, but instead elevating them.
The way Álvaro Siza envisions his projects entails a profound connection with a place's geological and even social attributes. From there, he initiates detailed interventions entrenched in those realities with clear-cut pragmatism, as if no one could ever envision that same place without the project and vice-versa. With Casa de Chá da Boa Nova, the architect reimagined the idea of natural context, locating it lower than the Boa Nova chapel, which sits in a manicured grass plot right next to the restaurant and is enveloped by the same landscape.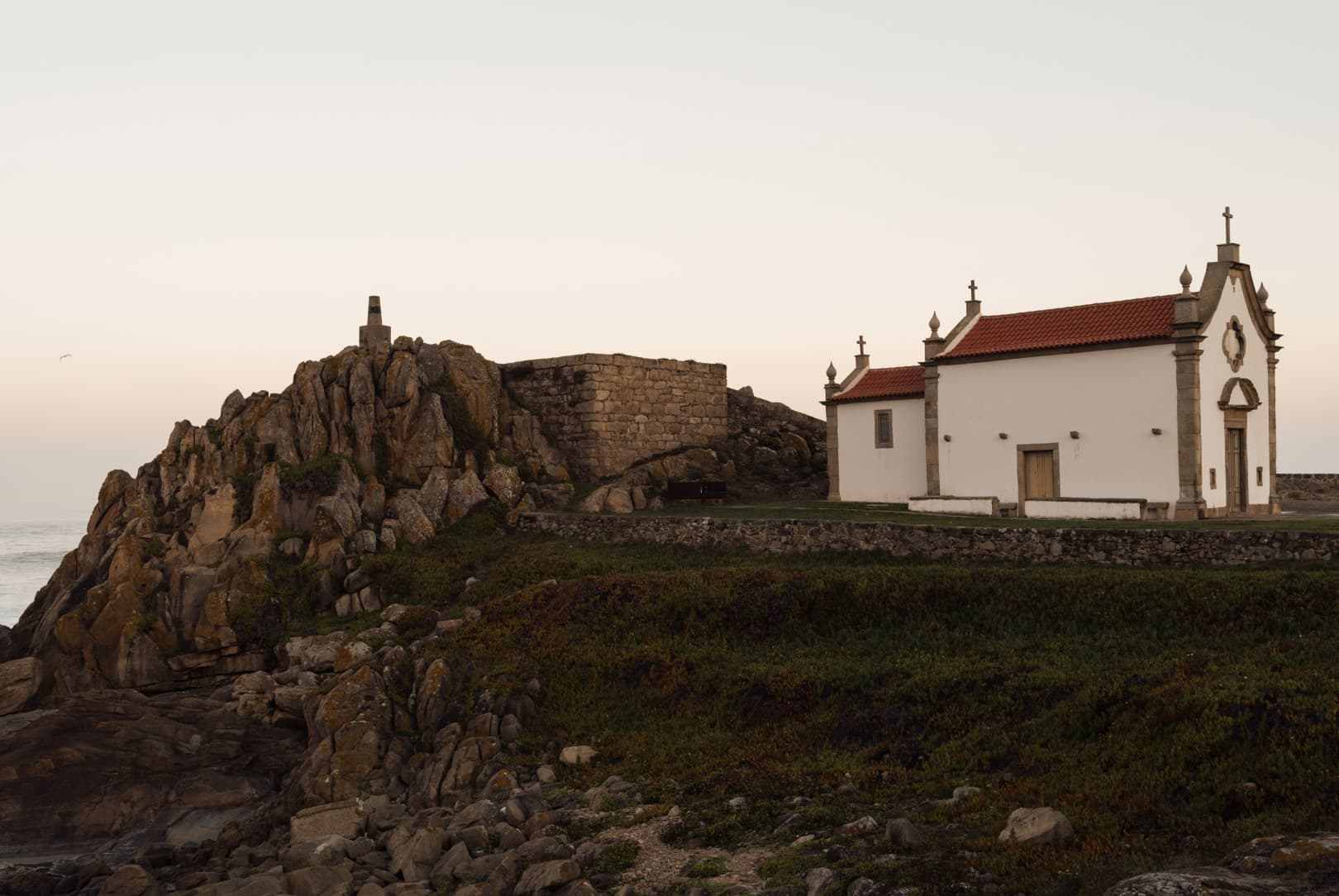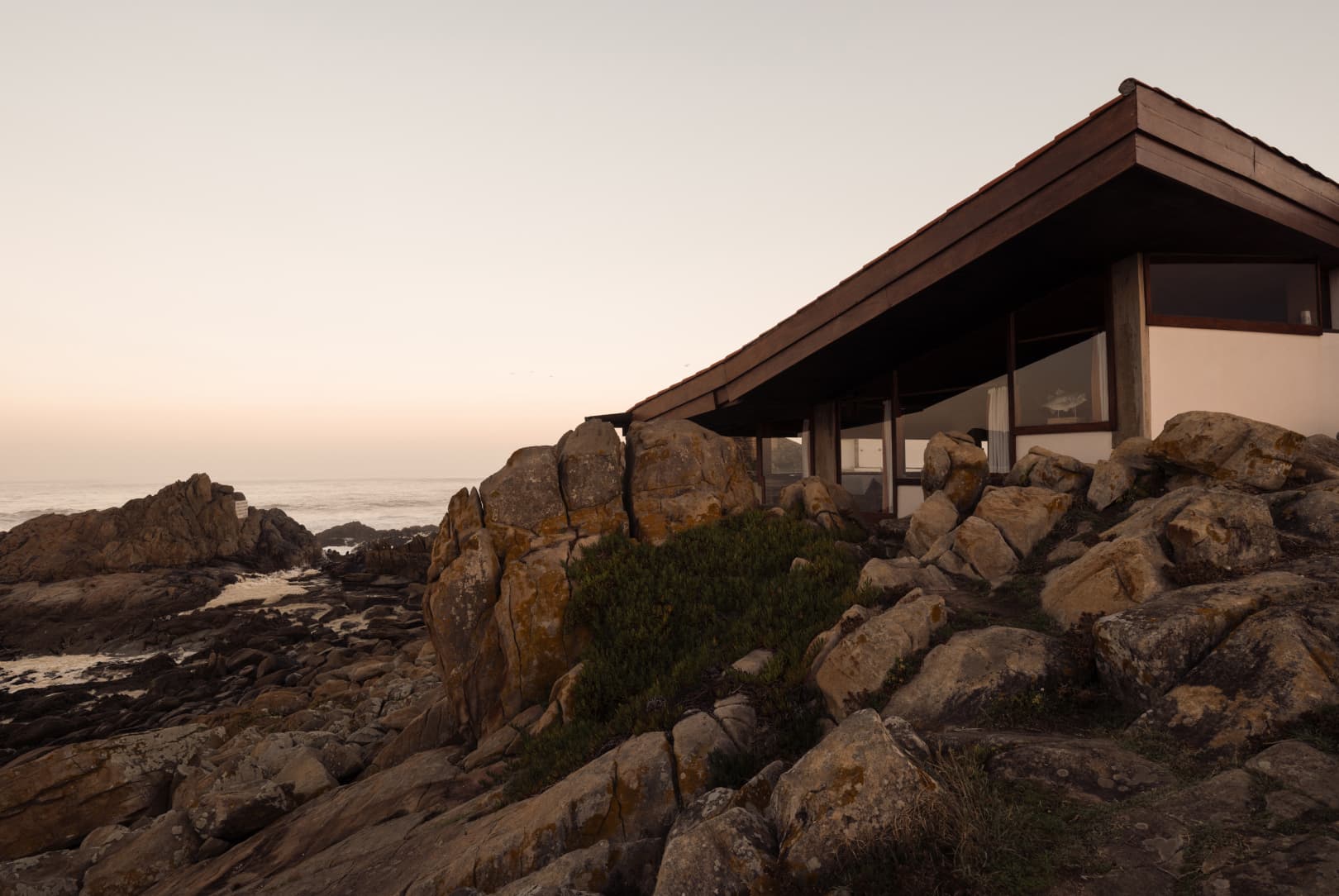 Entering through the main door, the warm tones of the wooden-clad ceilings and floors are the first to greet us, like the snug embrace of autumnal days. There is an immediate feeling of cosiness, an intimate mood that guides our eyes ever so delicately. There are two upholstered black leather armchairs with a slender, boxy look right next to the wooden staircase that leads us to the two main dining rooms and the kitchen. Each step feels like we are slowly descending into a different world – one where the ocean pulsates at the pace of our own hearts. Right above the stairs, the sunlight enters through slender panes of glass cut off from the ceiling, a detail we will find later in the main room, too. The atmosphere is light, unperturbed, and silence reigns in the early hours, before a whole new realm begins unravelling behind the scenes, as it does every day.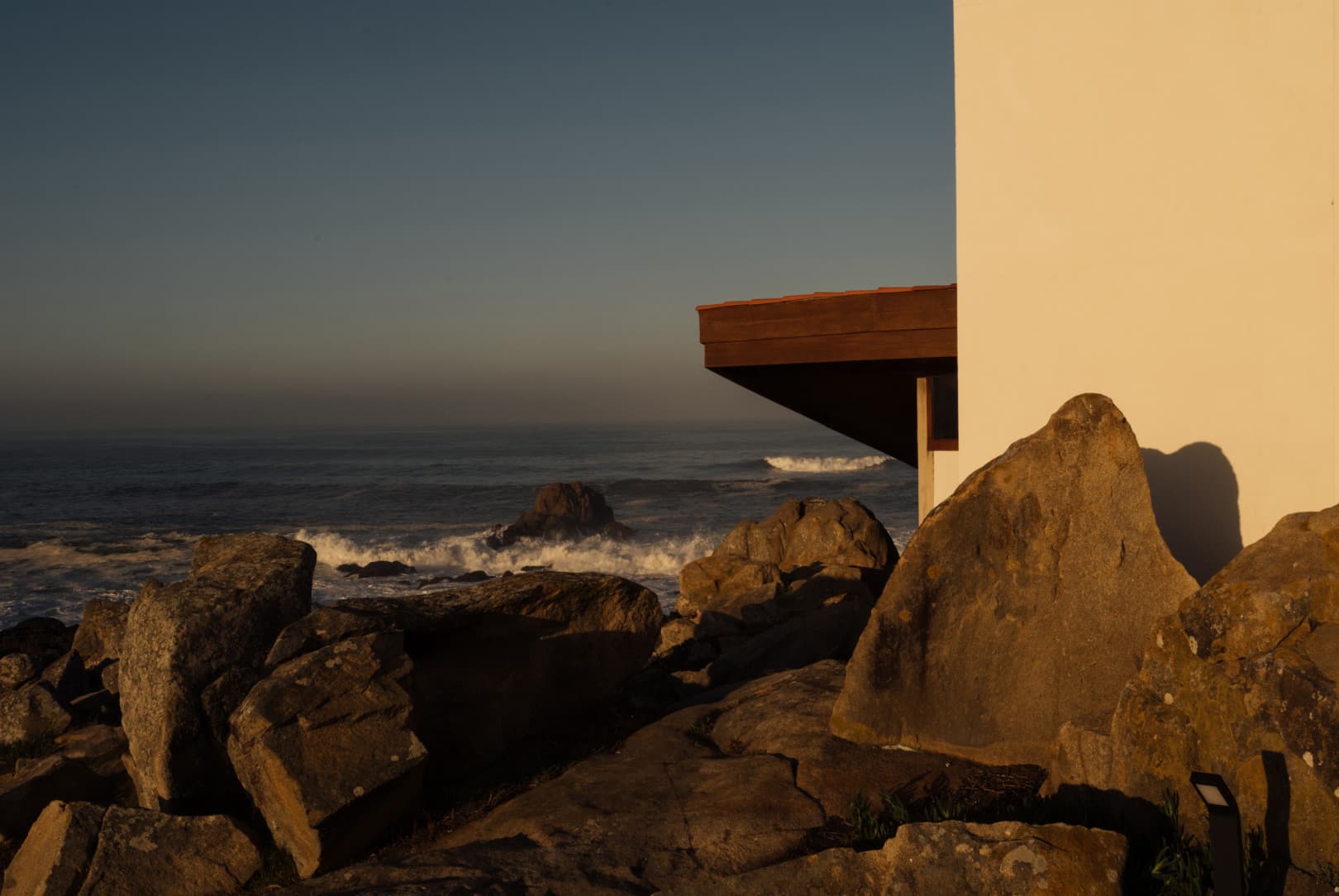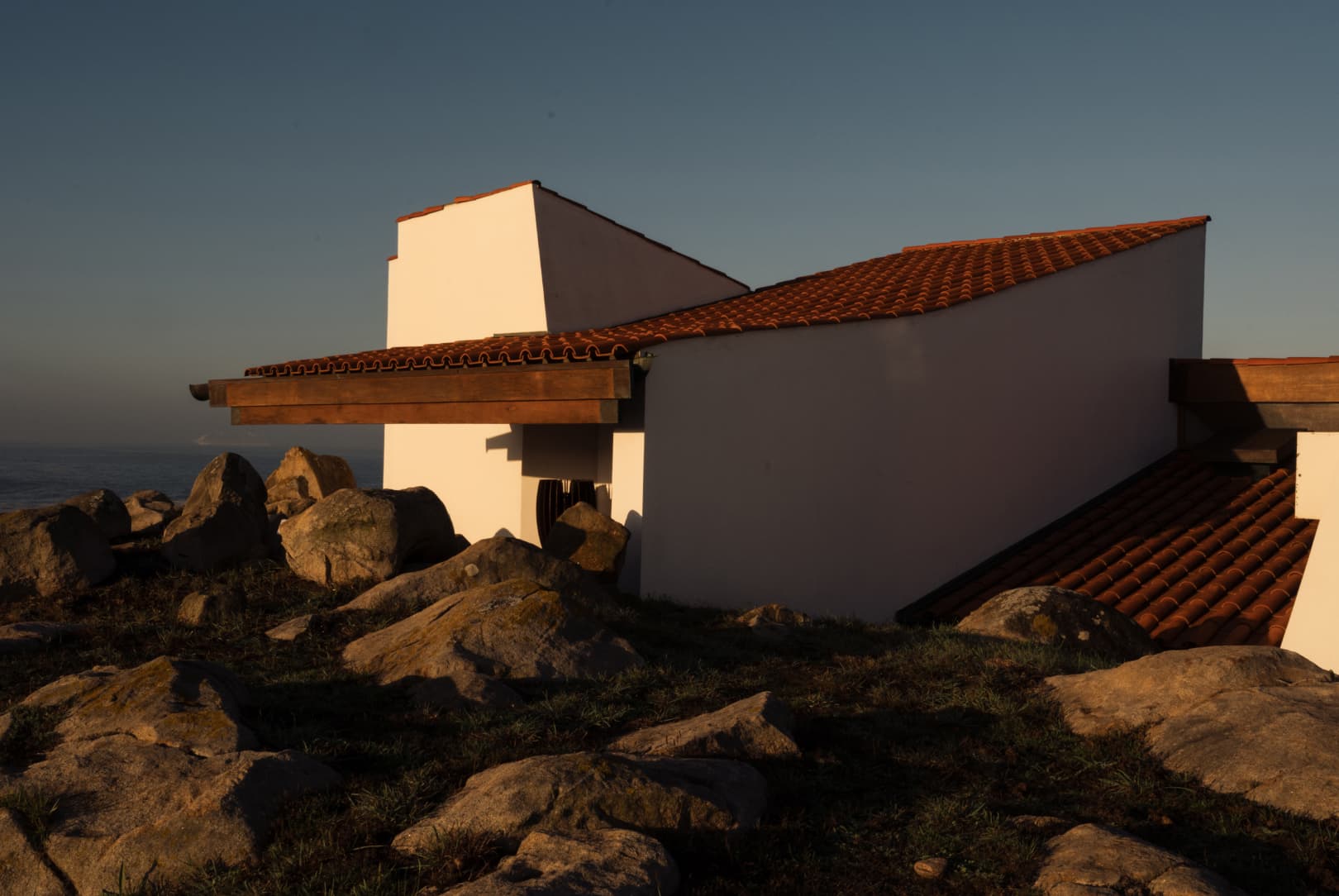 The soothing sunlight coming in through the imposing windows is, however, the indisputable star of the show, unfathomable, almost ethereal. It is remarkable to think we are a few steps away from the ocean yet inside a man-made structure of such significance, and the connection between both is so striking. The scenery transcends our expectations: all of a sudden, with the press of a single button, one of the three ocean-facing windows begins to move. It does not go upwards or to the side, as one would guess; instead, it slowly slides downward into the ground, almost as if the earth itself is engulfing it. It feels as if the ocean, just a few cliff stones away, becomes an integral part of the restaurant and is pulled inside – and us to it. We hear the rhythmic waves. We taste the subtle saltiness in the air. And we imagine experiencing this moment during a meal, where the ocean becomes an indelible part of the dishes served – like a garnish, sprinkling a touch of its fresh scent onto our plates.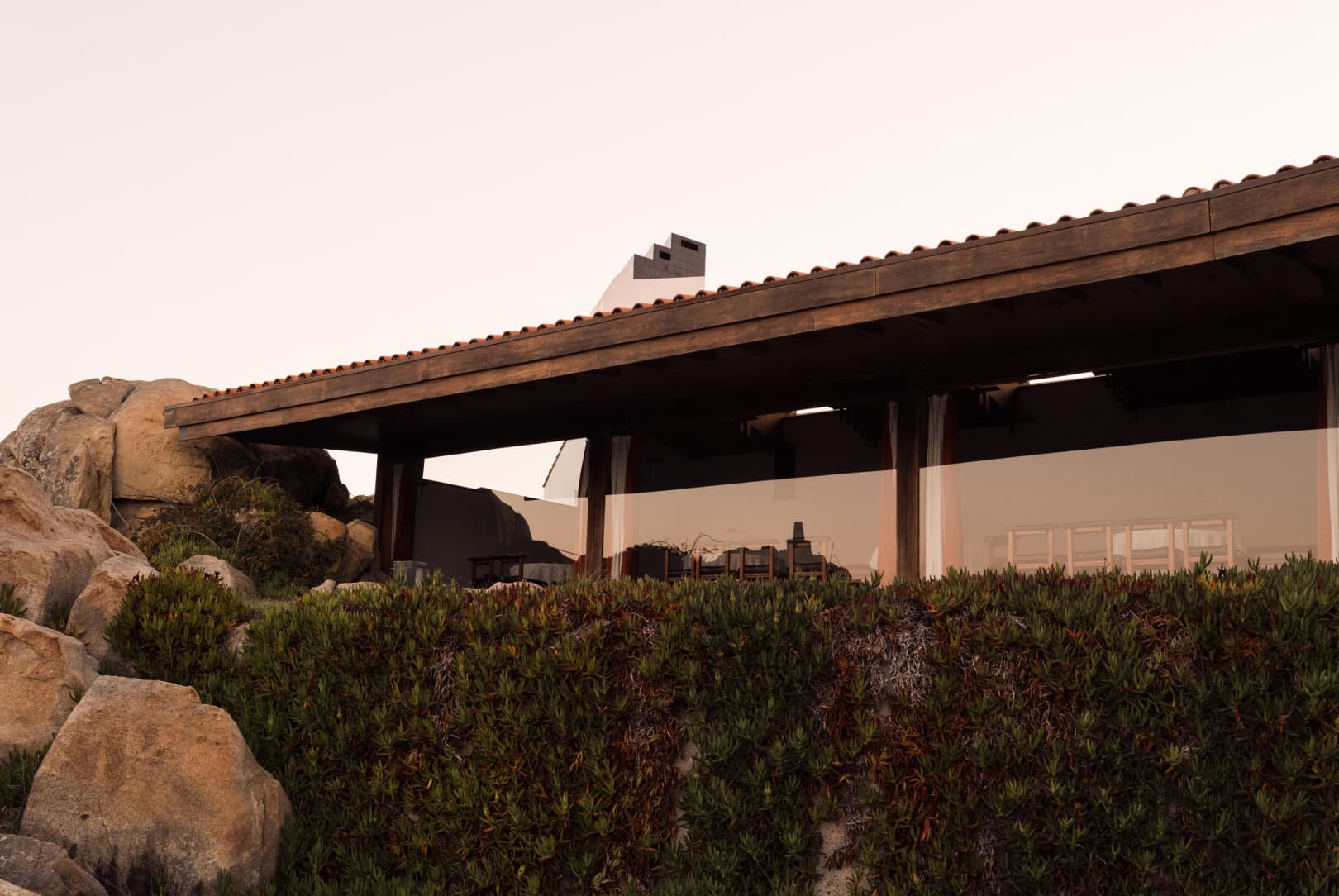 Stepping out onto the terrace, the crisp sea air hits us like a swift caress. The waves crashing on a hurdle of rocky mounds, their lace of foam mother-of-pearl and sky-blue. Our eyes follow their rhythm as the briny fragrance touches our skin and wraps us in its mist. The morning smells of summertime, but the sway of the ocean shows that the change of seasons is already underway. Right before us, a stone slab embedded in the rocks bears an inscription from a poem by Portuguese author António Nobre from 1887, professing his love for the Boa Nova beach and yearning for summers spent there as a child.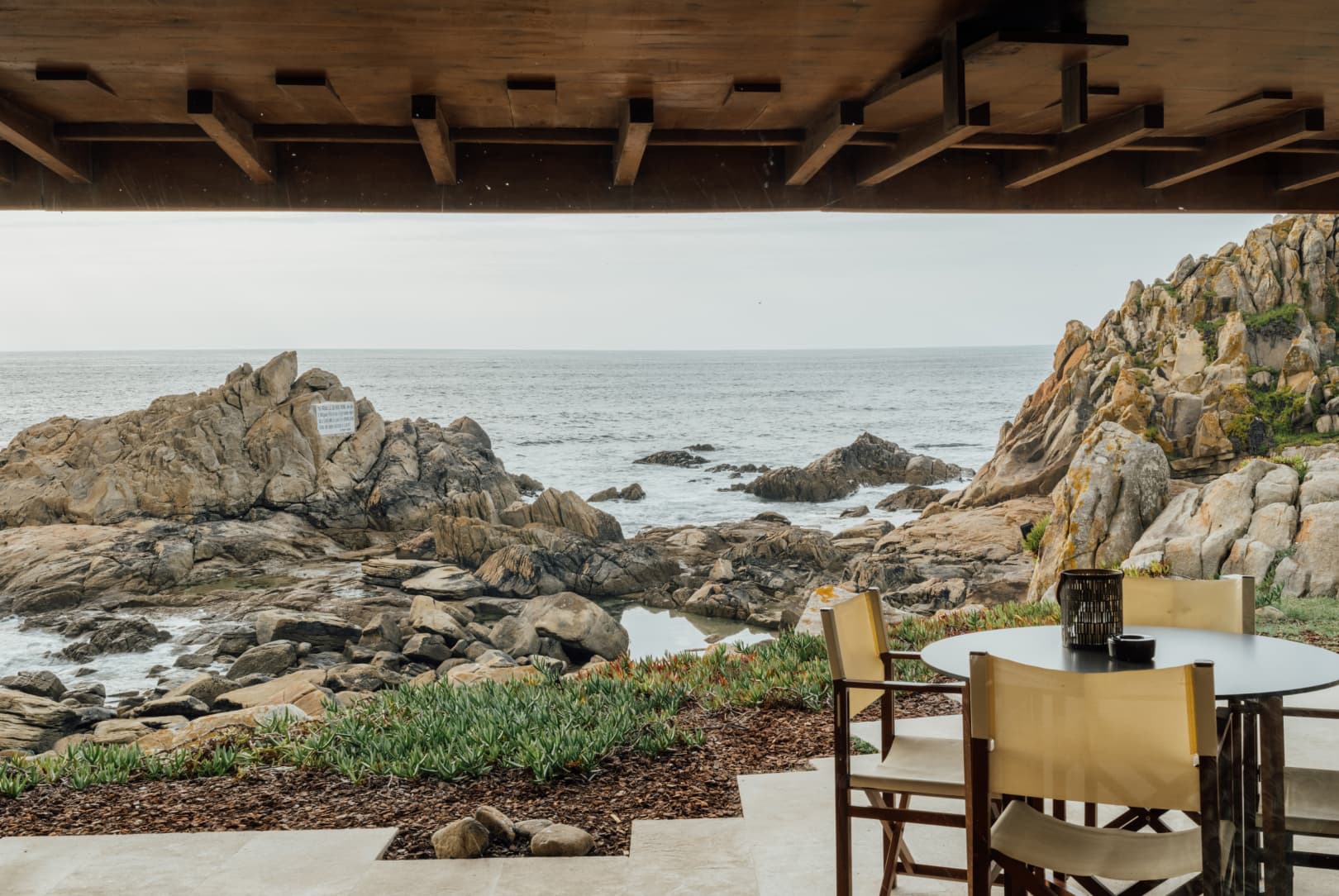 That connection between the outside and the inside is something Álvaro Siza considered in minute detail when designing Casa de Chá da Boa Nova, as he did with the wooden boards for the ceilings and floors, the chairs and the lamps or even the concrete and brass details. All of these bear a significance that Álvaro Siza made sure would last a lifetime. However, a handful of decades after the tea house that gave it its everlasting name was erected, a name that was never changed since then – and can never be due to its recognition as a National Monument in 2011 – a storm destroyed part of it, and Álvaro Siza was appointed for the restoration and renovation work, bringing the original structure back to life.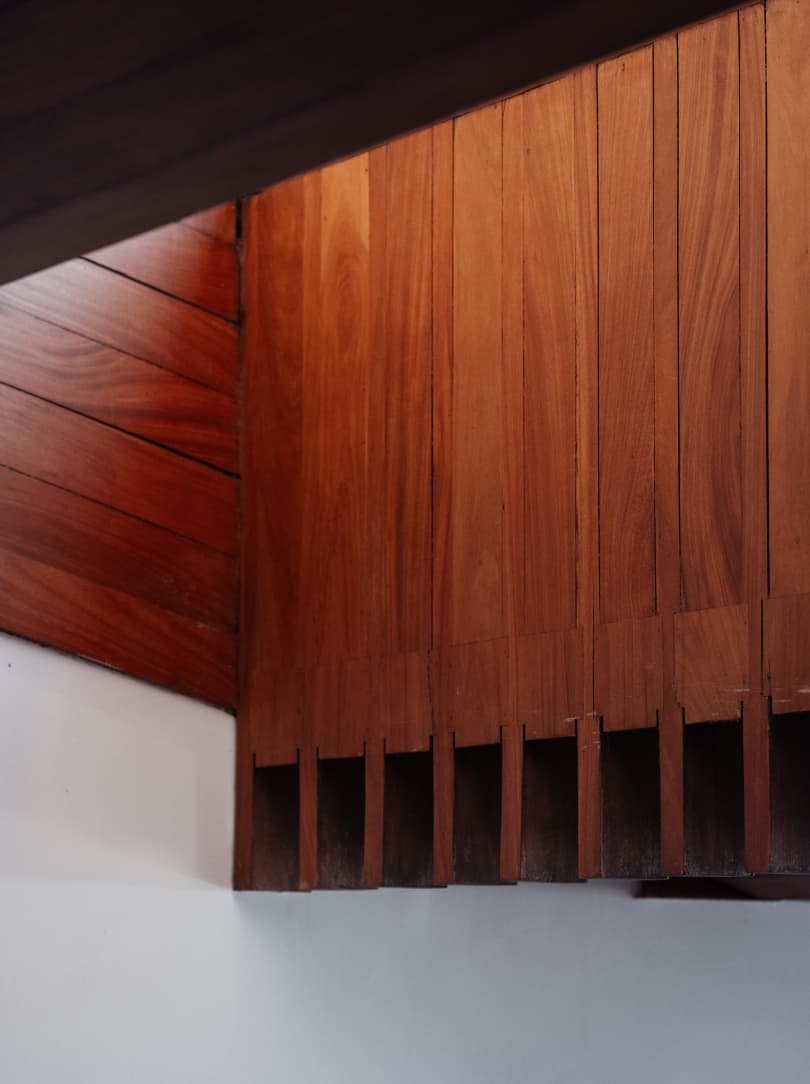 In 2012, the tea house was yet again quickly entering a state of complete neglect, as it was missing an owner to look after it. The municipality of Matosinhos decided to give new lease of life to the noteworthy space once and for all, and challenged one of the most successful chefs in Portugal, Rui Paula, to open what would become the restaurant Casa de Chá da Boa Nova. Together with Álvaro Siza – they met when the project was in its initial stages – they refurbished it and even reproduced the furniture according to the architect's original drawings from the 1970s with the materials initially planned. These included the lamps and the serving carts, which were made of red 'Afzelia' wood, the same raw material used on the ceilings, floors and other finishes. Every detail feels modern yet steeped in tradition and history.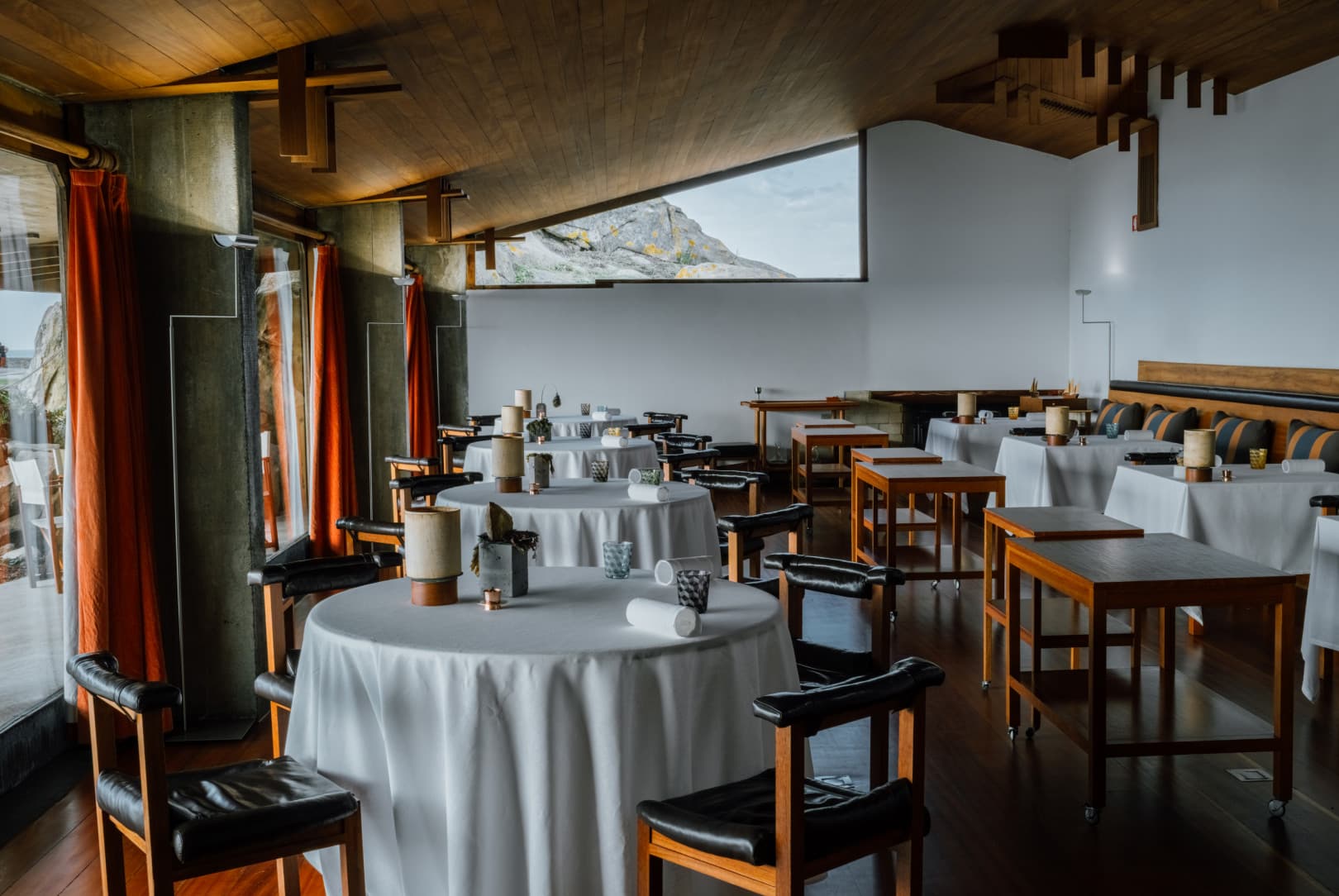 At Casa de Chá da Boa Nova there is a sense of privacy, as though we are the only ones there. But as members of the team – numbering 27 in total – begin arriving and taking on the first tasks of the day, the momentum starts to build. Half of the staff goes into the kitchen to prepare for lunch service, while the other makes sure everything is in its proper place, from the crisp white tablecloths to the carefully folded napkins. The mood is cheery and there is music playing. Each person knows what to do by heart, and they do it swiftly and with ease. In the kitchen, the atmosphere is a bit different from the one we are witnessing in the dining rooms. A skilled dance of cutting, slicing, shredding ingredients, preparing sauces and dressings, everything which will eventually be followed by the creation of intricate dishes.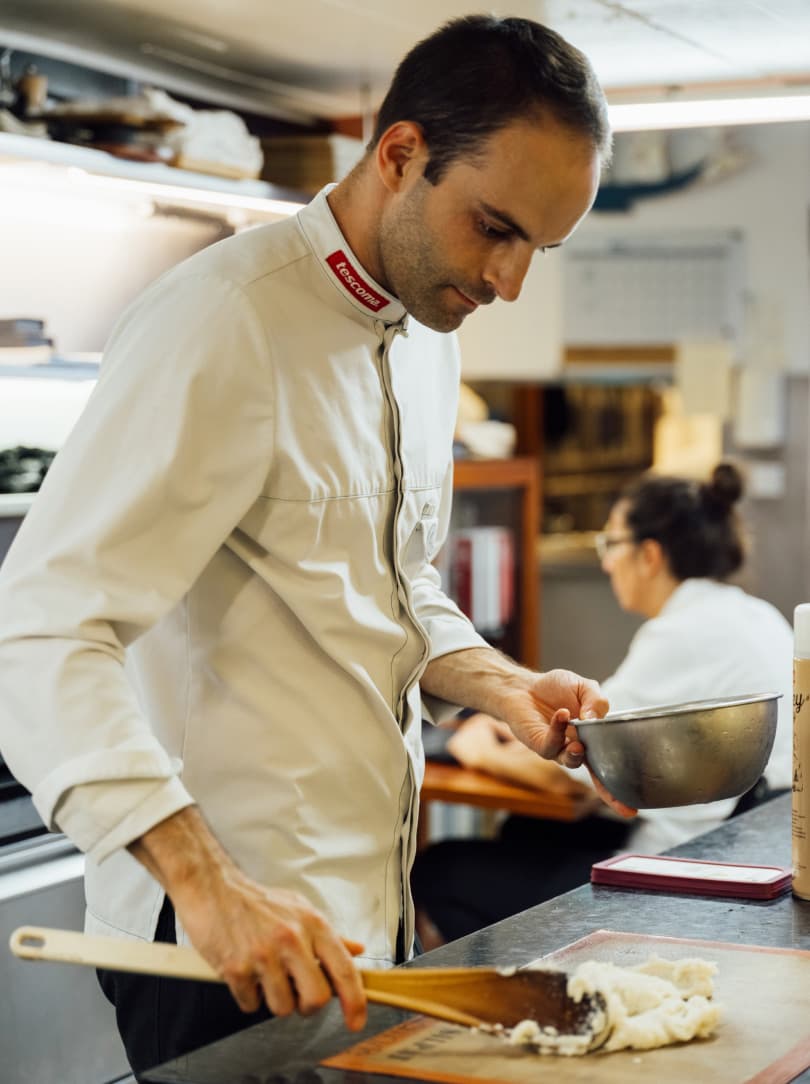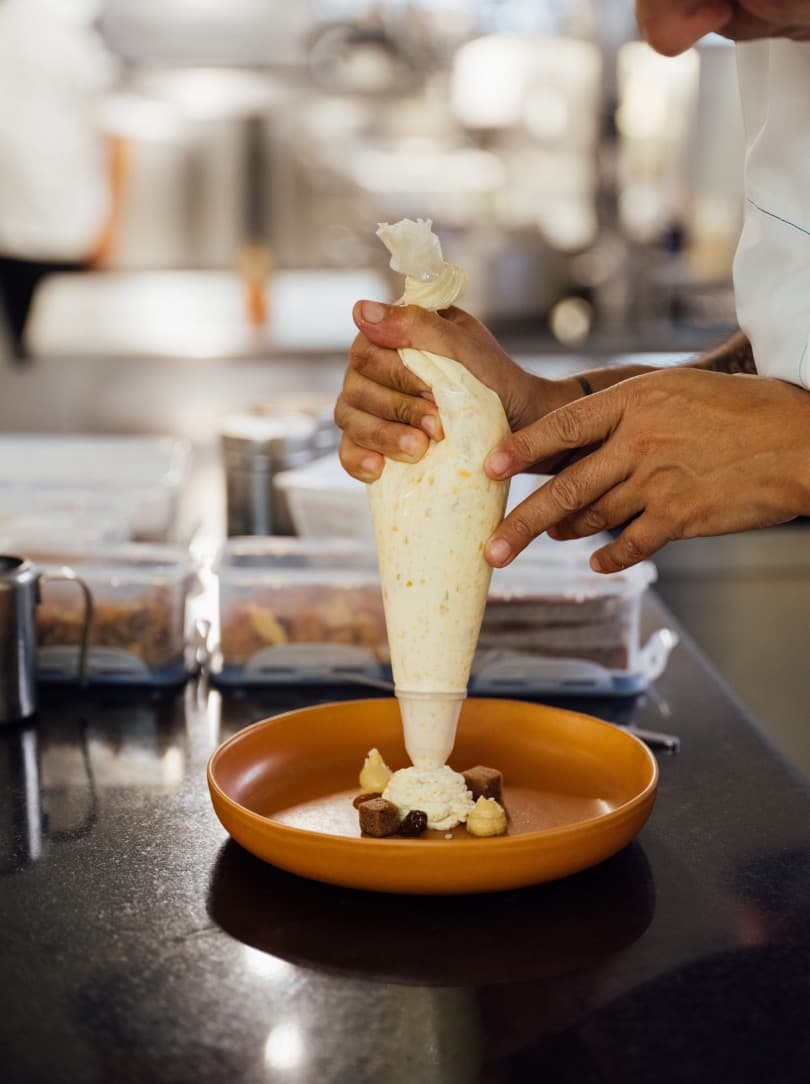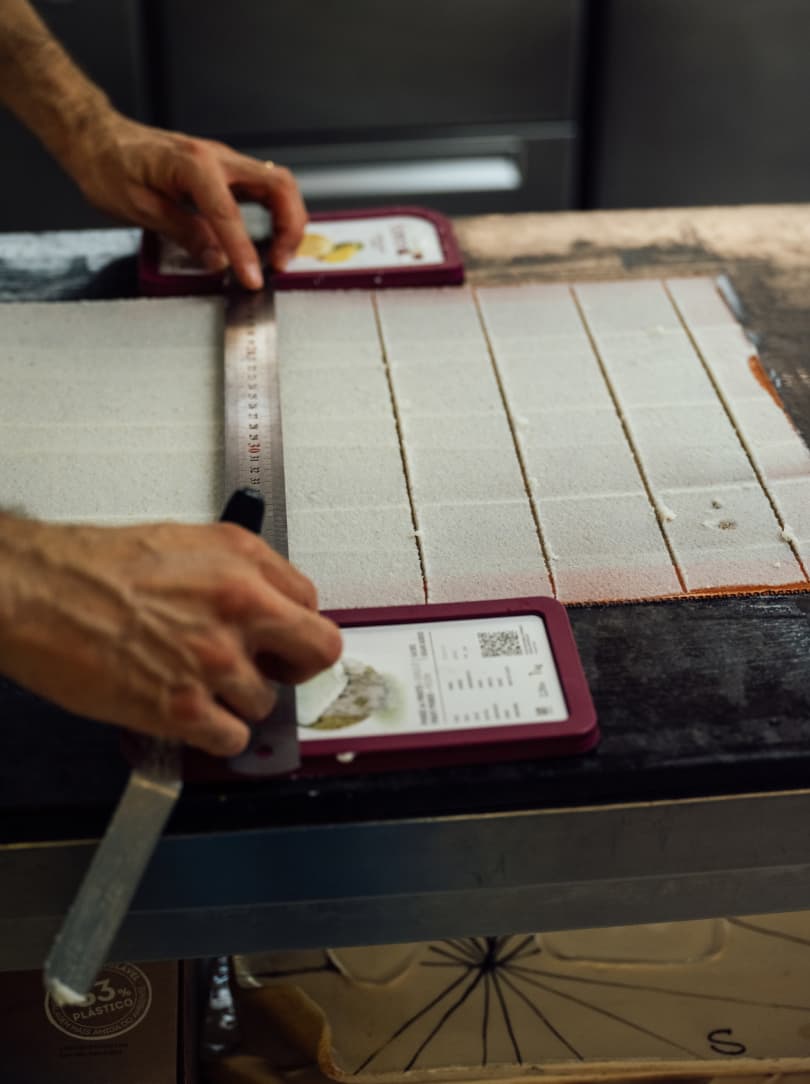 As things settle into their rhythm, Rui Paula arrives. Before greeting us, he puts on his white chef's jacket and then goes on to peruse the rooms and check how everything is going that morning. Everyone is delighted to see him, yet they continue performing their duties without interruption – a custom they undoubtedly learned from the chef. We climb up the stairs and sit down on the upholstered black leather armchairs at the entrance, as far away from the hustle and bustle as can be. Rui Paula exudes a down-to-earth charm as he comfortably leans back in the chair, blurting out what comes to his mind in a self-assured yet courteous way. The manner in which he speaks about his background and the path that led him here is proof of his hard-working character, something he makes sure we are aware of. He is proud of his humble origins yet does not refrain from telling us what he has achieved so far. And he enjoys chatting, but it is clear, as his gaze wanders towards the kitchen from time to time, that he would much prefer to be in the kitchen doing what he does best: cooking.
As we go deeper into the conversation, different team members make the most of his presence by asking for advice or guidance on this or that, to which he offers solutions without missing a beat, getting right back into our chat. He is focused but also knows everything by heart. He puts his soul into his projects and takes the necessary steps to see them through – always with his team by his side. He knows that he "could never do anything without them. If I did not have them, I would not be able to work. My team is an essential part of everything I do and create," he says.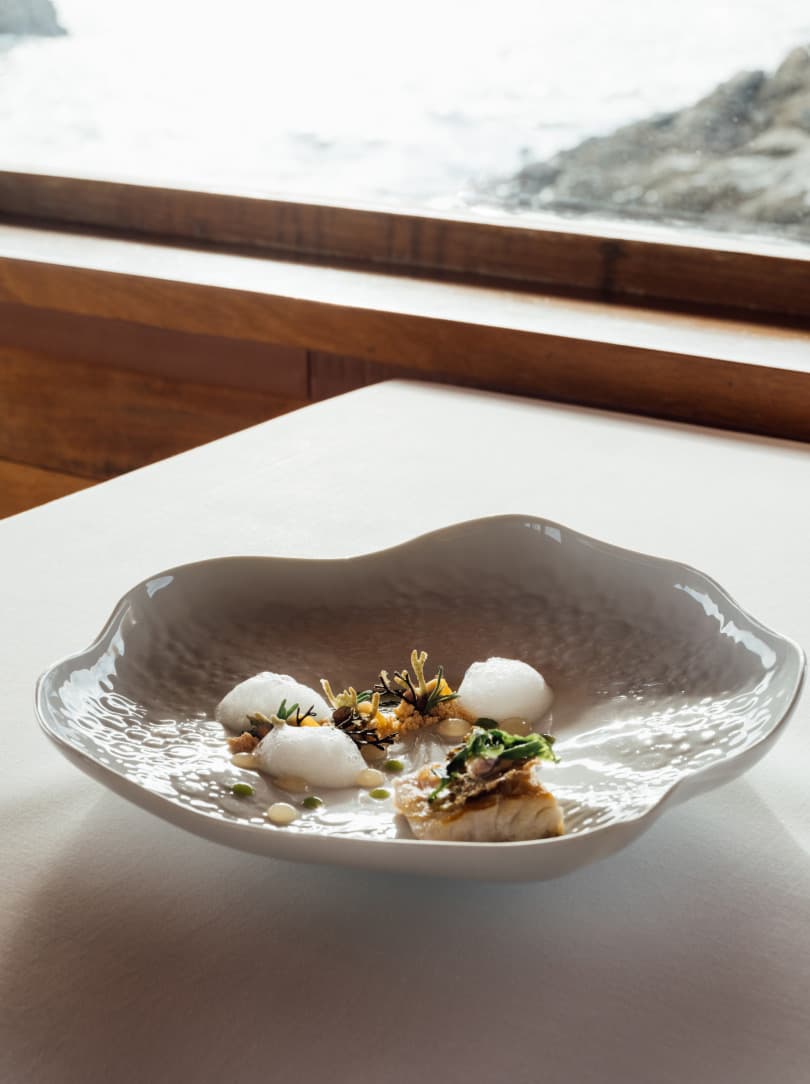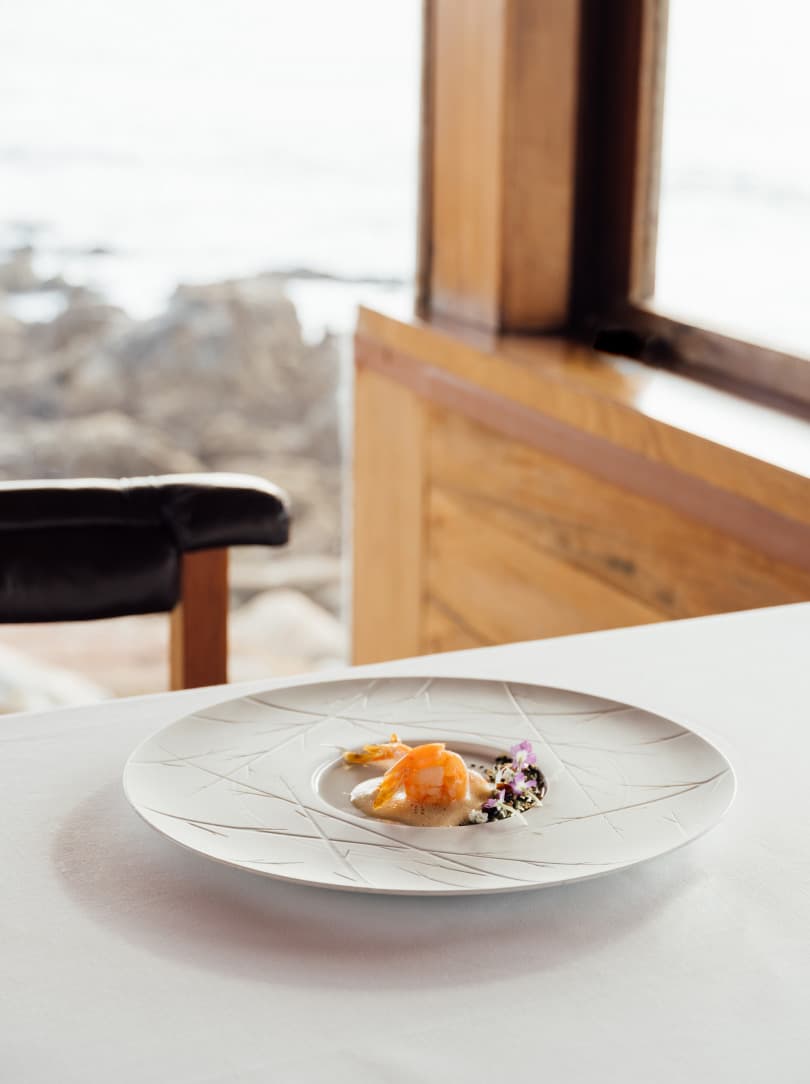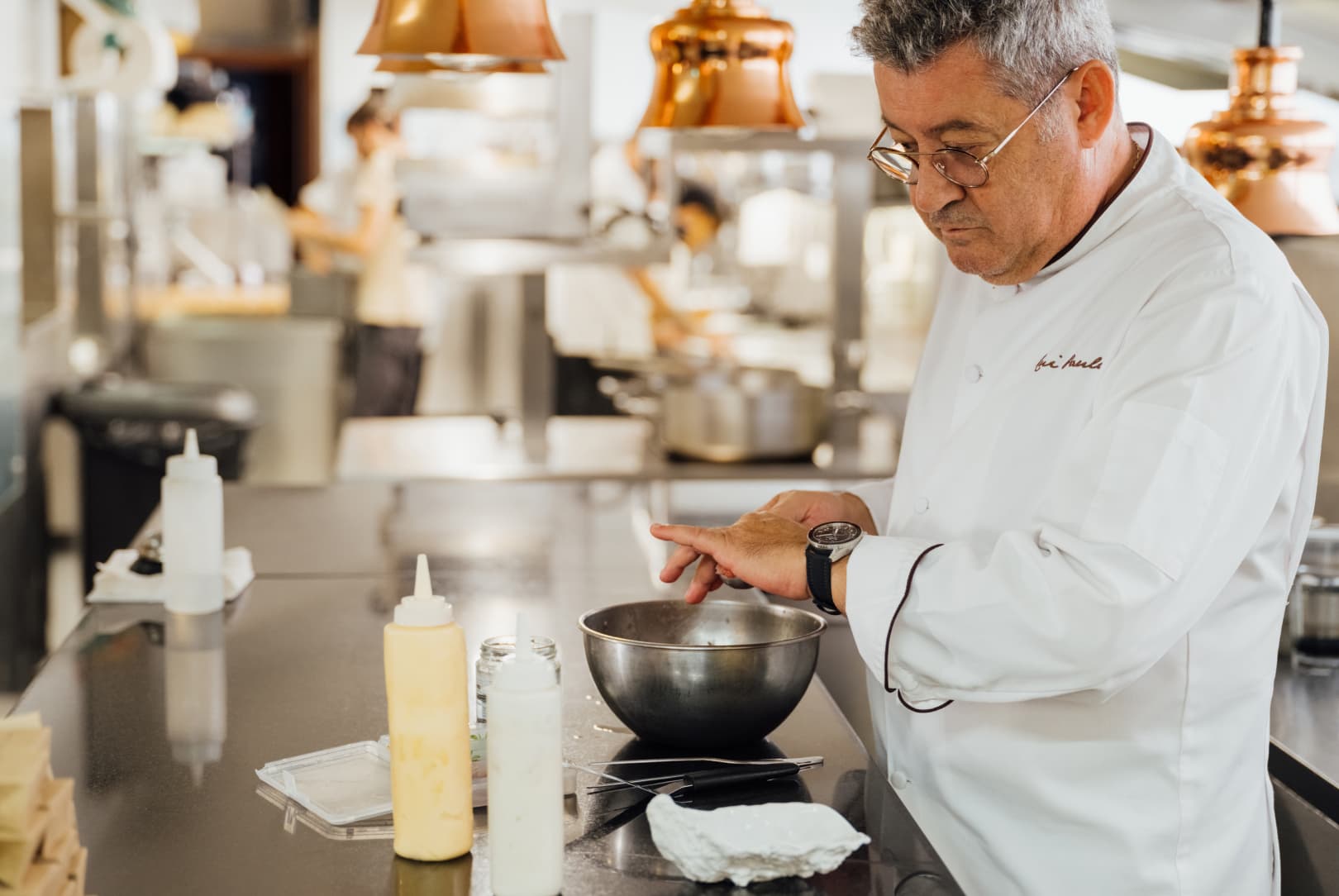 "I grew up surrounded by wood-burning stoves, cast-iron pots, homegrown vegetables and livestock."
Rui Paula, executive chef
Born in Porto, Rui Paula grew up in Trás-os-Montes, a region in the far north of Portugal, a wild landscape of mountains, rivers and lush forests where animals graze freely and farms are plentiful. "My grandmother on my mother's side owned a large farmhouse in Favaios, where my grandfather produced wine," says Rui. "She cooked every day to feed the family and the workers. I grew up surrounded by wood-burning stoves, cast-iron pots, homegrown vegetables and livestock. It was a huge kitchen, always filled to the brim with people." This was when and where his future around food was first kindled.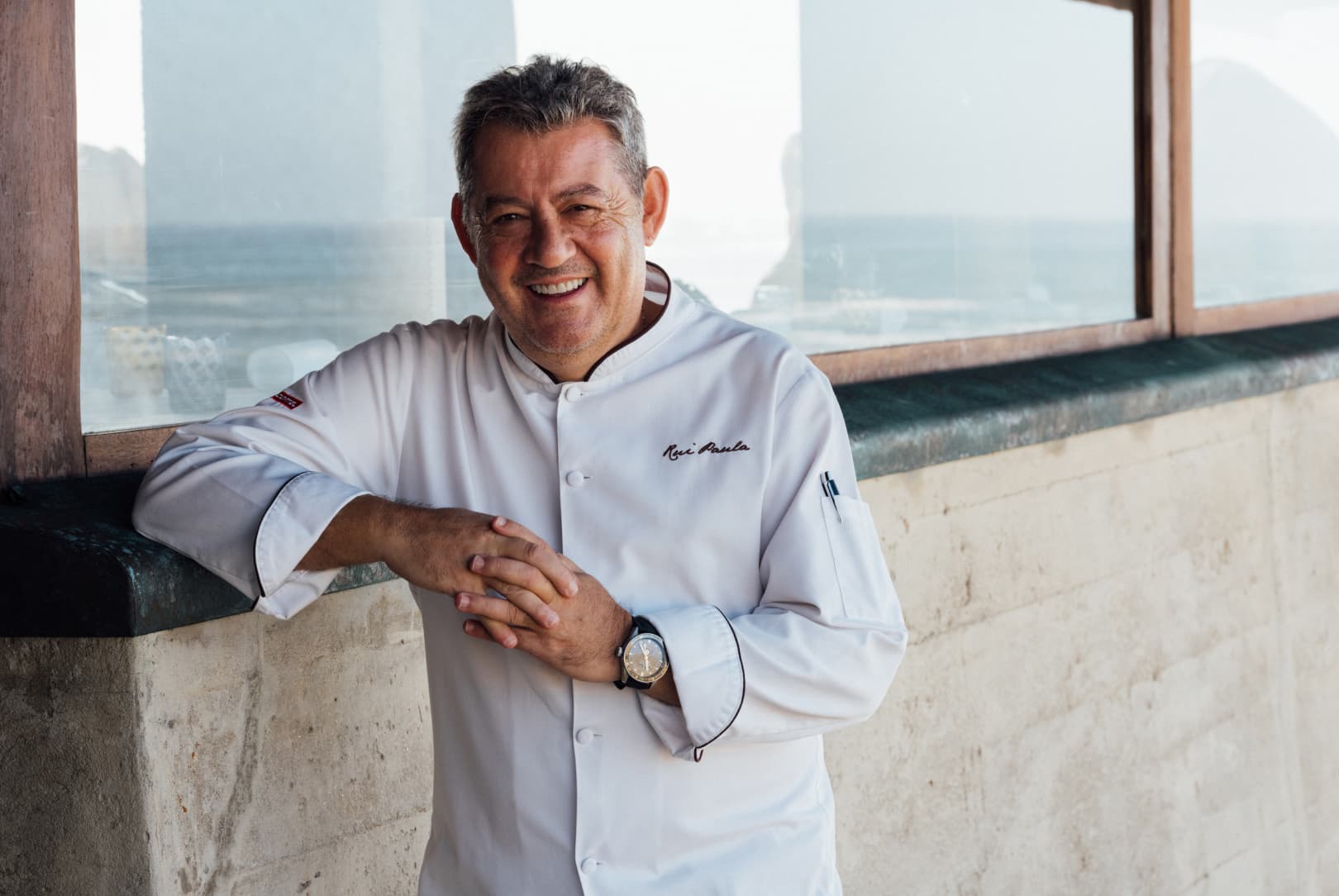 The legacy of his family's matriarch runs deep to this day, an inspiration he carries everywhere, especially when he thinks about dishes like those he used to relish when he was younger. His first food-related memory encompasses all those years surrounded by wholesome meals made with produce like the meat from their own animals or that his grandfather hunted. Roast lamb. Smoked sausages made by hand. Red bean soup. And although the ocean was far away and there was not enough fish from the river to go around, an unlikely staple of Portuguese cuisine for many years became and remains one of his all-time favourite dishes: octopus fillets with octopus rice "cooked with the water the octopus was boiled in and smaller bits of octopus and stewed cabbage" – made by his grandmother, of course.
With a playful grin, Rui Paula is a man of his word and a chef of many culinary trades. After his two most distinguished restaurants, DOC (Douro) and DOP (Porto), Casa de Chá da Boa Nova emerges as his most creative project to date, an exciting venture where he enjoys surprising his patrons with a vision that draws upon a deep connection to the ocean inspired by his background and memories. Although Casa de Chá da Boa Nova has already won two Michelin stars – the first in 2016 and the second in 2019 – Rui Paula wants people to feel comfortable and free to burrow their feet in the sand if they choose to or visit the kitchen. This feeling of closeness might not be what one experiences at other Michelin-star restaurants, but this seasoned Portuguese chef wants guests to have the time of their lives and return over and over again.
"This was something I always wanted to do, having my own place."
Rui Paula, executive chef
After many years working myriad different sectors, from selling vending machines and cars to working in a cotton factory, and before returning to Porto from Trás-os-Montes, Rui Paula opened his first restaurant, Cêpa Torta, at only 26. "This was something I always wanted to do, having my own place. One of my grandmother's workers believed in my dream and helped me do it. There were only four of us working there, three in the kitchen and a dishwasher. We cooked and served what I knew best: hearty, traditional food. The food I was brought up with. I used everything I learned from my grandmother, and people enjoyed it."
The restaurant Cêpa Torta, a play on words meaning both someone who 'is not making any progress' and a specific type of grape or even another term for 'grape variety', a tribute to his grandfather's winegrowing venture, has been open for 30 years in Alijó, a town close to his beloved hometown of Favaios, with views over the Douro river. Although he still owns the restaurant, Rui left after about six years to pursue his aspiration of becoming a 'real' chef, as he puts it. "I didn't know anything about the most intricate aspects of cooking. I didn't know what truffles or foie gras were. I felt I needed to learn more if, in fact, I wanted this," he says. He sought knowledge in (not so) distant places, such as the UK and Spain, and acquired the techniques he so craved from professional chefs. This was a pivotal moment in his career and the first stride towards concocting his identity in the kitchen.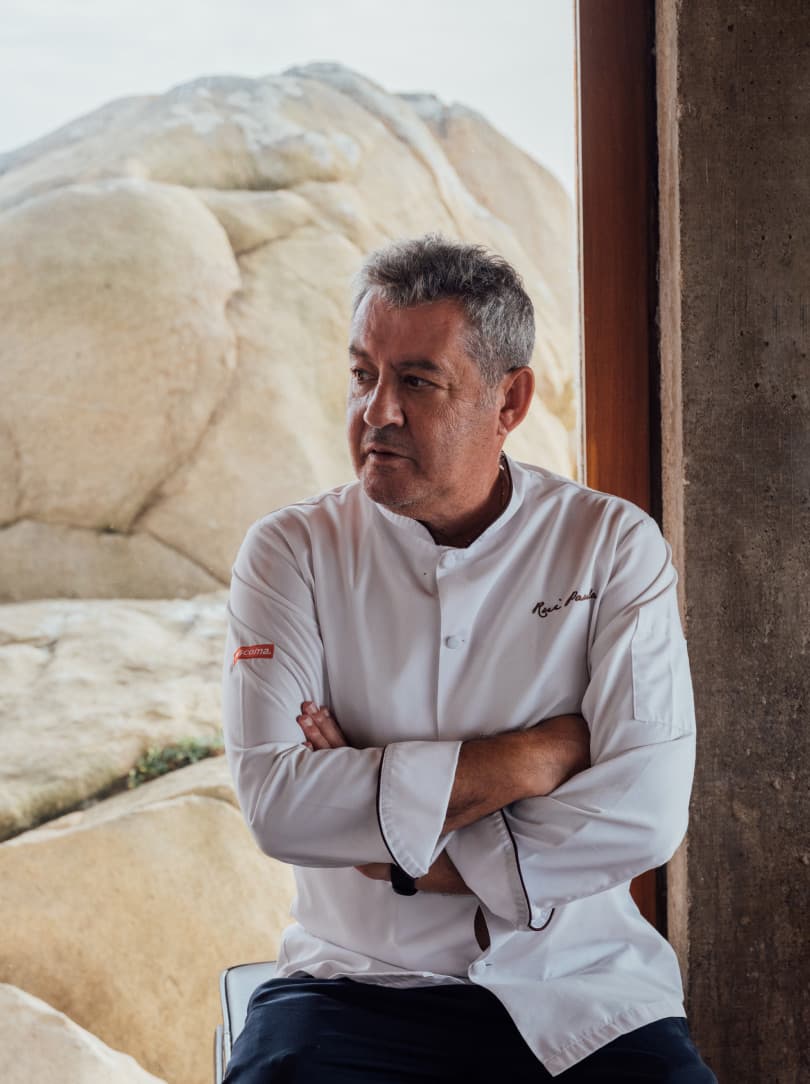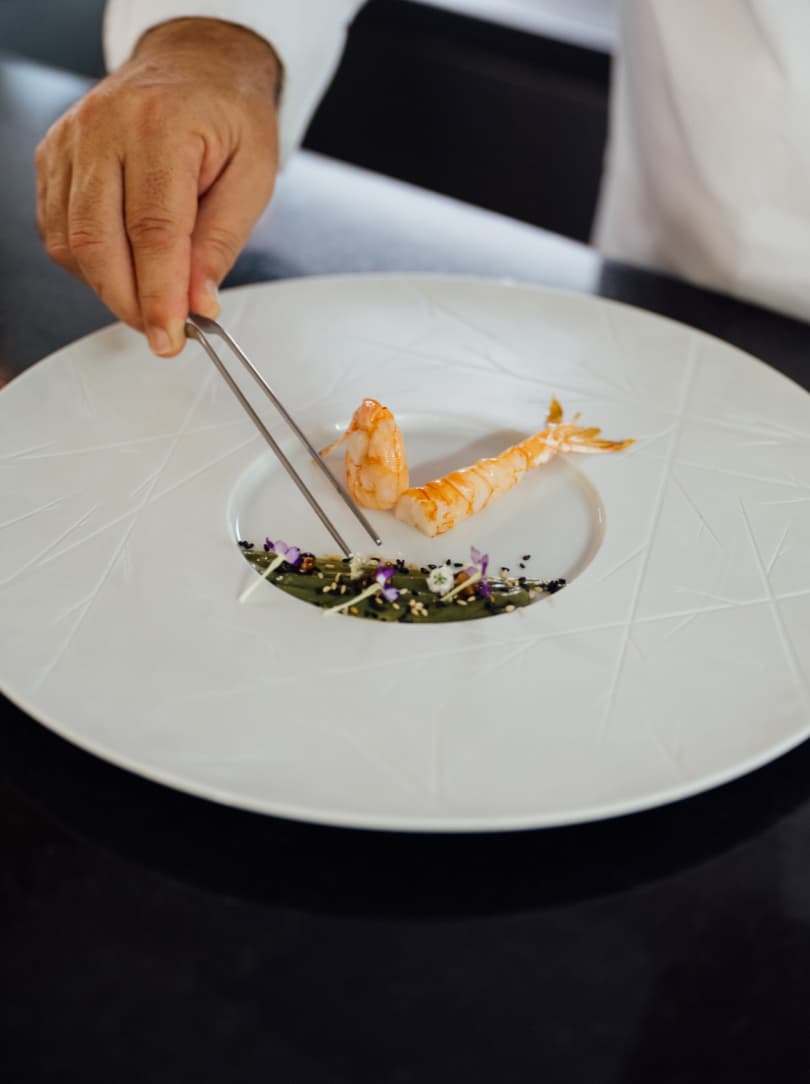 "The hardest thing is carving our own path and not being afraid of saying what we are," says Rui Paula, as he recounts his next adventure: opening his second restaurant, DOC, in 2007. "I used to do odd jobs around that area, and there was nothing there. One day, I saw the place, and that was it." Located in Cais da Folgosa, leaning over the Douro river, Rui built a contemporary restaurant with "gorgeous and unexpected food" – also inspired by the flavours he grew up with – as well as an amazing wine cellar with a dedicated room for tastings. Three years later, DOP was born in the heart of Porto. It was located away from any body of water, but it still became a destination restaurant for gourmands looking for an exquisite meal. In 2014, when the chef was seeking something different for DOP, the invitation from the Matosinhos municipality to take over Casa de Chá da Boa Nova came along. And he never looked back.
"One of the main teachings from my grandmother is that what you see is what you get. No hiding the product under superfluous gimmicks."
Rui Paula, executive chef
To make the most of such a breathtaking location, chef Rui Paula crafted a menu that pays homage to the ocean and the Portuguese people's rich history as world explorers. Seasons have their weight on the menu, but his purpose goes beyond that. His process follows a coherent idea of timeless flavours and simplicity on a plate. This is also where his memories of growing up surrounded by family and food come to the fore, though one might not immediately see it. Rui explains, "One of the main teachings from my grandmother and all those years of seeing how ingredients grew and ended up on our plates is that what you see is what you get. No hiding the product under superfluous gimmicks. Food has to be exactly what it is. That's what I try to bring to this experience."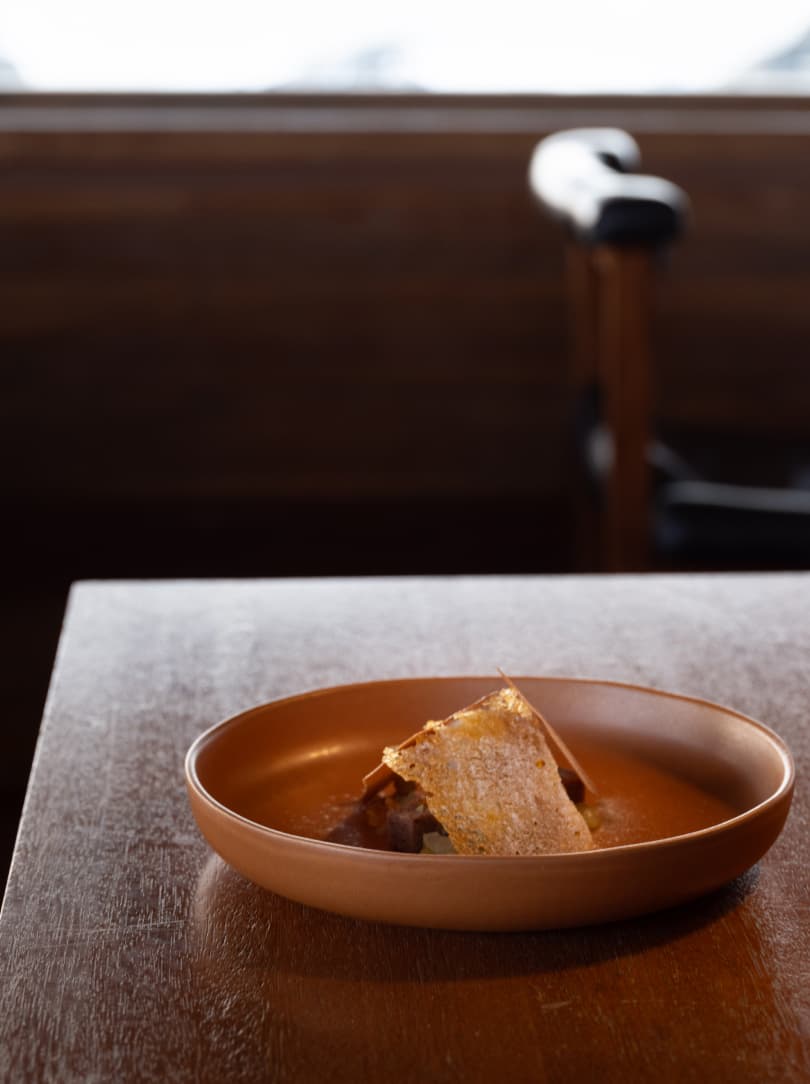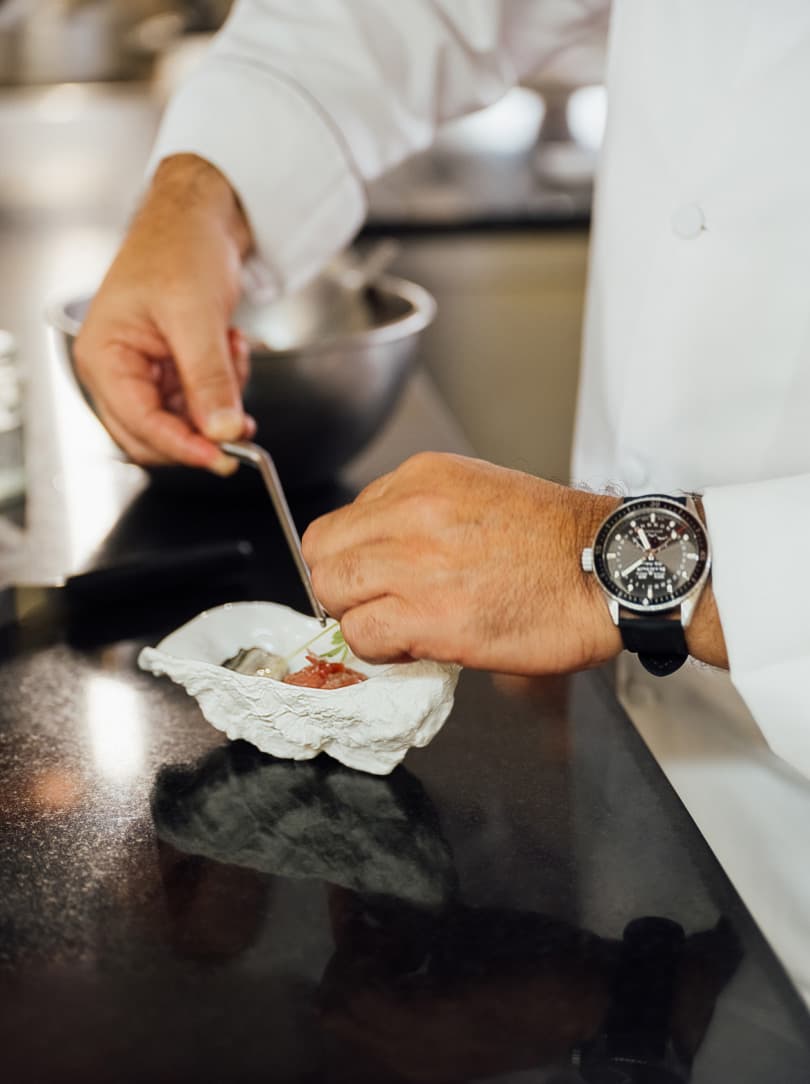 From oysters and tuna – the stars of the menu – to prawns and sea bass, each dish is rooted in sophistication and ease, where the right amount of fresh ingredients is all it takes to create the perfect spoonful – no more, no less. It is an alchemy that transforms each and every component into works of art that sit uncluttered on a white plate and offer the guest the chance to delve into new textures and unimaginable flavours.
In addition to the à la carte options, guests have the opportunity to dive into Rui Paula's universe and go for the tasting menu with 21 delightful moments. These are dubbed 'Cantos', a word used in medieval long poetry and a suitable ode to one of the greatest Portuguese poets, Luís de Camões, whose masterpiece 'Os Lusíadas' celebrates the epic journeys of discovery that occurred many centuries ago, but still inspire the chef to come up with creations that pay tribute to those explorations across the world. The connection with the ocean is in itself a mesmerising voyage for the senses and an intrinsic part of the experience. And no food experience at Casa de Chá da Boa Nova is complete without the expertise of sommelier Carlos Monteiro and his exceptional wine pairing. With more than 450 national and international references, including Port and champagne, the wine list is fashioned by the renowned sommelier in line with the delicious dishes but also the surrounding landscape and architectural setting. Each point of reference is thus tried and tested to refine the menu further and paramount to the gastronomic journey.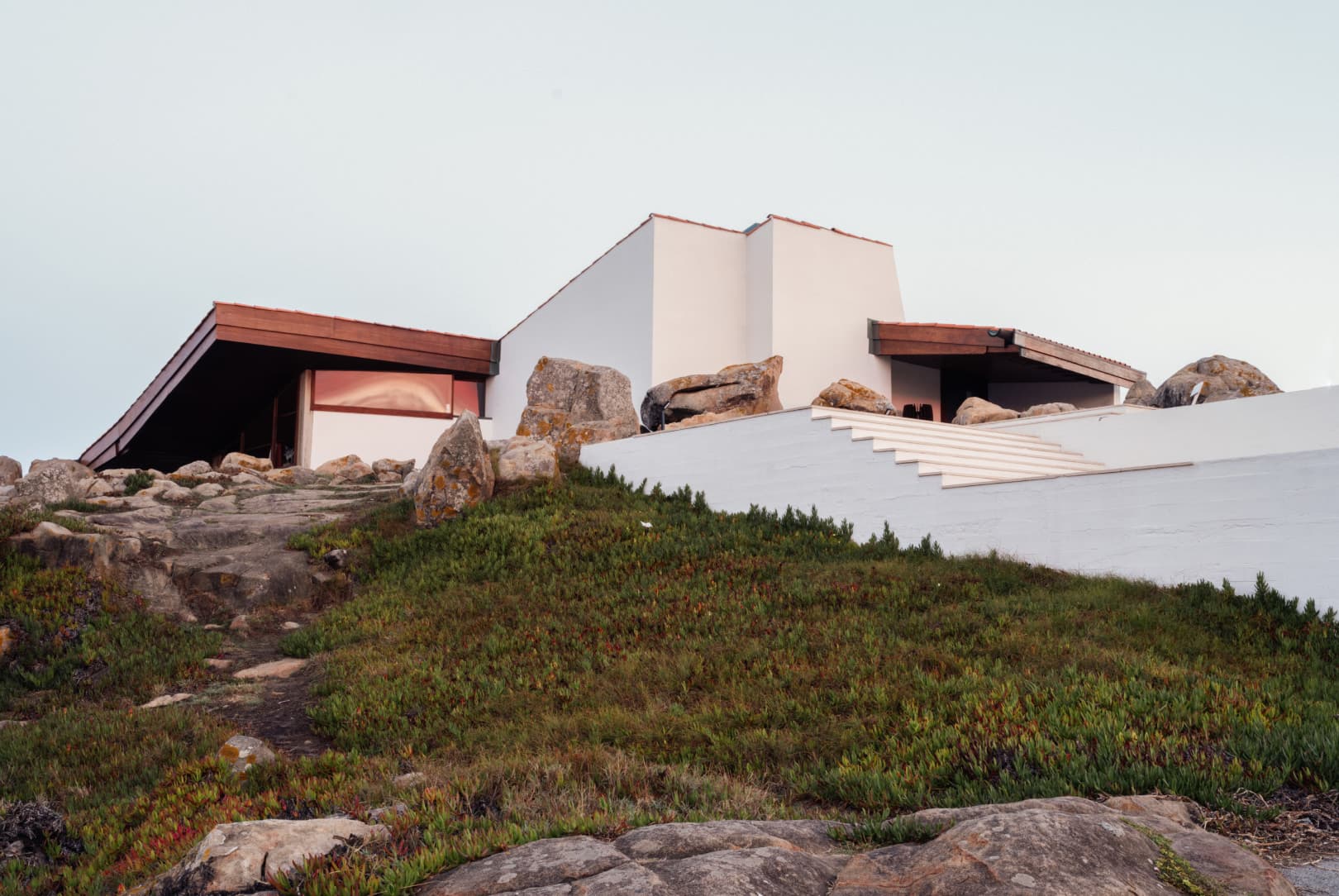 Time is of the essence for every chef, and Rui is no exception. As our conversation comes to an end, the kitchen calls once more, and the first guests begin to arrive for lunch. By serving his own memories on a plate, Rui Paula bestows upon his diners the unique opportunity to create their own while taking in the stunning view with a sprinkle of the ocean on top.
Written by Soraia Martins
Photographs by Matilde Travassos