Play Movie
Listen
to Katherine Kennard
reading this story
Audo House
Experiencing the Audo House has been as multifaceted and captivating as the hybrid spaces it offers. The high-ceiling open space of the bar and restaurant, right by the entrance, is juxtaposed with the cosy, almost intimate ambiance of the store, with its removable walls in darker natural hues, its niches and corners. The co-working spaces remind us that we can be creative in an elegant and muted space that feels contemporaneous in a timeless way. The sun-kissed internal court is the ideal spot to digest the impressions of the day, to be open, chat and connect before retreating into the cocooning embrace of one of the Audo Residence suites.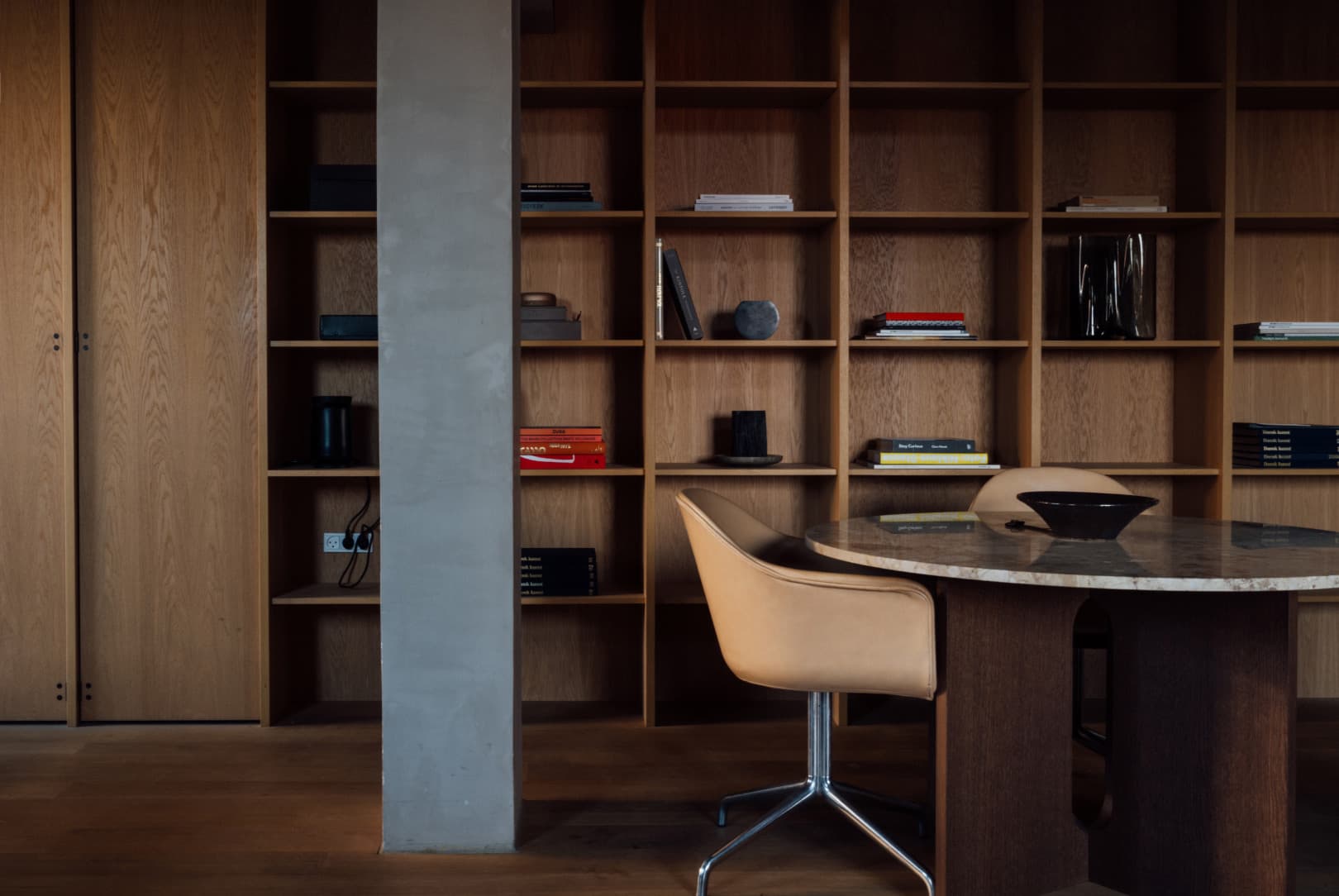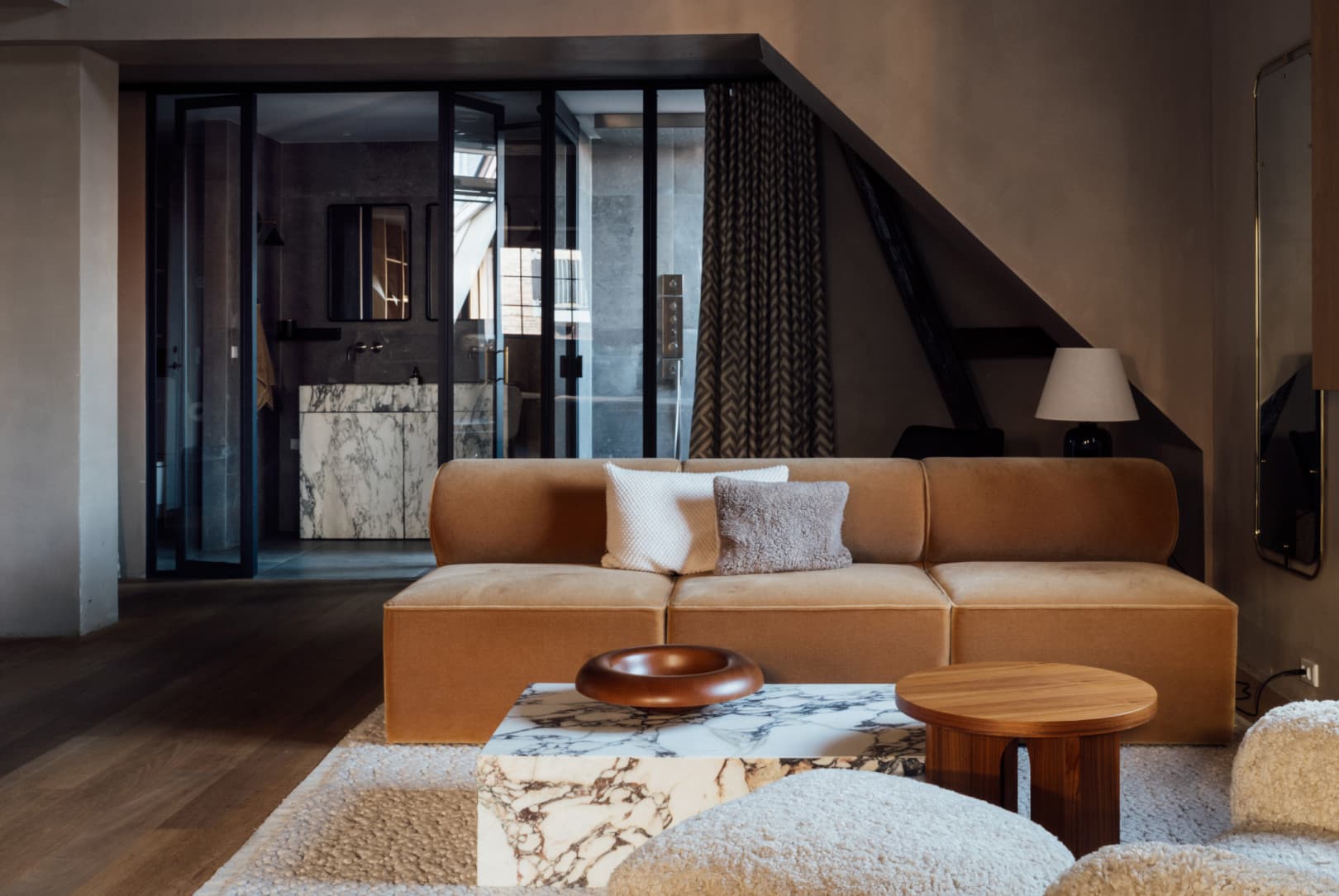 In the midst of the fast-growing neighbourhood of Nordhavn, you will see professionals engaging in in-depth conversations with a sense of gravity that may remind you of lawyers, and they probably are. But you also meet young couples with their friends and parents pushing strollers or ambling along hand-in-hand with their toddlers. If you walk further by the water, you will see daring swimmers enjoying a refreshing dip. Depending on the temperature, you might either regret not packing your swimsuit or wonder how they can brave the cold water. Once deserted, Nordhavn has turned into a lively place with offices and inviting shops, stylish coffee places and alluring restaurants serving dishes from all around the world. It feels like a city within the city, bustling yet without any hassle. Different aspects of life merge here with that sense of grounded yet casual effortlessness that often feels typically Nordic to anyone from outside Scandinavia. In absolute fascination, we find ourselves pondering once again how it came about. Perhaps it is because the winter days are exceptionally short that Danes feel compelled to spend as much time outdoors as possible when the weather allows. Perhaps it is that "I just came back from a run/walk/bike ride" look, which adds to the refreshing, considerate, yet spontaneous allure of their appearance and interactions.
Like the circular way in which the elements of a microcosm influence one another, what we observe in the neighbourhood is mirrored within the Audo House, and vice versa. It isn't just the versatile spaces that take you on a journey; it's the people within these spaces that shape its character. Or to use Joachim's words, it is through people that the spaces gain soul.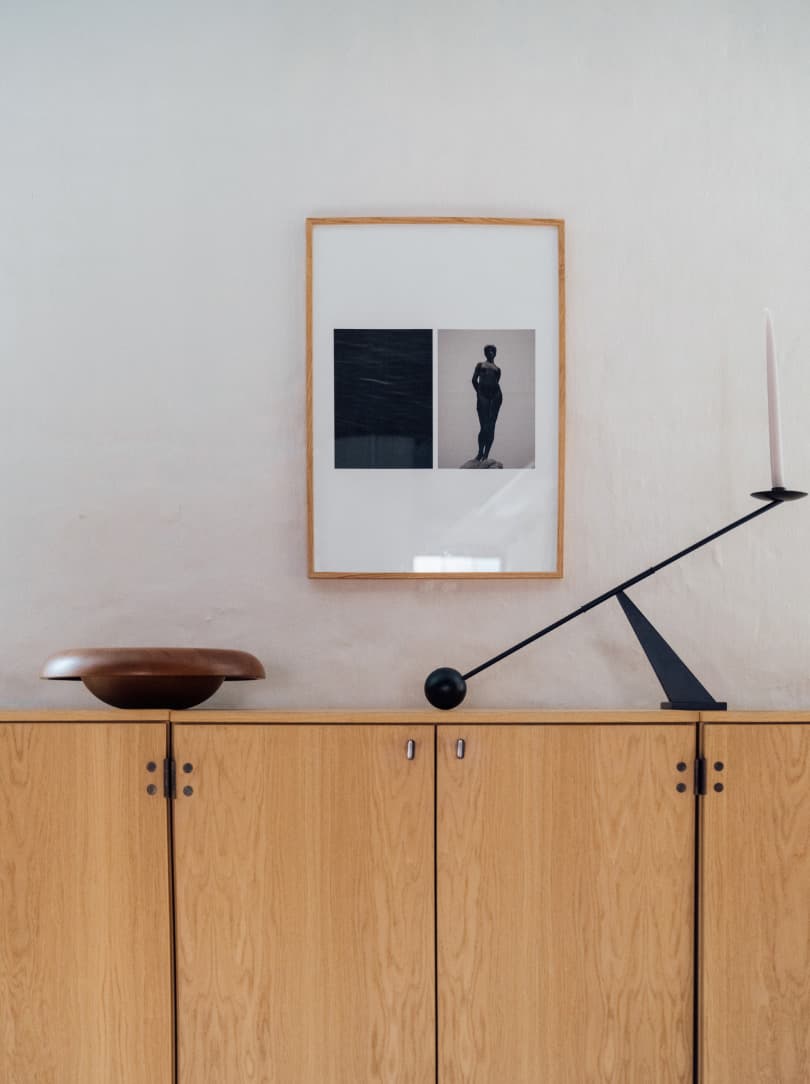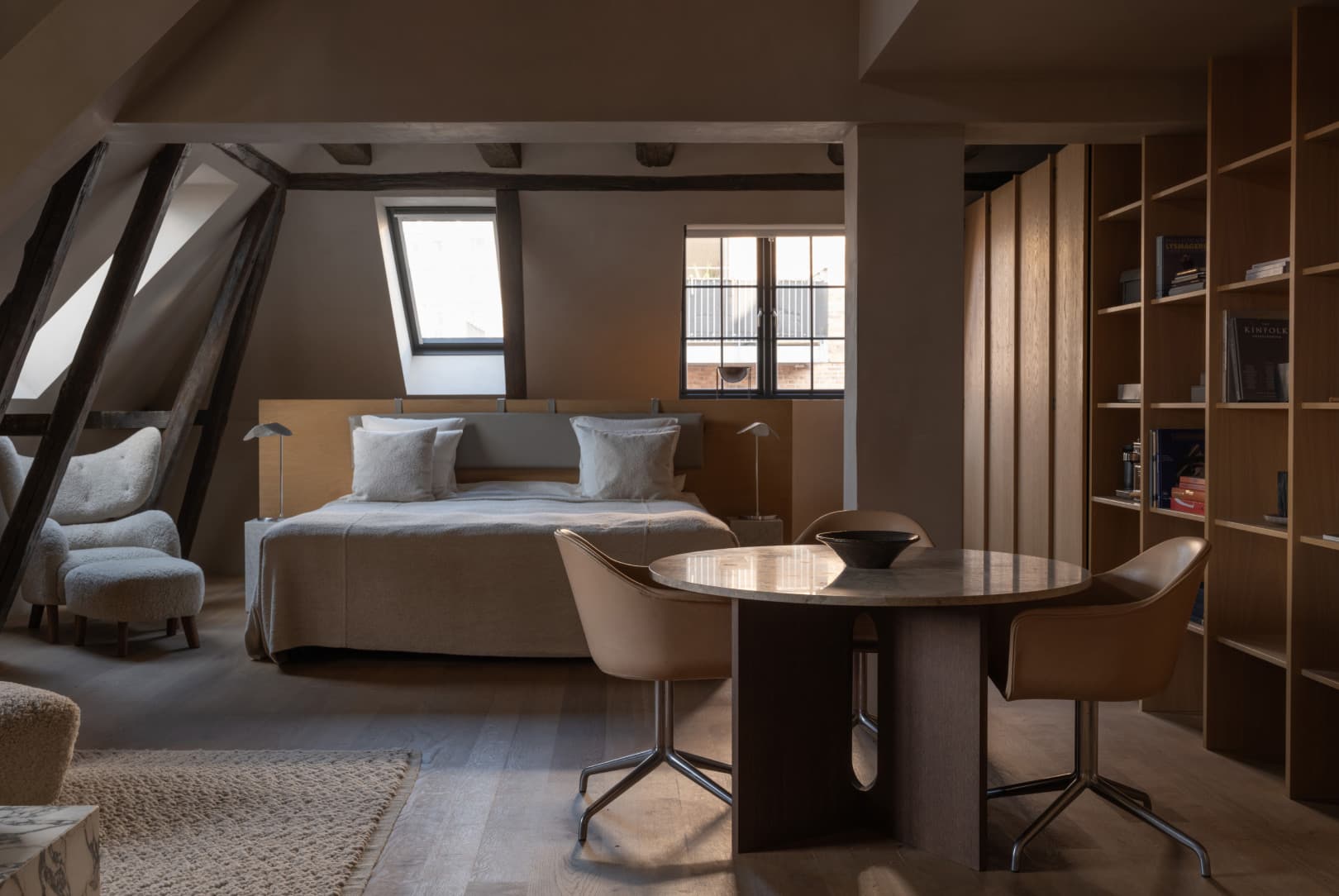 Joachim Kornbek-Engell Hansen, Design & Brand Director at Audo and grandson of the Menu founder, has had an immense fondness for the Audo House ever since it was first envisioned. There is a genuine sense of pride in how it has all come together here, but it goes beyond that. It is as though this place nourishes his profound desire to engage and be surrounded by diverse individuals who share their perspectives on things, design and ultimately on the human experience. It appears to be an endless source of inspiration, where his active mind is both stimulated and liberated. This is the raison d'être of the Audo House, and one that Joachim hopes holds true for everyone who engages with it. One of those inspiring individuals is Frederik Werner, Designer and Partner at Norm Architects: he makes it a rule to work from here a couple of days a week. To observe and study how the spaces and objects are used and to continue envisioning what will come next together with Joachim.
"It is only through people that the Audo House gains its soul."
Joachim Kornbek-Engell Hansen, Design & Brand Director at Audo
Audo Copenhagen brings together a century of Danish design tradition with a modern and global perspective that keeps expanding and evolving. Formed by uniting Menu, The Audo (now Audo House) and by Lassen, the brand is renowned for furniture, lighting and interior accessories that purposefully address human needs. Their collaborations include designers such as the legendary Lassen brothers, but also modern stars like Norm Architects and Jonas Wagell Afteroom Studio.
Audo and Norm Architects are connected by strong ties. And it shows: there is a natural and intuitive understanding between Joachim and Frederik. They have known each other for some time now and continue working on different ideas and pieces together. They might appear different at first, and they are, but after interacting with them we noticed quickly how well they simply harmonise.
There is a light-heartedness about Joachim's presence, an ease in the way he carries himself. He appears to have reached a point where self-confidence comes naturally, and there is no longer a need to prove anything to anyone. His mind is attentive and ready to take you on a journey, no ifs or buts: his words, while being carefully chosen, reflect his natural and transparent manner. He is not one for hiding behind prepped statements or corporate jargon. This is a quality that Frederik appreciates deeply. Unlike Joachim, Frederik is rather reserved in his ways, albeit very candid and direct with his opinions. His attire has a minimalistic, Japanese-inspired style. Although he claims not to know Japanese culture well, you can see that he studies it carefully, paying attention to all the nuances that define it. When engaging with Frederik, we feel the same creative tension that we have encountered time and again. He is on a quest to create greater, better things. Not only to design them, but to understand the craftsmanship behind making things that last.
The profound, mutual respect they share runs deep, and their unspoken understanding envelops you in a palpable sense of trust when you're in their presence. Joachim, whose lively mind tends to get attracted by new ventures, is grounded by Frederik's focused approach. All the while Frederik himself is inspired to go beyond by Joachim's intuitive approach to design, which we feel often represents that of a discerning design appreciator.
A common vision unites them, fuelling their individual growth and ultimately driving them to create with openness and boldness. They envision designs with a clear aesthetic that they call 'soft minimalism' – a term coined by Norm Architects to describe something that has been pared back to the essential, yet retains an essence that people can connect with.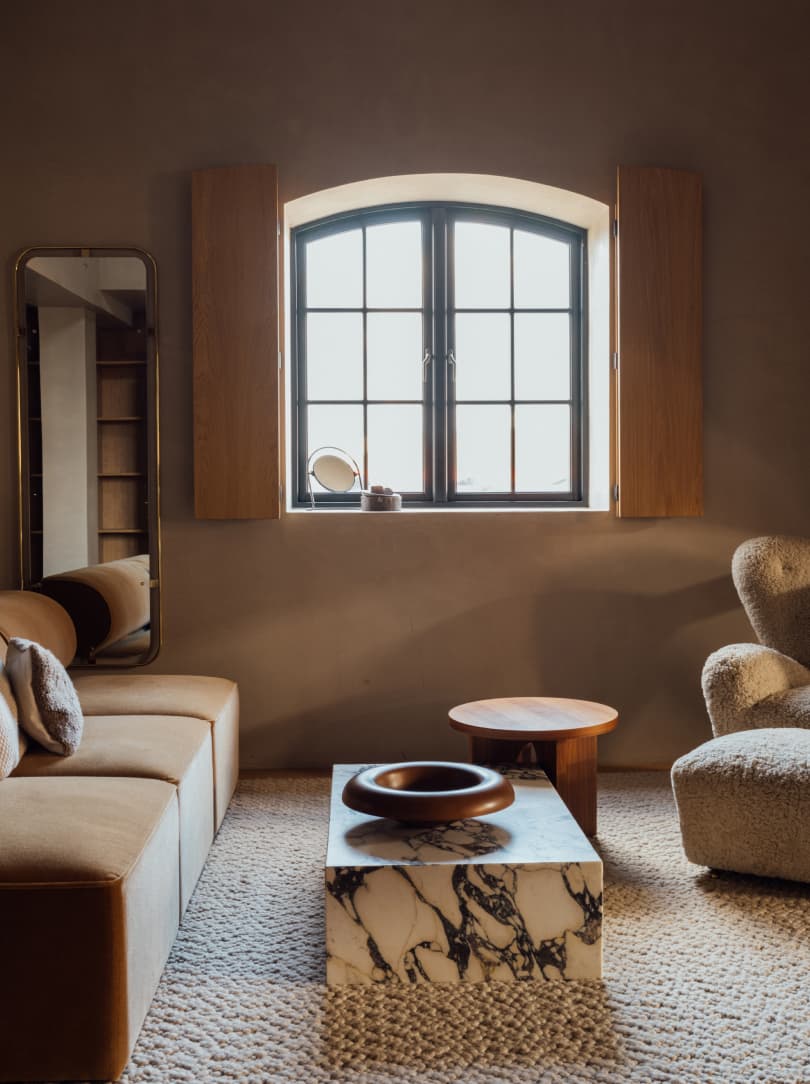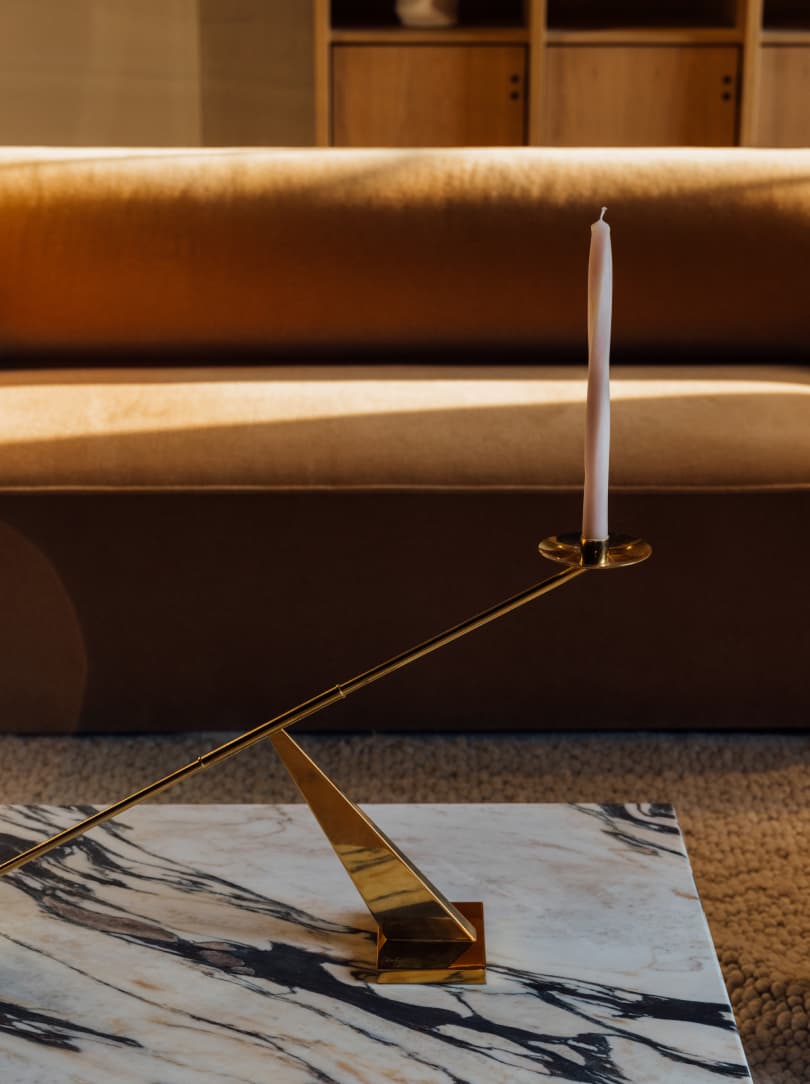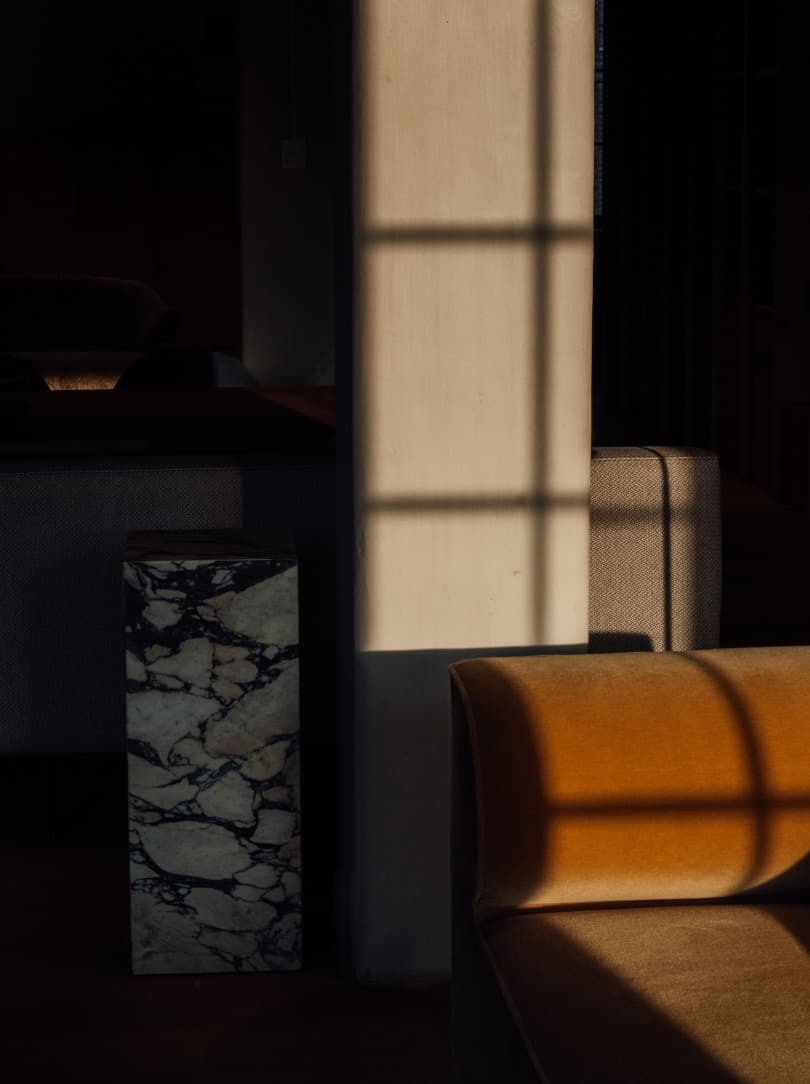 "Minimalism can be very cold and harsh in many ways," says Joachim, remembering how Norm's founding partner Jonas Bjerre-Poulsen once explained it to him. "Adding softness to it," he continues, "makes it more humanised." Their vision is to create contemporary spaces that seamlessly integrate the multi-dimensional lives of today, becoming an integral part of daily existence without imposing any undue constraints.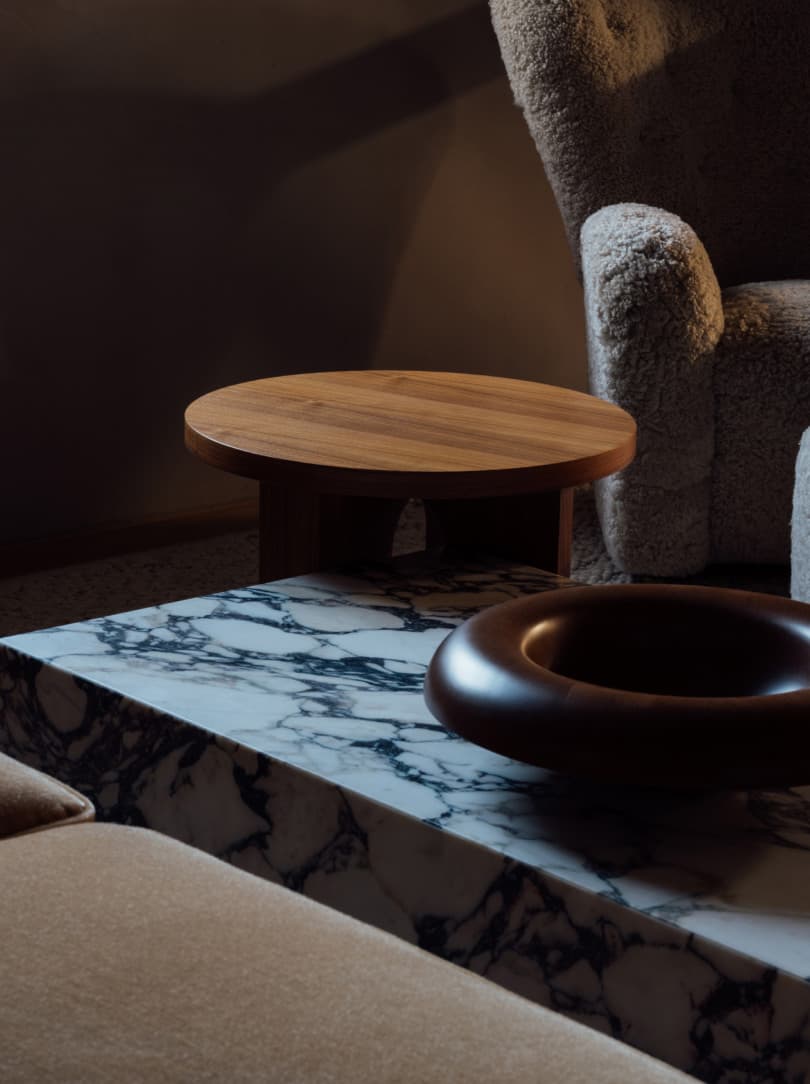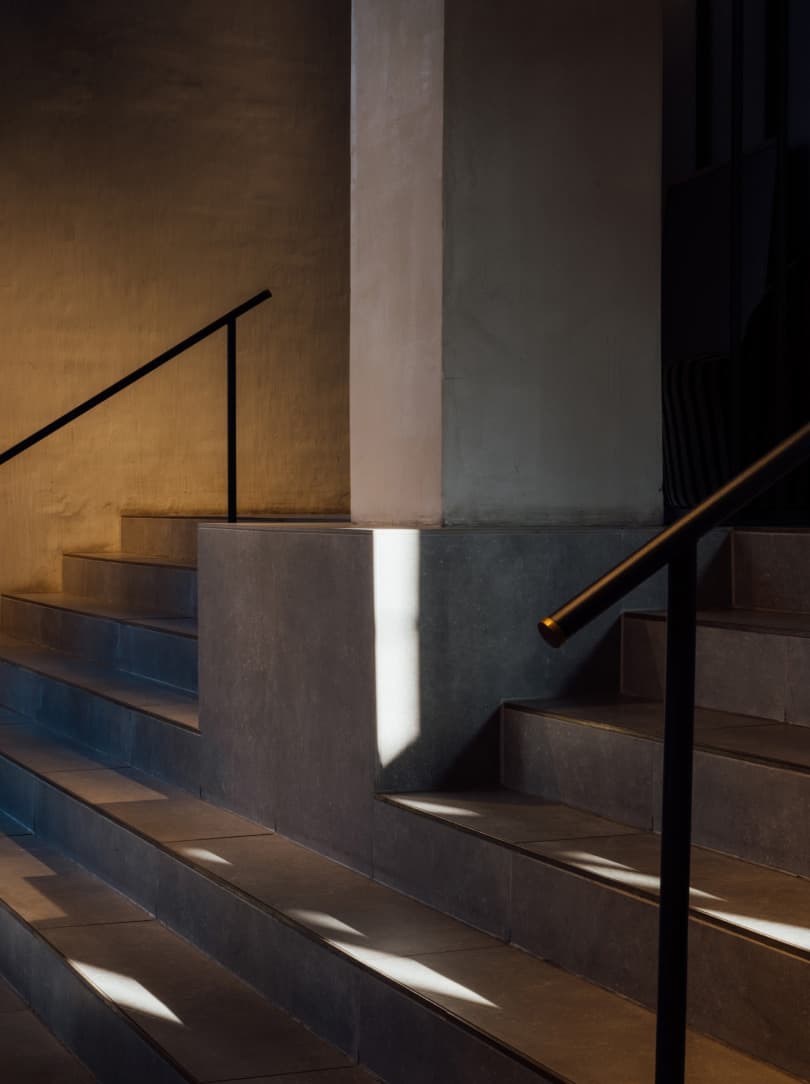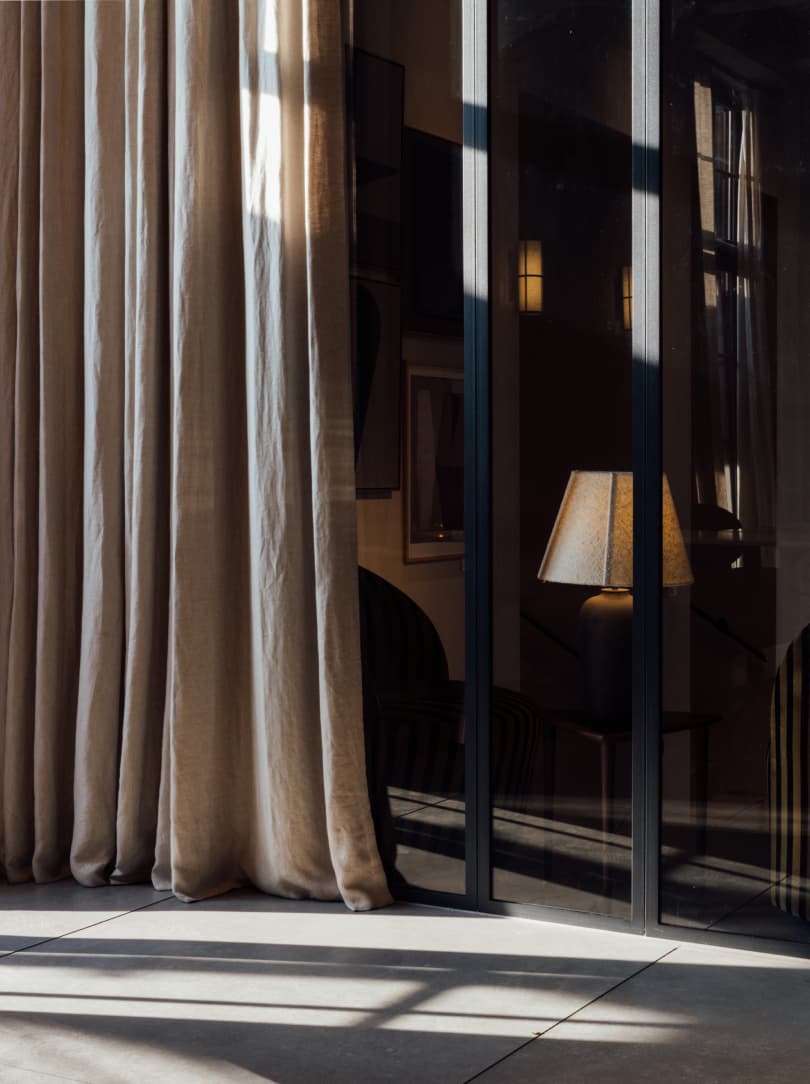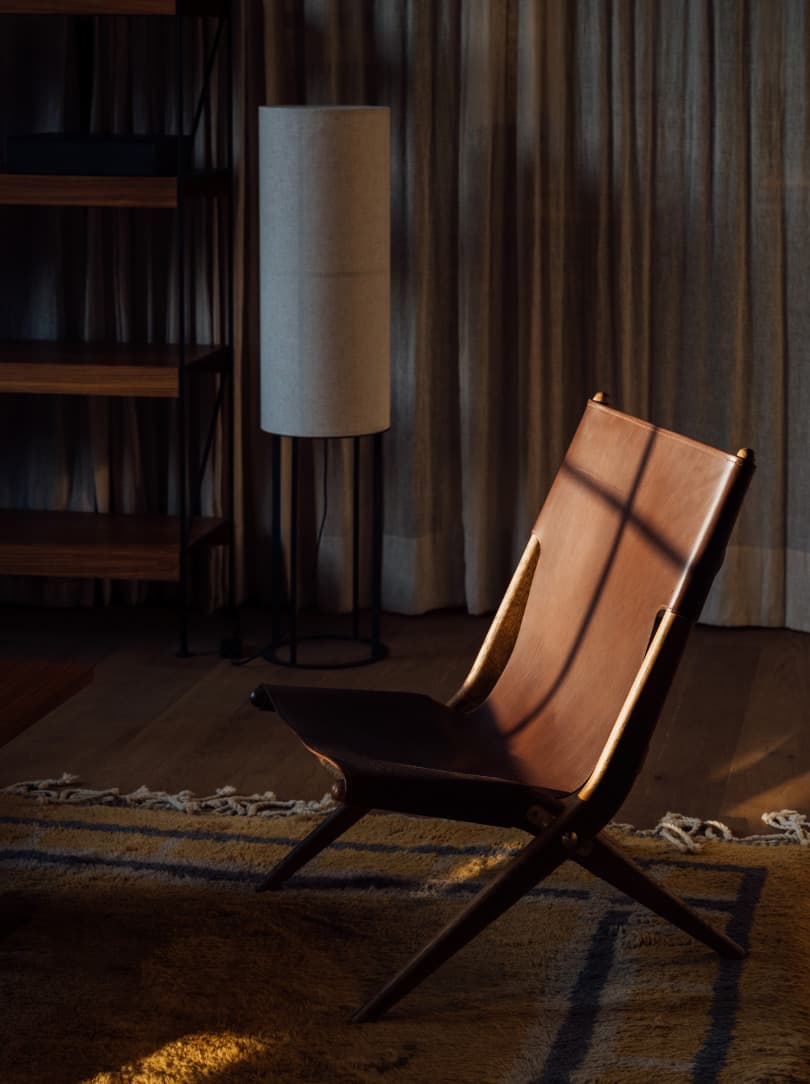 When Frederik talks about the senses, all the sensations we have been experiencing within these spaces become clearer. In the atmospheric surroundings, everything is well illuminated yet soft and pleasant to our eyes. The lighting all adds to the warmth of the natural colour palette, never overshadowing it.
The simple and reduced lines within every room and present in every piece allow our eyes to take in all of the forms without being overwhelmed. One feels a sense of rest and regeneration at the Audo House, and even more so in the Residency on the second floor. The higher you go in the building, the more cocooning the feeling becomes. The natural tones become darker. The spaces feel snug. Everything is balanced.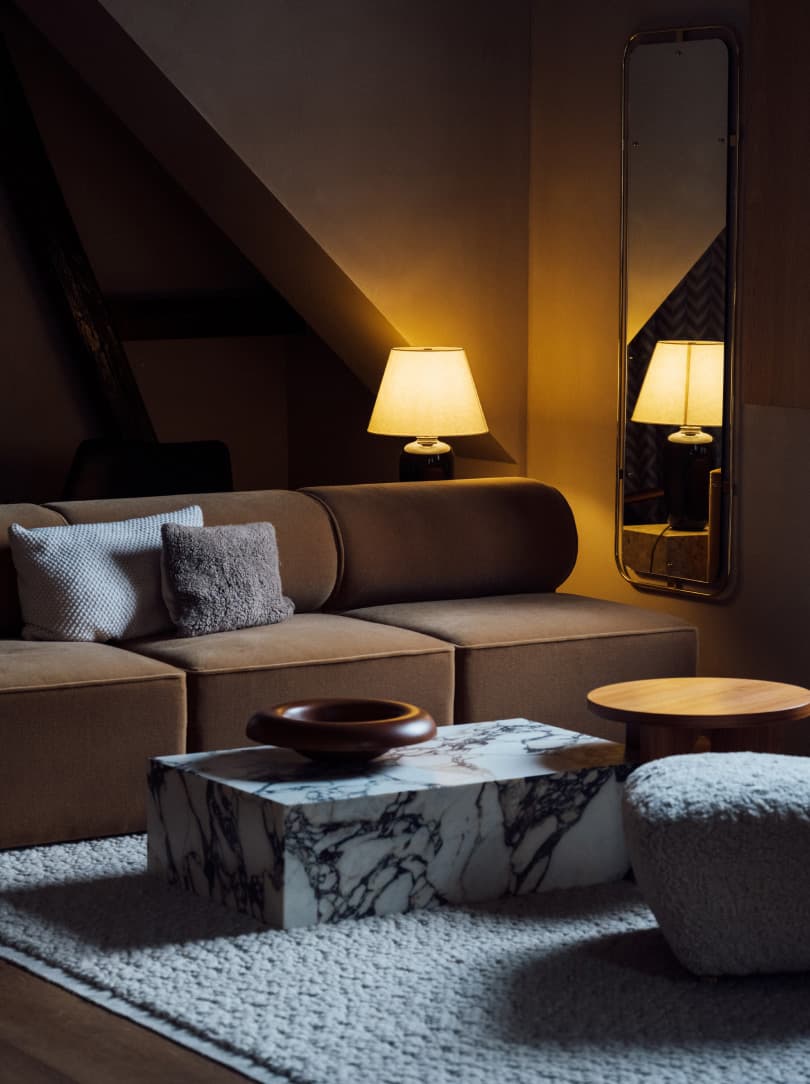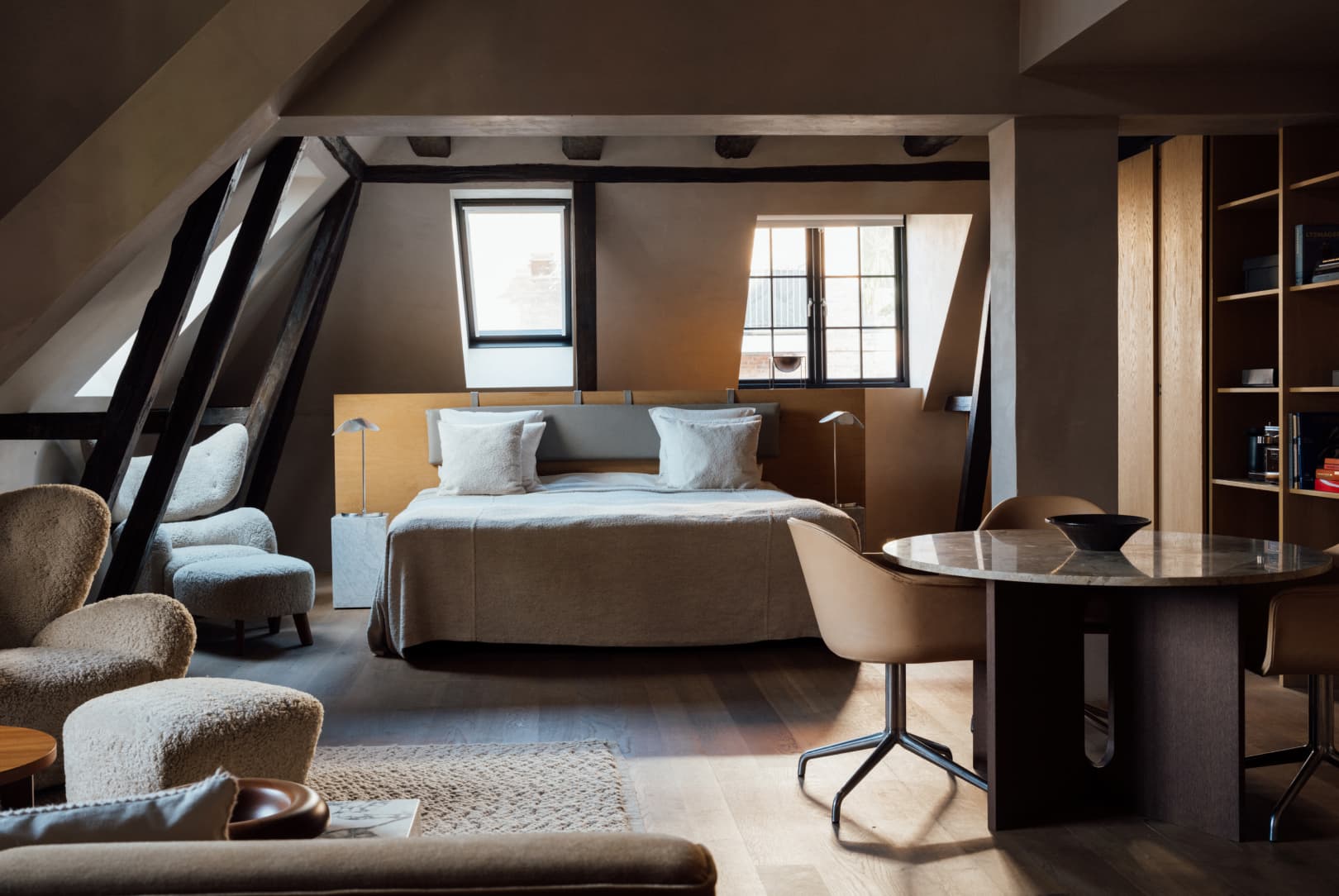 Sitting on the sheepskin-covered 'Ingeborg' sofa, designed by architect Flemming Lassen in 1940, our backs feel embraced, while the soft textures on the armrest beneath our fingers add to the overall feeling of warmth. This human-centric heritage piece reminds Joachim of the incredibly detailed studies that went into its design: multiple scribbles and experiments were solely focused on finding the perfect angle to support the back. Such attention to detail and care for excellence is often underappreciated today. Yet such pieces fit perfectly within more modern spaces that raise the idea of human-centric design to a holistic experience, as Frederik points out, from the way the door of a closet softly closes to the colour variations designed to fit the palette of our own homes.
As we move around in the 'Grand Room' from standing by the library to sitting around the table and then by the coffee table, we notice how our conversations become more personal. How we grow fonder of this or that piece. We can hold it or measure it. We can sit in the corner and put our feet up, just as we would do at home, but wouldn't in a showroom. It almost feels ours already. Or maybe it doesn't. Either is fine as far as the team is concerned. After all, they design and create pieces to fall in love with, timeless objects that are meant to last.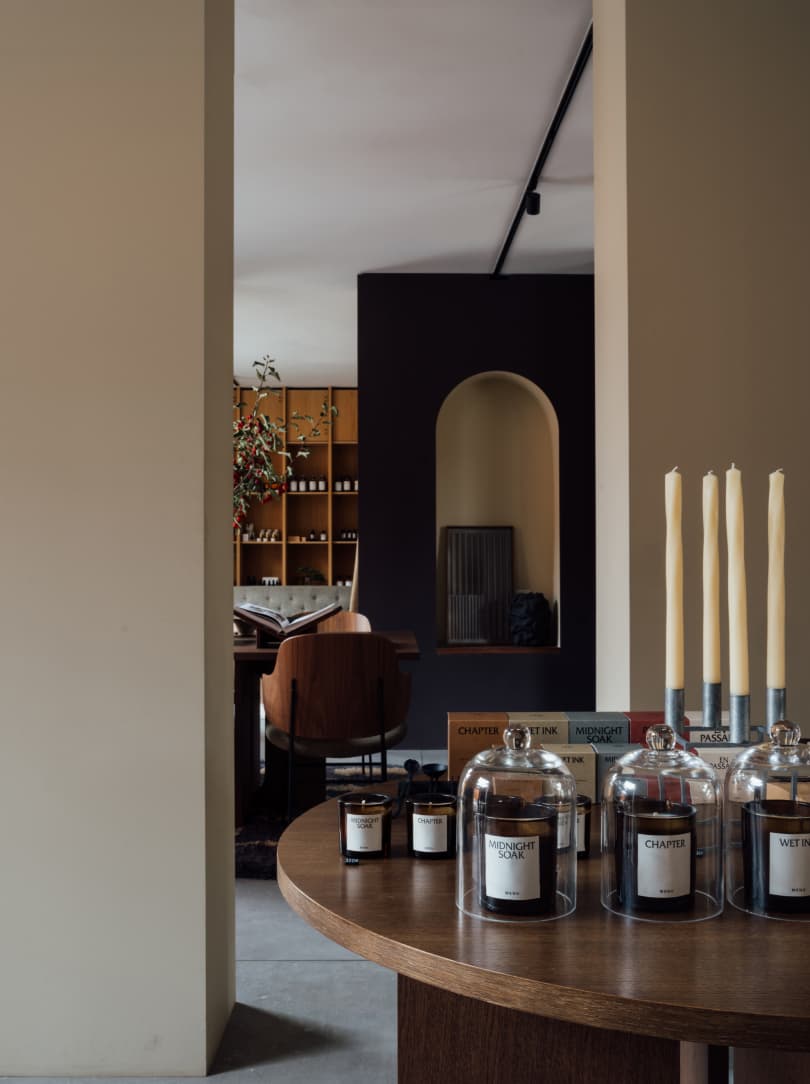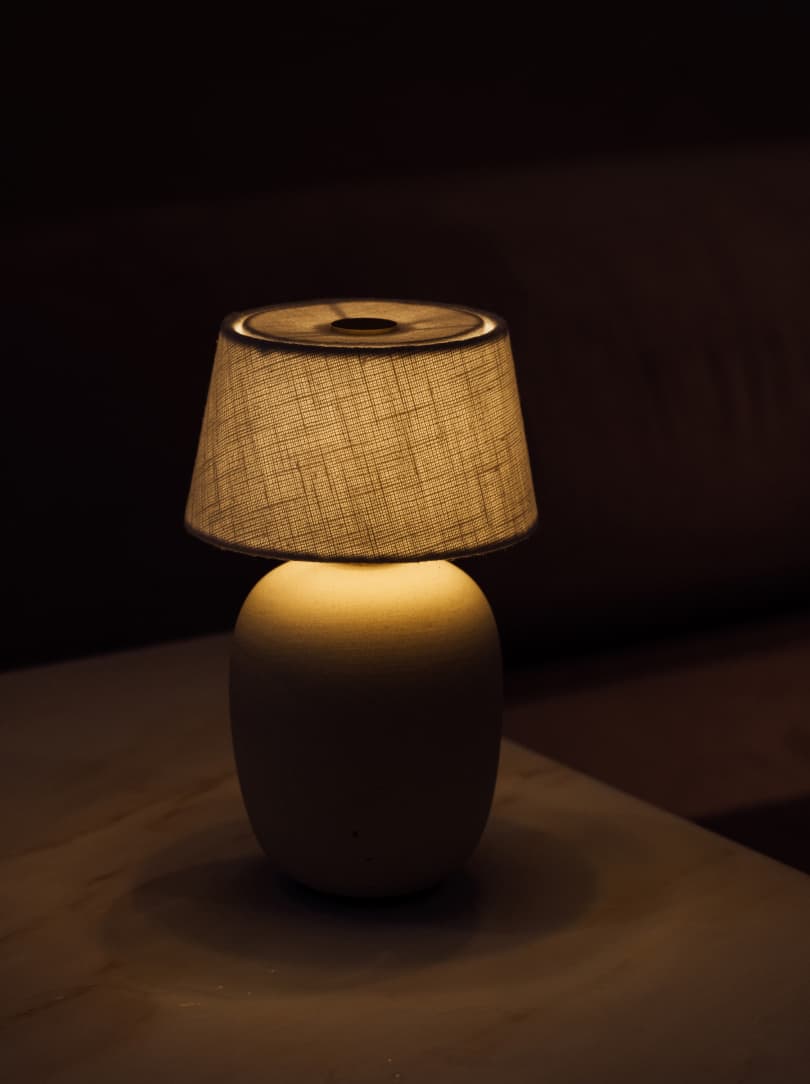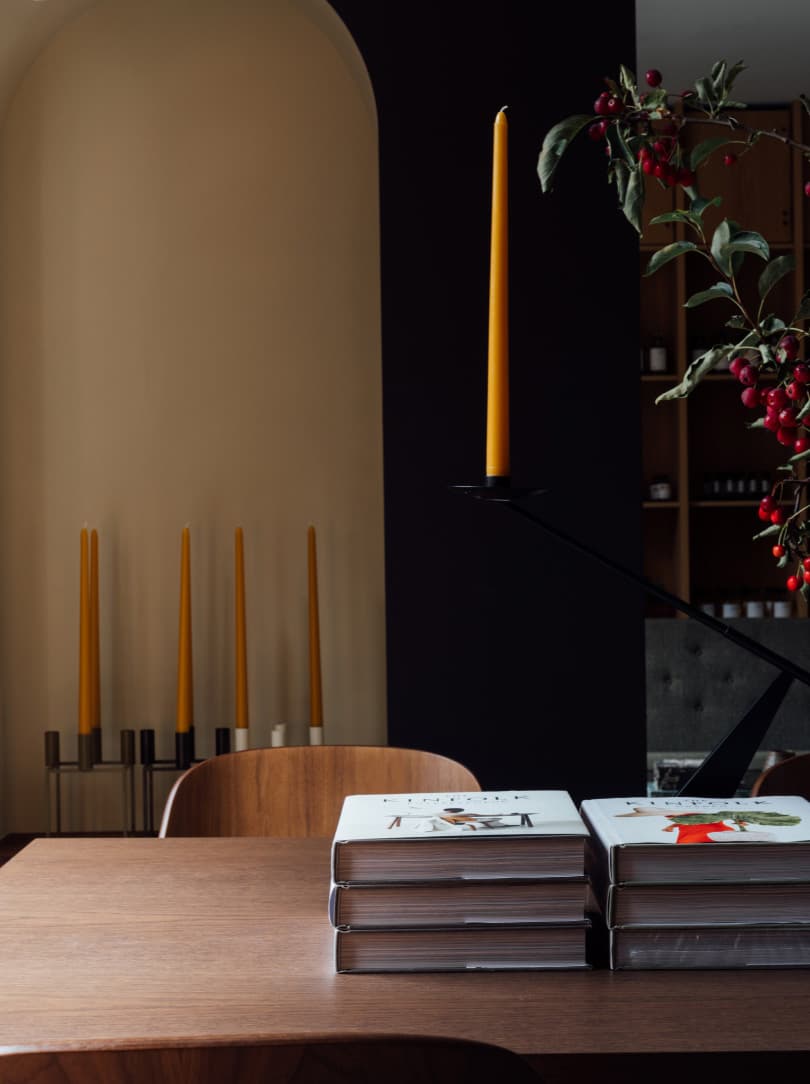 "Does the world really need another chair or sofa? Within a specific environment a need for novel pieces can arise. And we create things that last. "
Joachim Kornbek-Engell Hansen
To create pieces that withstand the test of time is a matter of design, but it's more than that. An incredible amount of knowledge goes into how something is made, including which materials are best suited to specific purposes, and tiny nuances in production and assembly that we will not perceive, yet make all the difference.
Something apparently as simple as a rice paper light can be made easily and quickly, or, in the case of the 'Hashira' pendant light, Norm's modern take on traditional Japanese lanterns, made with craftsmanship and intention. "This is one of the biggest challenges of our industry," says Frederik with heartfelt discomfort.
Unexplained and understood by fewer and fewer consumers, true craftsmanship risks disappearing. While the global conversation often revolves around shortening lead times and many of us have grown accustomed to the idea of instant gratification, the craft of making sustainable and enduring products will only persist if designers, architects, producers and brands involve their communities, highlight distinctions and share the artistry behind long-lasting handmade items. Frederik speaks about it in a conscious and respectful manner, without a hint of reproach towards today's consumers. On the contrary, he is the first to express his desire to learn about these crafts. For him, this is a source of motivation and drive, a call to ensure the survival of traditional crafts. He and Joachim are both focused on the future.
"It takes time to create a handmade piece. But once you fall in love with it, it is worth the wait."
Frederik Werner, Designer and Partner at Norm Architects
While we reflect together on what Audo has become and already accomplished, Joachim's focus shifts quickly towards challenging how things are done. "I am less focused on how well we did this or that," he says. "I prefer to understand what we can do better." Something of a challenge underlies Joachim's refreshing warmth and apparent lightheartedness. This is a man who does not separate work and personal life, who grew up listening to business talk around the dinner table and who dearly cherishes moments spent with his family. Frederik sees Joachim's devotion to his family as a beautiful side to his true being. The warmth and inclusiveness that pervades Audo is not an act; it is who they are.
Their desires, their drive, their curiosity and their sense of aesthetics are why the Audo House is the way it is. Not a classic showroom, but a truly collaborative space. This is why the team has expanded since envisioning this project, and why they invited brands once considered competitors to be part of the Audo House. This is why it is a hybrid space. Because the private pervades the professional and vice versa. Because we become better when we take down boundaries and let everything flow naturally.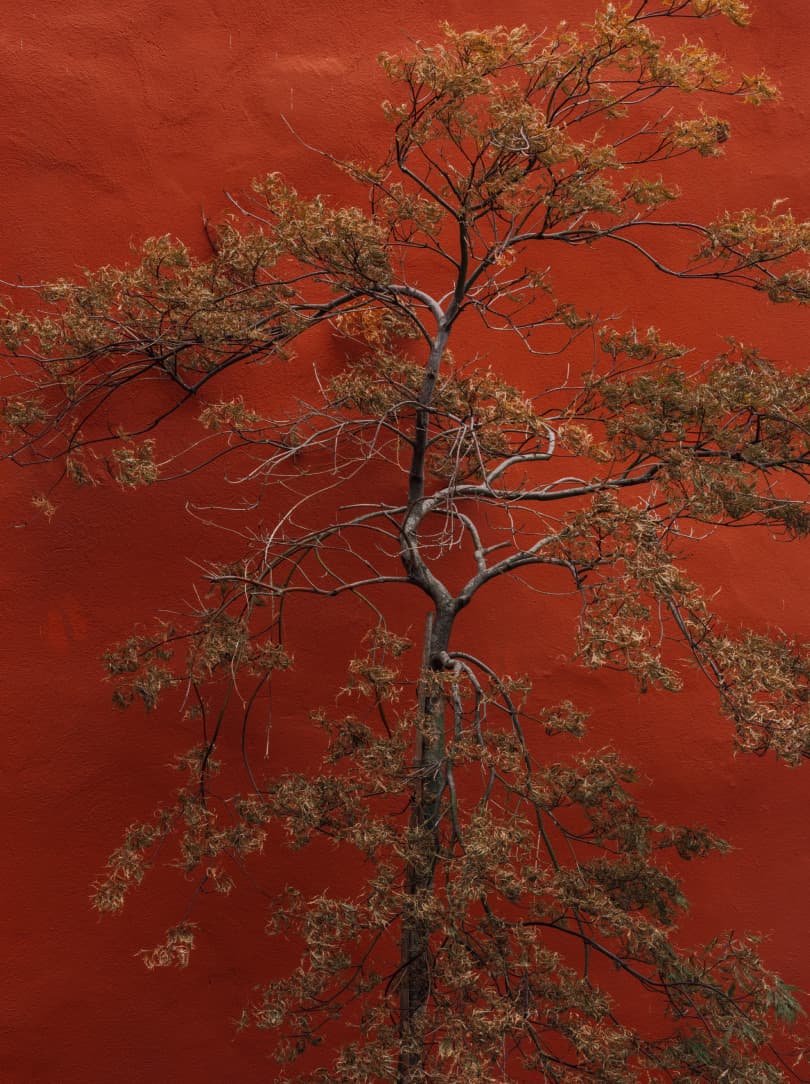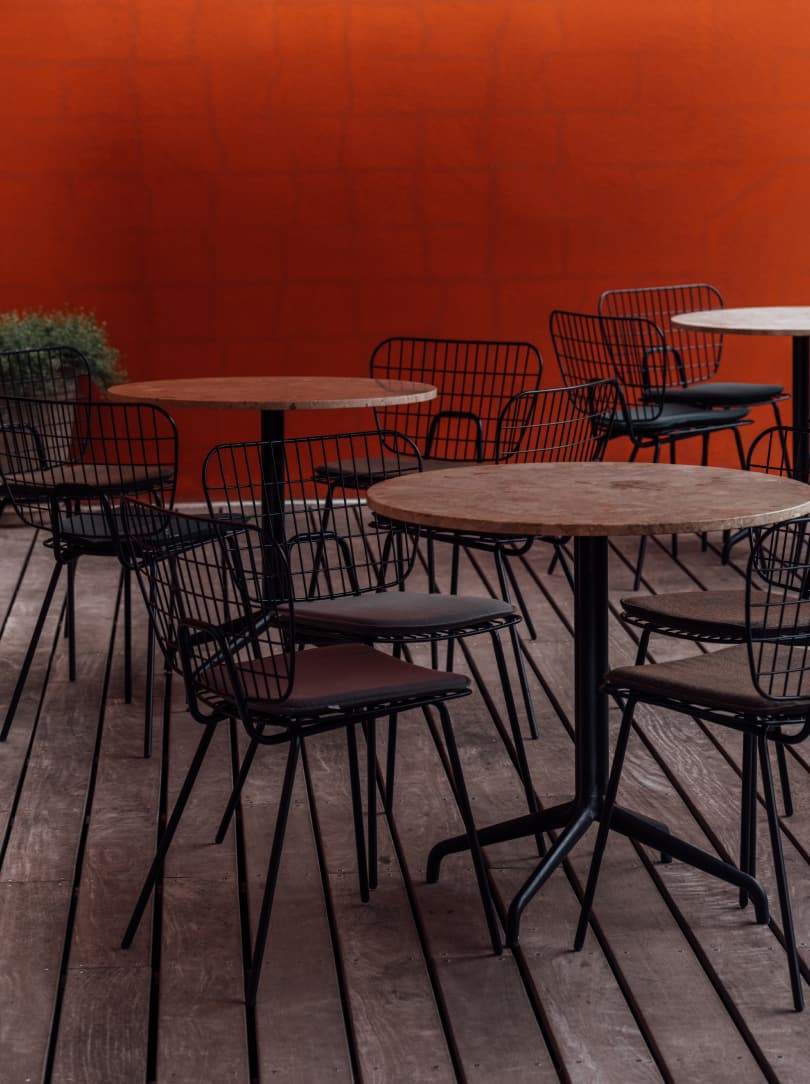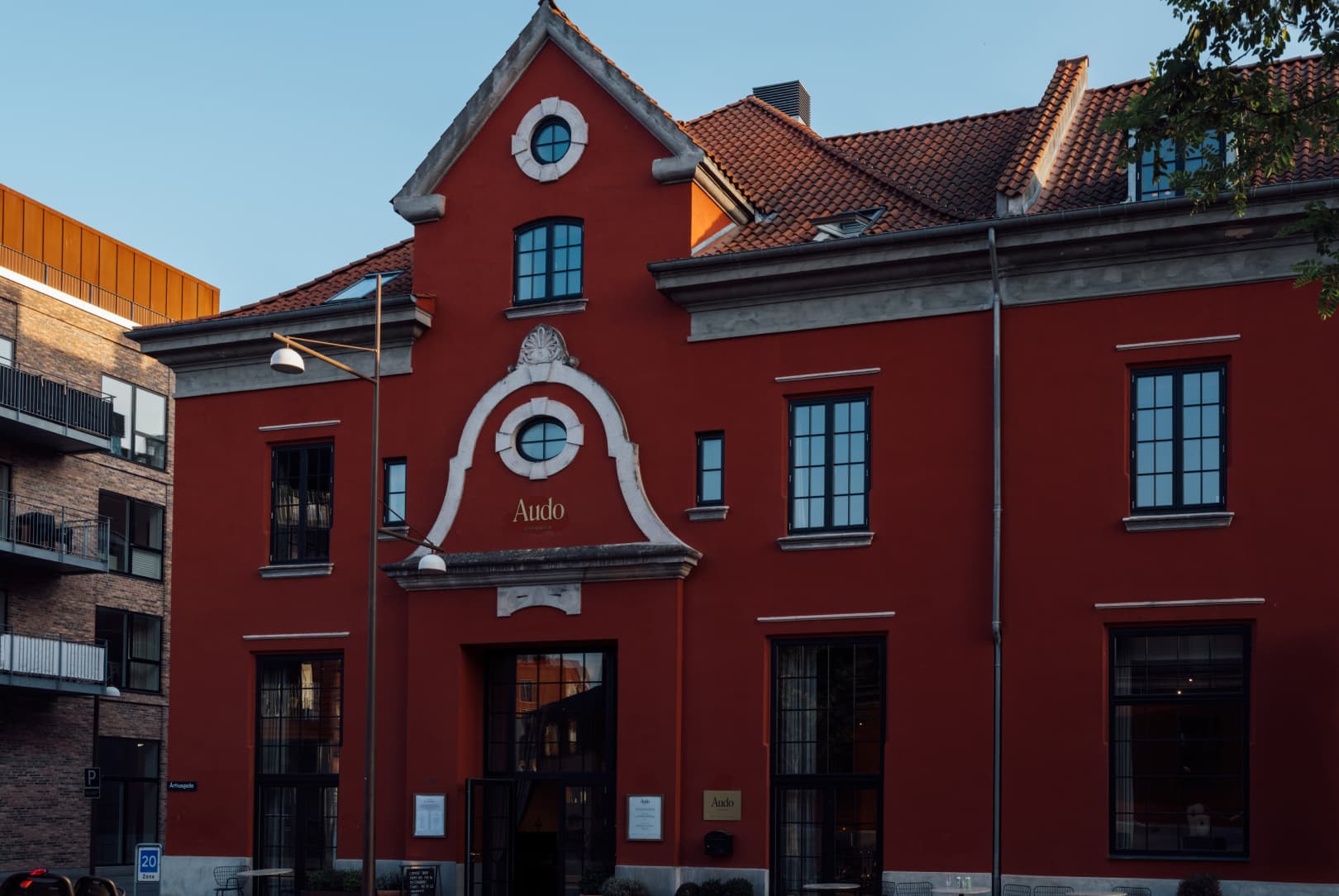 LETTING OUR SENSES GUIDE US
When you enter the Audo House it can seem very imposing, with the large space opening up before you and the theatrical stairs right in the middle. Yet this impression ebbs away once you experience its human component. When you sit at the bar, take in your surroundings and experience your first encounters. Diving into the menu, you find creations with a singular touch, an aesthetic that won't disappoint and combinations of flavours that satisfy any palate. Confident in your choice, you will be met by the disarming smile of a waiter or the embracing wit of another. It might take a moment, but the longer you are there, the more you see that they all focus on what matters while remaining authentic to their true selves. They might recommend you this or that wine or smile as you notice that the masculine décolleté underneath the black, serious shirt has been covered in subtle sparkles, worn proudly. While everything is subtle, everything and everyone who reflect the values of Audo are welcome and find their place within it. 
At the core of the Audo House lies a profound interest in how humans are, interact, spend their time, and appreciate this rather than that. Without noticing, you become part of a moment that is bigger than you. Of a study of human nature. Not for the sake of it, but to be able to better address our evolving needs. And the team itself is part of this experiment. Joachim was telling us how the tone and behaviours during a business conversation in a more private setting evolve into something that would never come about with the rigid setting of a standard office building.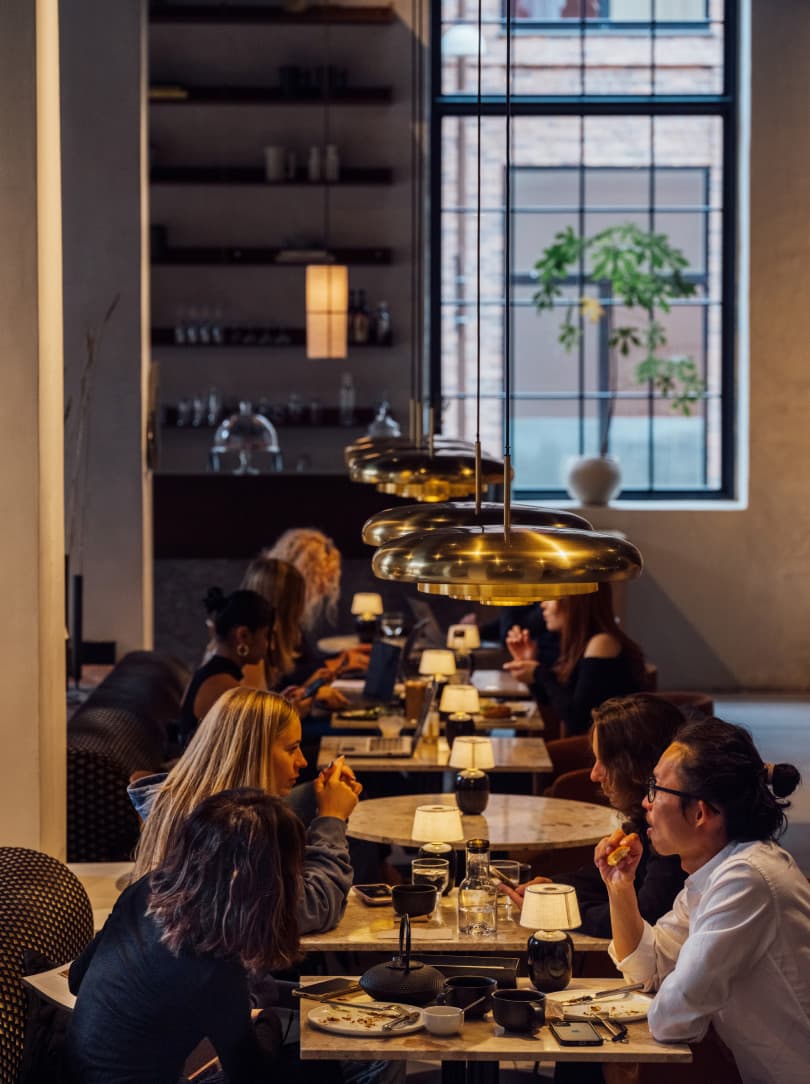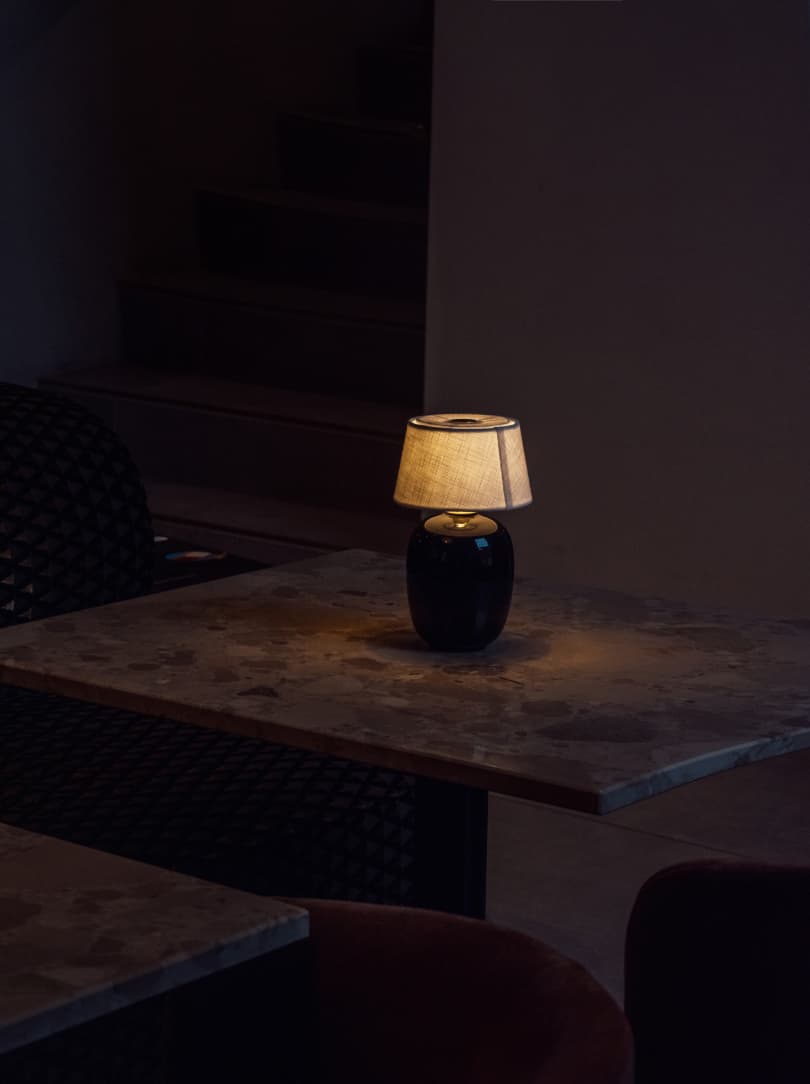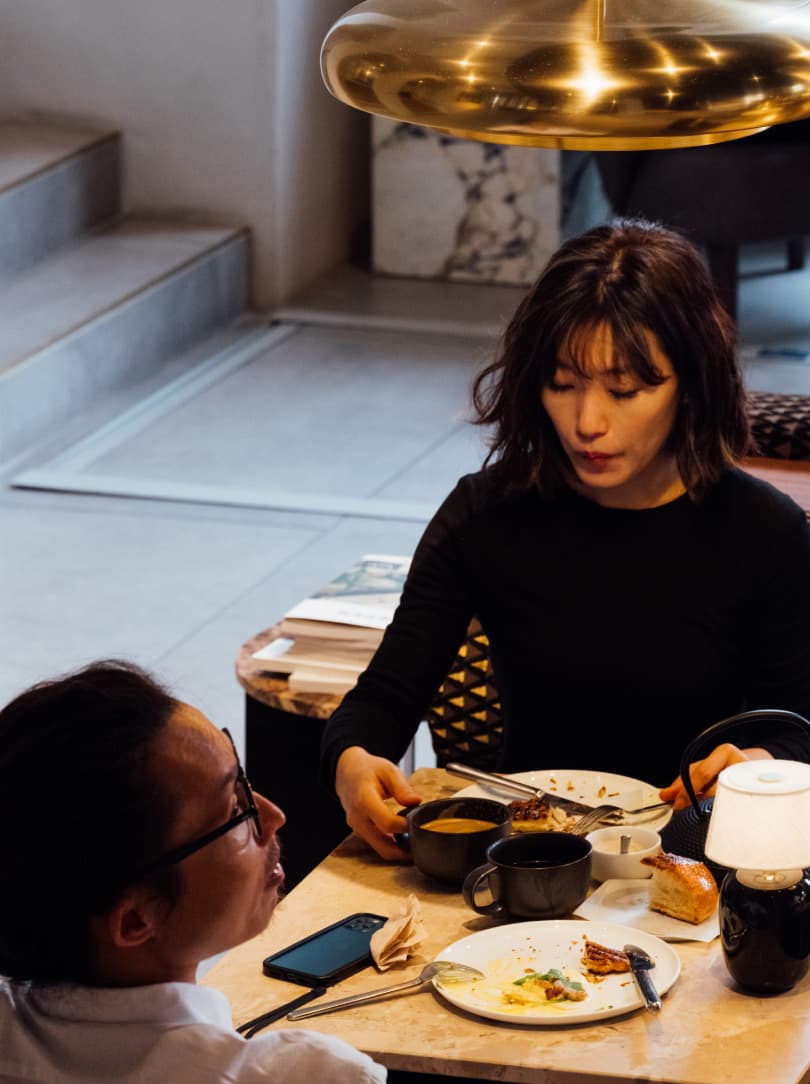 While the Audo House is something of a lab for Joachim, Frederik and the team, it feels like a playground to us. While recollecting our thoughts and impressions, we wander through the store, feeling textures, inhaling fresh and natural essences, and flipping through the pages of coffee table books that make our hearts leap. We end up sitting in lounge chairs and observing how everyone else engages with the Audo environment, just as we are. And in doing so, we feel connected and exchange complicit smiles with strangers, design aficionados, musicians, lawyers and parents with their toddlers – all looking to experience more together.
Written by AGOBAY
Photographs by Matilde Travassos